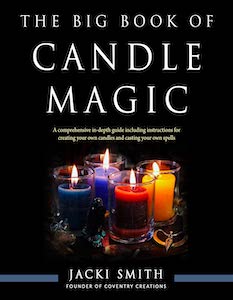 The Big Book of Candle Magic, by Jacki Smith
Weiser Books, 9781578637638, 309 pages, July 2022
Jacki Smith, founder of Coventry Creations, the largest magical candle company in North America, has written the most enlightening (!) book on candle magic, aptly titled The Big Book of Candle Magic. Described as a "comprehensive, in-depth guide including instructions for casting your own spells"1, this book opens with the most important question to consider before delving into the material: Do I really need a spell?
I loved being challenged by this question at the opening, as it made me sit up and take notice. I was no longer a passive reader, I was a participant. "Aunt Jacki", as she refers to herself throughout the book, creates a conversational atmosphere in which she engages the reader and guides them through candle magic. How can you be intimidated into delving into this topic when Aunt Jacki is right there beside you?
She provides guidance on defining what a spell is – a "shifting of energy toward an intended goal."2 She continues by writing that "the impact of that spell depends on your prep work, your intention, and your commitment to a shift in energy"3, while reminds the reader that "magic at its core is healing."4 To help you answer her original question as to whether you need a spell, she writes that "if you are ready to manifest a change and heal a need both in yourself and in the wider world, then yes!"5
The book is divided into four sections, all providing guidance, tools, suggestions, and exercises including, most importantly, getting clear on whether you need a spell or a reality check. Again, your Aunt Jacki is going to lovingly help set you straight.
"Law of Attraction and magic. Is there a difference? If so, what is it? When you add the ritual of magic to your intent…your intent will manifest faster and cleaner. And that is where candle magic comes in. Candles provide an easy, powerful ritual within themselves."6
Section One, The Magic Hour is Now", provides exercises such as the "Why is That?" exercise. She encourages the reader to start and maintain a Candle Magic Journal, again with instructions provided. She details the difference between basic candle magic of lighting a candle versus advanced candle magic that includes casting a spell. Other topics included in the section include setting intent and casting for guidance.
Section Two, "Joy of Spellcrafting", provides guidance on choosing a candle, prepping your candle for magic, and accessorizing your spell. Jacki delves into different types of candles (such as pillars, votive, and tea lights), blessed and dressed candles, sigils, color, and casting. I tend to not speak my spells out loud, but Jacki writes that a candle spell needs words to activate it and these words must be spoken out loud. She provides different phrasings of a spell, showing how one way is more valuable than another. Jacki prompts the reader to include boundaries of a time frame in the spell with an attainable due date, or else the spell is just a wish. 
Section Three, "Art of Cocreation", focuses on inviting in the divine energies in the Universe. She encourages the reader to co-create with the spiritual realm. There is focus on setting up an altar and the types of altars such as an ancestor altar (my favorite), a purpose altar, nature altars, garden altars, divinity altars, and big magic altars – whatever you're drawn to. She provides information on lighting the candle and ceromancy, the spiritual language of candles. Wondering how to "read" a candle? It's in the book! And again, in this section she prompts the reader to return to their Candle Magic Journal with a list of questions on which to focus. 
Section Four, "Index of Inspiration", is the reference section of the book. It provides a sample candle spell index (prosperity, love and relationships, protection, and clearing) that includes candle colors, candle types, dressing oils, and accessories such as stones or photographs.  There is a moon sign index as well as a color index, a magic herb index, a crystal and stone index, a tarot index, and a Magic 5 index of ingredients. While the first three sections are more conversational and action-oriented, this section is more informational and one that you'll turn for reference as you delve into candle magic. 
Plus this book contains guidance, exercises, prompts, and recommendations on things such as creating a spell (the best spells rhyme!), different types of spells, use of color, stones, and tarot. Encyclopedic in the best way to describe some of the chapters.
In addition to its wealth of information, what is also unique about the book is its conversational tone, with craft projects, confessions, clarification, musing, and tips from our Aunt Jacki. What I most valued about Jacki's writing was that it challenged me through prompts, journaling, and exercises to commune with the candles.
I was invited to set intentions, get clear about what I was calling into my life and why. Aunt Jackie helped me to define what I want and what I'm willing to do to get clear, as well as helping me to tune into if I was truly ready to act when I cast a spell. All of this was new terrain for me. To be honest, I never gave these questions much thought. But as Aunt Jackie reminds the reader, spells are actualized by my action. "Build your spell with clear intent and then pay attention to the outcomes. And there is always an outcome."7
"The goal of candle magic – or any magic of that matter – is to move your own limitations, fears, blocks, and beliefs out of the way so your intention can become real. "8
After reading The Big Book of Candle Magic, I continue to carry with me Aunt Jackie's words that magic demands change. She reminds us if there is no need for change, there is no need for magic. I highly recommend this book if you are ready and willing to change. It will light the way for a new way of living with the magic of candles for years to come!

Anne Greco is a non-fiction writer who writes about her life experiences and travels with humor, keen observations, and the hope that her words will remind us that "we're all just walking each other home." Her book, Serendipity: Chance Pilgrimages, tells the story of Anne encountering her places of power. As she reconnects with herself at each site, Anne also develops a deeper understanding and appreciation of her connection to both the seen and unseen worlds. Learn more about her work here: http://annegrecowriter.com.
References