Beyond Lemuria Oracle Cards, by Izzy Ivy
Blue Angel Publishing, 1925538830, 56 cards, 148 pages, April 2020
Beyond Lemuria Oracle Cards might be one of the most eye-catching decks I've ever played with. Creator Izzy Ivy's masterful use of vibrant color highlighting fractal geometry, goddess-like entities, chakras, elementals and other powerful imagery is irresistible – even for those of us who might be still a bit skeptical about such fantastical places as Lemuria.
Ivy's official bio claims that "The easel is her alter and she is passionate about making images that actively raise the vibration of the environment and observer."1 And after playing with these cards for a week or so I would agree that Ivy's devotion to her craft and her vision is apparent in this magical oracle deck.
The deck is composed of 56 cards that are divided into three categories: cards one through ten are the Chakra Cards, cards eleven through seventeen are the Elemental Cards, and the remainder of the deck is referred to as Seed Cards.
I have a habit of initiating a new deck by ceremoniously drawing a first card as a way of allowing the deck to communicate how it would like to be used by me. The first card I drew from this deck was a card called "Endless Opportunities" – which brought a smile to my face because this is indeed a deck that seems to be bursting at the seams with a wide variety of thoughtful messages. Ivy includes ten different ideas for three-card spreads, as well as some larger layouts with directions that are quite unique, even including using the deck in a meditative exercise.
My second draw from the deck came during a group reading. I was drawing single tarot cards for a group of a dozen or so people and decided to pull one card from this new deck for the group, as we were getting ready to conclude our time together. The card I pulled was titled "Surrender."
The guidebook gives a message for each card and concludes with a divinatory meaning – the one for the card Surrender says in part, "Loosen your hold on the reins and know that the Universe will catch you."2 More than a few people in the group voiced that they had been dealing with letting go of certain life situations and that this card spoke to them in a deep way.
Next, I read for two clients using three-card layouts from the guidebook. The first spread I used is titled "Bringing in love" and my querent was astounded with how much the reading aligned with current inner work she has been doing. Here are some of her words (shared with her permission) in response to receiving the reading:
"What a beautiful set of cards that takes the imagination out of body and into the unknown amongst the stars! And how befitting that the first topic in the reading is that of expansion. Just yesterday I was doing an active meditation and had visions fitting each of these cards.
The first rhyme is that I was sensing into how far my energy was willing to go and feeling that I've been pretty constricted.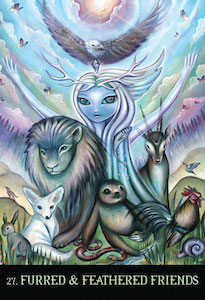 The second card both delves into the expansion topic deeper AND confronts childhood beliefs. I was raised to be seen and not heard in some environments. As I grew up that lesson morphed into not rocking boats and keeping myself small in ways that became more impactful. This reading is hitting the nail on the head!
The last card's indication of detachment from beliefs about what abundance is ties into a recent decision to surrender (again) so that I can get into alignment with divine flow. It mirrors eclipse week energies pretty well, I'd say.
Thank you for a lovely reading which does a marvelous job of reflecting divine intuition!"
The second three card reading I did was met with similar enthusiasm, especially for the artwork. Here are a few words from my client:
"The cards were great at reminding me that I have the power to make things happen for myself. They pointed out some challenges I may run into, things that could hold me back. I liked the fact that questions were asked, which inspired some deep thinking around the topic. The cards themselves were absolutely gorgeous in their artwork and layout."
The only negative feedback I received was that the explanation for each card was a bit too lengthy. I would suggest for any reader that feels this way to just use the "Divinatory Meaning" for each card, which generally consists of one paragraph of key ideas.
All in all, the deck's breathtaking artwork and deep spiritual explanations were well received by everyone that has encountered them through readings I've done.
The guidebook presents the artist's personal journey of creating the deck and the ideas and philosophies that supported her creative style and messages. Then it proceeds with ideas for some small three-card layouts and several larger layouts, along with a two-page spread of keywords, explanations, empowering questions for the querent, and divinatory meanings for each card.
The deck and guidebook come packaged in a sturdy box, which is always a plus for a collector. The cards are very large, measuring 3 ¾" x 5 ½". The large size highlights the lovely images while also making them quite difficult to shuffle, especially if one has small hands. The card-stock is good quality, with a matte finish that shows the vibrancy of the images well.
I would recommend Beyond Lemuria Oracle Cards for anyone who loves ethereal artwork combined with spiritual messages, and perhaps especially for people who may be interested in (or at least comfortable with) theories of lost civilizations. However, regardless of philosophy and worldview, the artwork is vibrant, curious, and beautiful, and the messages are soothing, wise, and full of healing words.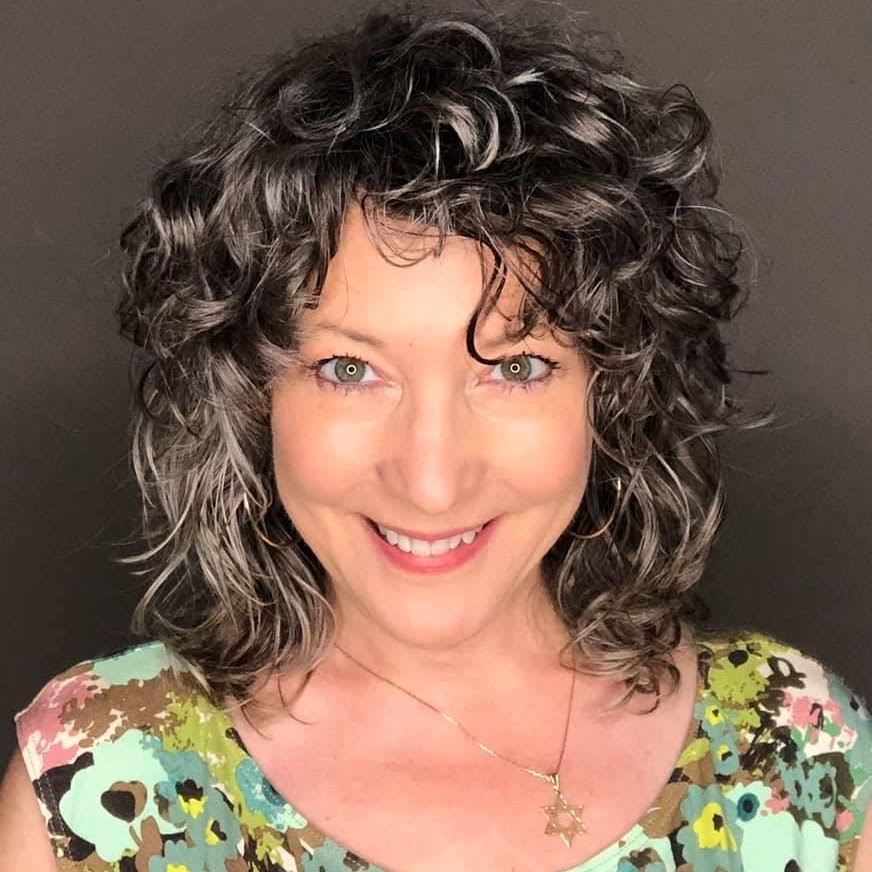 Cindie Chavez, "The Love & Magic Coach", is a certified life and relationship coach as well as an author, speaker, and teacher. She has a reputation for bringing astounding clarity and having a wicked sense of intuition. She has a widely diverse range of other proficiencies and interests including astrology, kabbalah, tarot, magic, and spirituality. She also loves painting, knitting, gaming, and enjoying belly laughs with her husband and family.
References