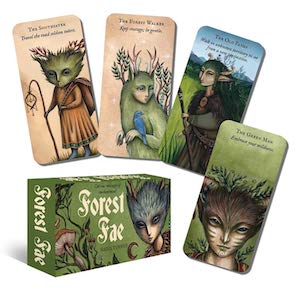 Forest Fae Messages: Curious Messages of Enchantment, by Nadia Turner
Rockpool Publishing, 1925946193, 40 cards, April 2021
According to the artist's online biography, Nadia Turner creates wayward wonders out of a little studio up in the magical Dandenong Ranges just outside of Melbourne, Australia. She is heavily influenced by ancient myth, fairy tales, witchcraft, and the worlds of the Fae and uses a variety of mediums to convey her inner worlds.
I had a lovely synchronicity involving Forest Fae Messages in that I spied one of the cards in an Instagram post, fell in love with the illustration, added the deck to my "deck wish list" and then found out it was available for review the following week!
I would describe the illustrations as enchanting and the deck's little messages as encouraging and fun to read. The images on the cards are of various Fae and Fae-like creatures often sporting horns, antlers, or wings, carrying walking sticks or wearing crowns and beads, and often accompanied by birds, bunnies, or other "pet-like" friends.
One of my favorite cards in this deck came up for me when I asked about a meeting I was to attend later that afternoon. The card is titled Strange Journeys, and its message says, "Take control of your quest; choose your companions wisely."
This card shows a delightful illustration of a small group of characters including a very large furry creature with a human-like face who is wearing beaded necklaces and has horns decorated with hanging beads, a feminine looking person with long hair and branches with leaves that seem to be growing out of her head while she holds a bird, an owl who sits atop the large furry creature and a blue cat wearing a bell at its neck.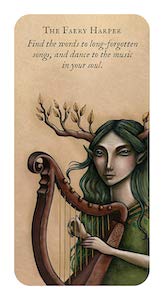 Another favorite, titled Away We Fly, shows an elf-like character with pointy ears and branches coming from their head while riding a bird shaped chariot amongst white fluffy clouds and a crescent moon. The card's message instructs one to "Take the cloud roads; delight in your imagination."
The card titled The Gatekeeper encourages us to "Let go. All things are possible on the borderlands," while it features a furry creature with tall, pointed wolf-like ears, wearing a feathered cape and holding a walking stick adorned with a crescent moon and three hanging feathers.
The deck is composed of 40 small (4" x 2") rectangular cards tucked into a beautiful little hinged box. The small size makes the deck easy to shuffle. The cards are good quality card-stock with a glossy finish, and card backs decorated with an image of a crescent moon surrounded by mushrooms in earthy tones of greens and browns.
There is no book with meanings or spreads accompanying the cards, just a short message of instruction printed inside the hinged box lid saying:
"Sit quietly and breathe deeply. Shuffle the deck while thinking of a question, or just ask the Fae for guidance. Choose a card at random and discover what messages the forest fae have for you. Perhaps the answers will be clear or maybe they will ask more questions before they answer. Such is the way of the fae."1
As I finished up this review, I asked the Fae for a message that would exemplify the deck and what it has to offer the readers of this review. I shuffled and drew a card called The North Wood Fae. The card shows an image of a fae wearing a warm coat and a hat with tasseled earflaps, standing alongside a furry dog-like pet and holding a walking stick with four leafy branches. Her message: "Take time for hibernation and healing."
Unlike many decks that have thick books full of deep and esoteric meanings to ponder, this deck has short simple messages and would be the perfect deck for cheerful entertainment and inspiration. Its small size and sturdy case make it the perfect little deck to throw into a purse or tote bag and its cheerful characters would make wonderful traveling companions. I also think it would be a great deck to use alongside other decks for additional perspectives.
I would recommend the Forest Fae Messages to anyone who enjoys whimsical creatures, encouraging messages, and enchanting illustrations.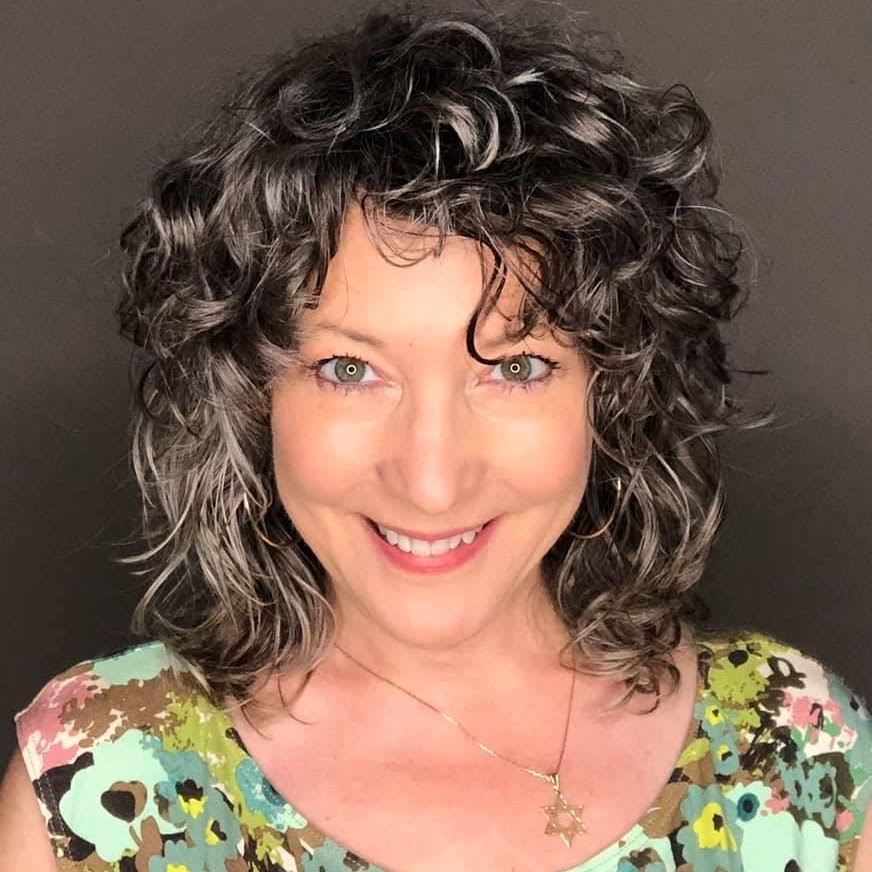 Cindie Chavez, "The Love & Magic Coach", is a certified life and relationship coach as well as an author, speaker, and teacher. She has a reputation for bringing astounding clarity and having a wicked sense of intuition. She has a widely diverse range of other proficiencies and interests including astrology, kabbalah, tarot, magic, and spirituality. She also loves painting, knitting, gaming, and enjoying belly laughs with her husband and family.
References