Guardian Angel Oracle: 36 Gilded Cards and 88-Page Book, by Debbie Malone and illustrated by Amalia Chitulescu
Rockpool Publishing, 97819225796990, 88 pages, 36 cards, December 2022
I've had the opportunity to use many angel oracle decks; you may even call me an angel oracle deck connoisseur. It's no wonder then that I was eager to see the messages Guardian Angel Oracle: 36 Gilded Cards and 88-Page Book by Debbie Malone and illustrated by Amalia Chitulescu held for me.
Malone has seen and sensed spirit since she was a child1. Plus she's had seven near-death experiences during her lifetime. She's shared her natural abilities as a clairvoyant and medium with others through readings and best-selling books, including Awaken Your Psychic Ability and Never Alone. Additionally, she was voted Australian Psychic of the Year in 2013. Malone's ability to bring to us communication from the angels is a true gift.
Guardian Angel Oracle was refreshingly unique in its messages, simplicity of use (this is a compliment!), and relatable illustrations. It focuses on the special connection each person has with their guardian angel. The cards offer ways in which one's guardian angel can connect on specific topics such as past lives, new beginnings, comfort, and dreams. The cards facilitate communication with your guardian angel, while still availing one of free will; you retain the right to choose to follow messages.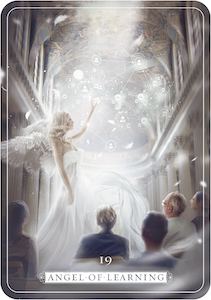 The cards offer positive messages meant to inspire, even if the topic at hand might feel challenging, which is why I appreciated the turnarounds. For example, with the Angel of Tranquility card, the message is that while one might be caught up in a fast-paced, stressful life, "there is a way to get tranquility and peace"2 back into one's life. The focus is on the way out, not on the "problem." The recommendations that follow such as taking just five minutes a day to slow down or to listen to calming music are doable.
The accompanying deck guide recommends a ritual to dedicate the cards to make them your own and to infuse your energy into the deck. Debbie recommends paying attention to "jumping cards;" ones that jump or fall out as the deck is shuffled, as they are ways the angels attempt to get our attention. Anyone who has used decks regularly has most likely experienced these "jumping" cards; they seem to just fly out!
In the guidebook, Malone suggests four card layouts: one card, three-card, five-card, and six-card. The first layout I always do with a deck is a one card pull. I did the one-card pull on two consecutive days and pulled the same card, the Angel of Communication. The Angel of Communication card shows an angel as an Asian male, dressed in contemporary white clothing with his hands in a guyan mudra pose. Seated on either side of him are an Asian male and female, also dressed in white contemporary clothing (although the woman is also clothed in purple shorts), with their backs toward each other, obviously not communicating well.
The message of the Angel of Communication card is "You have the communication skills within you to share your ideas and feelings with others."3 The accompanying affirmation is "I have the voice I need to help me communicate with my angels and those around me."4
The message and affirmation were true for me. But what struck me was how spot on the message was for what was troubling me, that is, difficulty communicating with a loved one. Nothing I tried was working and truthfully, I gave up, which didn't sit well with me. The writing on the angel asked if I was "finding it difficult to communicate with a loved one about an issue?"5 It recommended a throat chakra clearing and meditation, reminding me that I could call on the Angel of Communication whenever I needed assistance with communication.
The three-card spread helps one with changes, inspiration, and guidance. The five-card spread focuses on what one needs to "work with to help you feel more connected and guided in your life."6 The cards focus on the question, cause, action (cards three and four), and the outcome/answer. When I did a few five-card spreads the messages I received were right on, surprisingly, so much that I could not ignore them. Again, with this deck I continued to receive very clear messages that directly related to my life.
The six-card spread, in the form of angel wings, is used for encouragement when one is "feeling disconnected from yourself and your angels."7 It was a visually beautiful spread that offered guidance and inspiration. A few of the cards that came up in earlier spreads made an appearance in this spread. Malone recommends that one pay particular attention to the sixth card as the angel associated with the card will be the most powerful angel to work with on the question at hand.
Thirty-six angels are profiled in the deck, described by what they assist with. For example, one will find the Angels of Gratitude, Health, Procrastination, and Unity. Each angel is profiled with a positive statement about where one is at the present moment. For example, with the Angel of Balance one reads: "You are in a calm and balanced state of mind. You will make the right decisions for your future."8 The profile continues with ways to work with the angel and how to hear the communications. It concludes with an affirmation.
The deck is illustrated by Amalia Chitulescu, a Romanian-born self-taught digital artist. The front of the cards are done in a bluish gray with floating white feathers among pinkish orange clouds. The card faces vary tremendously with images of people of all races, bringing beautiful diversity to this deck.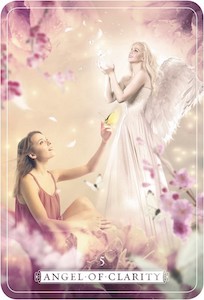 The Angel of Comfort card has an African-American couple, with the male comforting the female. Angel wings appear behind the couple. Then the Angel of Solitude card has the image of a radiant female angel dressed in white, her wings open, her gaze focused on the heavens. White doves and feathers surround her. Below her, a woman sits on a canoe, an orange tree growing from one tip of the canoe, an orange and black butterfly sitting on the other tip, with three other butterflies surrounding the canoe.
Overall, I highly recommend Guardian Angel Oracle for those seeking to connect with their guardian angel for divine guidance. As I mentioned, the messages from the deck have been very consistent for me, providing me with the insight I need to gain a better perspective. The angelic messages are loving, direct, and encouraging. One truly feels wrapped in angel wings when using the deck.

Anne Greco is a non-fiction writer who writes about her life experiences and travels with humor, keen observations, and the hope that her words will remind us that "we're all just walking each other home." Her book, Serendipity: Chance Pilgrimages, tells the story of Anne encountering her places of power. As she reconnects with herself at each site, Anne also develops a deeper understanding and appreciation of her connection to both the seen and unseen worlds. Learn more about her work here: http://annegrecowriter.com.
References