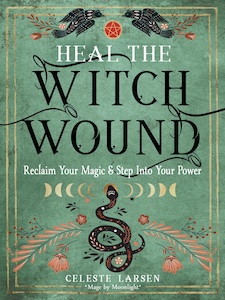 Heal The Witch Wound: Reclaim Your Magic and Step Into Your Power, by Celeste Larsen
Weiser Books, 1578637988, 208 pages, April 2023
Personal safety is something that is of great concern in today's society. From hate groups attacking those trying to live their lives to the "everyday" violence that is commonplace, we all just want to be safe to be who we are. While this book, Heal The Witch Wound: Reclaim Your Magic and Step Into Your Power, focuses on feeling safe with respect to magical practices, Celeste Larsen has also managed to weave in a broader spectrum of what personal safety means individually as well as on a greater scale.
The introduction begins with a simple explanation of the "witch wound", and Larsen describes it as "a collective, intergenerational, psychic wound that is rooted in the Burning Times – an era of widespread persecution and violence against suspected witches."1
Anyone with this wound will usually hide their spiritual beliefs and practices out of fear of being judged or shamed or rejected. Without taking away from the basis of this book, I find many parallels between this and the situation of other groups in current society. To be clear, this is a personal observation that I am making and not meant to take away from this book in any way.
Larsen has drawn on her experience as a pagan witch, writer, and ritualist to produce a work that is more of a how-to rather than a reference book. To me, this is excellent news as I need a guide and not just theory in this realm. The book is comprised of three parts that each deal with a specific aspect of the healing journey. The first section deals with the root of the wound and goes into detail around the creation of it as well as its legacy. Larsen's writing is simple, straightforward and honest, and manages to put the reader at ease while imparting some tough information around the wound and its causes.
The second part of this spectacular book focuses on the symptoms of the witch wound, something I hadn't even considered. In fact, as I read this section, I was struck by the number of things mentioned that I completely identified with. It didn't even occur to me that it might be a result of the witch wound I carry.
I had a very visceral reaction to one part specifically where Larsen writes:
"Of all the ways the witch wound can show up, fear of being authentically heard and seen is undoubtedly the most pervasive. How often do you stifle your own voice out of fear of being too outspoken, too opinionated, too sensitive, too demanding, too honest, too much?"2
This specific part hit me really hard. I've been told my whole life to be quiet, sit down, keep my hands to myself, don't talk so loud, "why are you laughing so loudly?", and all that. I have never felt comfortable around people simply because I'm afraid that I will be too much of something and then I'll be made to feel less-than as a result.
Reading this book made me realize that this wound I carry that presents in this way is something of a gift. Stay with me here. Knowing that I am holding back my awesomeness for the sake of other people's comfort means that I am much more awesome than I think I am. And I think I'm pretty awesome.
Seriously though, reading about how this wound affects daily life if nothing is done to heal it opened my eyes to how important self-care is. Part three of the book delves deeply into this with a whole host of various ways to heal certain aspects of the wound. My personal favorite deals with moving into personal magic and power.
Here, Larsen talks about the ways in which practitioners can talk about individual magic and specific practices in a way that honors them while also maintaining a certain level of privacy. There is an acknowledgement that no two practitioners will refer to themselves in the same way, nor does their individual practices align. In this way, Larsen states that personal comfort comes before any sort of declaration that might be made concerning someone's personal craft.
Larsen writes honestly with an authentic voice and the situations presented in the book by way of confirming the various suggestions presented feel like they have been actually lived by the author. I felt many echoes as I read and aligned with many of the situations that Larsen describes throughout the book by way of sharing her personal story.
Heal the Witch Wound is an excellent book for those who feel they cannot 'come out' as a practitioner of magic and who feel they need to stifle themselves in order to fit it. You don't have to dim your own light in order for other people to shine, and you don't have to stay small for other people's comfort. This isn't to say that there shouldn't be consideration for others: depending on what your situation is you might feel it's in your best interest to be silent about what you do. This book is meant to reframe the way in which we look at how we express ourselves in the world we live in and helps us see where we can make positive changes to bring us into more alignment.
Sarrah October Young is a writer and practising witch who wished she could do stand-up comedy. When she isn't writing or witching, she can be found posting about her cats on IG @therealoctober.
References