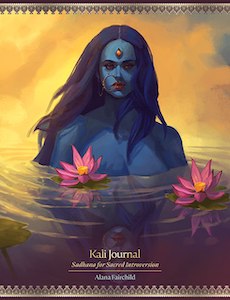 Kali Journal:  Sadhana for Sacred Introversion, by Alana Fairchild and ilustrated by Jimmy Manton
Blue Angel Publishing, 0648746751, 220 pages, 2021
On first glance at the Kali Journal: Sadhana for Sacred Introversion, my senses were overwhelmed with the beauty and majesty of the artwork.  Author Alana Fairchild and artist Jimmy Manton have taken the incredible art from her Kali Oracle Deck and interspersed the pages of this journal with the stunning images.  There are over 40 full page, full color renderings of the Goddess Kali, her ritualistic tools, and other sacred symbols.
In addition to presenting a journal that includes both lined pages and a few unlined pages for sketching or other uses, Fairchild adds general information about Kali, moon phase rituals, mantras and a prayer dance for healing.   Each of the two page spreads also includes an affirmation, blessing or message from Goddess Kali. The paper is a very nice quality and is a warm buff color that really sets off the artwork.
Alana Fairchild is a spiritual mentor based in Australia, who has published over 20 oracle decks, 30 albums of sacred music and meditations, and 13 books. Since I have a few of Fairchild's oracle decks, this journal really interested me.  Jimmy Manton is the artist for the artwork.  He is an award-winning illustrator who is also based in Australia.  He has illustrated numerous tarot and oracle decks. 
When I initially opened the Kali Journal, I was really interested in learning more about the history of the goddess and how she represents the energy of the Divine Mother/Divine Feminine. According to Fairchild, Kali represents the "wild, gracious and transformational realm of the dark face of the Divine Mother."1 I was intrigued and drawn in, anxious to know more about how the Goddess Kali might support me on my spiritual path. Kali is the Hindu Goddess of time, creation, destruction, power and liberation. The very first quote was quite arresting:
Within, you have the power of the Divine Mother's wisdom and blessing.
Do not underestimate her.
Do not underestimate yourself.2
Fairchild explains that "Sadhana" comes from the Sanskrit and means "to accomplish." In this use, she is referring to spiritual practices that foster healing and support us as we move toward enlightenment. Introversion is a psychological term that means the tendency to be concerned with one's own thoughts and feelings, rather than with external things. So, this journal is a tool to help one with accomplishing a review of one's thoughts and feelings. 
One particular Kali yantra and mudra practice really supported me through a time when I was experiencing a struggle with my mother.  It is called "Kali Yantra and Mudra Practice to Banish Negative Interference." With this practice, I learned that a YANTRA is a sacred geometric symbol that can act as a portal to the temple of a god or goddess. One gazes on the visual element, as you would a candle flame or other sacred symbol. The practice also included a special hand mudra and several mantas for recitation. By invoking the power of Kali and using the specific mudra, the yantra, and several mantras, I was able to realign, recalibrate, and heal myself. The next time I talked with my mother, I was aware of my own healing and an energetic shift that had taken place.
Fairchild has created a journal that can benefit anyone, from the novice spiritual seeker to a seasoned soul traveler. You can go as deep with the rituals as you want to go or simply use the lined pages as a journal and benefit from the uplifting messages on each page. The book is an undated journal, which you can use for any purpose you want. Both covers are designed with a folded extension, so you can mark your place in your journal. I really love this feature and the cover is a nice card stock that makes this feature easy to use.
The Kali artwork really brings alive the energy and history of Kali and inspires me every time I open the pages. Manton's use of rich, jewel-tone colors makes each depiction of the Goddess Kali and her consorts come alive on the page.  Many of the images portray the goddess with blue skin, burgundy lips, and dark penetrating eyes.  Yet, these images are not scary or off-putting.  Rather, each one seems to jump off the page with an aliveness that is spontaneous, inspiring, and arresting. 
Kali Journal is for anyone wanting to release and heal life issues and seek the liberation that the Goddess Kali can bring into your life. I recommend this journal for anyone who wants to connect to the magic and healing power of Kali, the "goddess of fierce protection and wild grace."3 I plan to use the journal for my weekly Saturday wrap-up and use the rituals to release the week and move on to new adventures.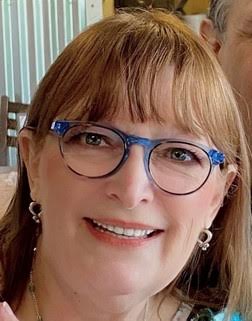 PJ Spur is an author, intuitive, spiritual mentor, astrologer, and hypnotist.  She does tarot & oracle card readings, natal chart readings, grief coaching, and relationship healing. She also has hosted a weekly "Coffee & Cards" event with her Soul Compass Community for the past four years. Her book Navigating Grief with Grace is available on Amazon. Learn more at www.dearpj.com
References