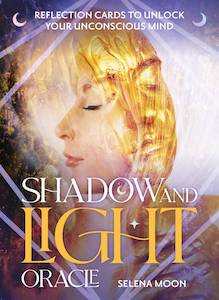 Shadow & Light Oracle: Reflection Cards to Unlock Your Unconscious Mind, by Selena Moon
Rockpool Publishing, 9781922579638, 96 pages, 36 cards, April 2023
Shadow & Light Oracle: Reflection Cards to Unlock Your Unconscious Mind by Selena Moon is a beautiful deck that presents opposing or complementary views on practical issues in daily life. Within the 36 cards and full color guidebook, Moon has created magical imagery with digital collage, drawings and line art. She writes the guidance from her personal experiences.
Selena Moon is an award-winning designer, digital artist, and author. Born and raised in Sweden, she currently resides in Sydney, Australia. With a bachelor degree and years of experience in graphic design, she has created a number of card decks and a journal for card readings. Moon firmly believes that art can positively impact people's lives. From her website:
"Inspired by diverse sources, Selena enjoys exploring new avenues to avoid being confined to a particular style or technique. Her multidisciplinary approach allows her to combine various skills and techniques to create unique pieces of art. In addition to her artistic endeavors, Selena has a keen interest in psychology and draws on her knowledge and experience to create products that inspire and motivate people in their lives."1
What drew me to the cards was the tagline: "Reflection cards to unlock your unconscious mind"2. On the day of my first experience with the cards, I was preparing to go to a family event. I was anxious and stressed and asked the question:
"What do I need to know to calm myself before this visit?"
I drew the card: #35 Physical Pain-Emotional Pain.  It talked about how the body and mind are closely connected and that troubles and worries can manifest as physical pain. The guidebook went further to ask me to "make note of any physical pain you might be experiencing."3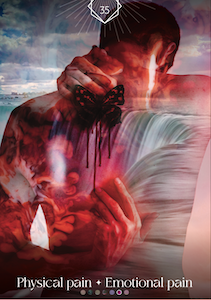 At first, I questioned how this card was going to benefit me in my current situation, but as I read the affirmation and exercise, it became clear. The affirmation encouraged me with these words:
"I am calm; I am grounded; I am safe."4
I took a photo of the affirmation with my phone and read it several times during the party. This really calmed me and helped me through a tense time with people who try my patience at every turn!
Next, I did one-card readings for a few friends. For the first friend, who is a district manager for a corporation by day and an intuitive reader by night, I drew #21 Asking – Telling.
This card is related to communication with others and the delicate balance between asking a question and telling your point of view. Moon encourages us to stop making assumptions or rehearsing in your head what you want to say, and really try to understand and listen.
My friend said that the reading really encouraged him with a current work situation and that he really liked the affirmation:
"I show up in conversations to understand, not to prove I'm right."5
He thanked me for the reading and said that he felt like these cards would be ideal for further self-discovery!
For another friend, who was struggling with some major changes at her workplace, I drew #4 Reflection-Overthinking. She said this was the perfect card for her!
This card shared information about the troublesome habit of asking "What if?" repeatedly and overanalyzing everything about a situation. This was exactly the current mindset of my friend, regarding her work changes. She
loved the way that Moon suggested that your thoughts can "bring you peace and harmony"6 instead of frustration. She felt that she would benefit from both the affirmation and exercise that Moon included for redirecting and reframing your thoughts.
Finally, I drew another card for myself and drew #32 Relaxation – Activation. This was on Monday, which is a day that I typically try to do all the things! Instead of stressing over my to-do list, Moon encouraged me to step back and relax a little by moving my body in a way that I enjoy, like walking.
"Activating your body will help calm your mind . . .see if you can shift your focus and let the stress out by moving your body."7
It really worked! After a quick walk around my neighborhood, I came back refreshed and ready to do some work on my website and create my weekly blog post.
This deck is so beautiful and easy to use. The colors are rich jewel tones and the various photos and graphics that she uses to create the visuals are stunning. I connected with the cards and the visual art easily and the guidebook was written in a very conversational style.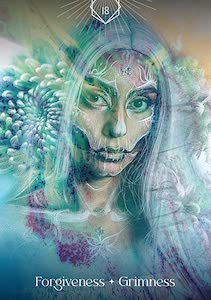 Moon includes written guidance, an affirmation, and an exercise for each card. The guidebook is printed in four color, so that you can also see the card you chose inside the book. Although each card is numbered, Moon also added a Table of Contents.  In the introduction, she shares that these cards are good for those times when you feel stuck, directionless or unfocused. She also includes how to cleanse your deck, how to phrase a question and three different spreads to use.
The cards are standard size and printed on glossy card stock in a very nice weight. They are easy to shuffle, but do not bend easily. Each card is lined with silver metallic edging. The cards and guidebook came in a sturdy two-part box that holds each piece of the set.
My favorite card in the deck from a visual standpoint is the Energy – Motivation card, which is #20. It features a woman looking down on a winding pathway that is covered in handwritten words and a scattering of letters. It almost looks like a walkway to the beach, with beautiful clouds in the sky. I could get lost in that card for days!
My favorite card in the deck from the guidance presented is #27 Offended – Enlightened. This guidance reflected the wisdom in stopping when I am offended and seeing the trigger. By loving that part of myself, I can move from "offended" to "enlightened."8
Shadow and Light Oracle would be good for anyone from a new oracle reader to a more experienced reader of tarot or oracle cards.  The language is easy to understand, yet it presents great messages for self-reflection and personal growth. I plan to add this deck to the stack of decks I use to close out a tarot reading for clients. Many times, I choose an oracle card to share a last bit of guidance for clients and the wisdom from Selena Moon will be a nice addition!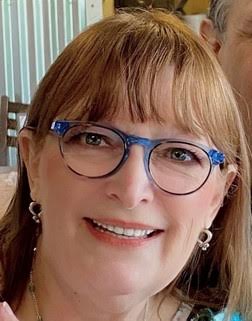 PJ Spur is an author, intuitive, spiritual mentor, astrologer, and hypnotist.  She does tarot & oracle card readings, natal chart readings, grief coaching, and relationship healing. She also has hosted a weekly "Coffee & Cards" event with her Soul Compass Community for the past four years. Her book Navigating Grief with Grace is available on Amazon. Learn more at www.dearpj.com
References