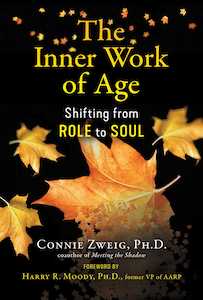 The Inner Work of Age: Shifting from Role to Soul, by Connie Zweig, Ph.D.
Park Street Press, 9781644113400, 393 pages, September 2021
As a woman of a "certain age", I was not surprised when the Universe placed The Inner Work of Age: Shifting from Role to Soul by Connie Zweig, Ph.D. in my hands. Of course, the information would be pertinent as I contemplated taking an early retirement option to join others in what is being termed the "Great Resignation". And yes, I had faced a life-alerting disease that served as a wake-up call. The real question though, was how receptive I would be to doing the inner work offered in the book to shift from "role to soul."
Dr. Zweig explores the "inner ageist" that exists in us, and in parables, stories, and interviews, "uncovers a realm of aging that is unexplored territory: the unconscious, or Shadow."1 The book explores ways to remove inner obstacles to aging from the inside out and in doing so, connect to the soul.
Aging is not an option, of course. But how do we shift from a role-centered life to a soul-centered life? If you ask someone to tell you a little about themselves odds are they begin with describing what they do for a living; their role that's earn money is often their first identity. The shift to doing one's soul work, transitioning to the role of the Elder, does not automatically manifest due to one's chronological age. It requires intention and inner work, which is outlined in the book.
The book is divided into four parts. Part One centers on Divine Messengers and offers ways to age from the inside out. How does one break one's identification solely with one's role and focusing on nourishing one's soul? It describes three portals to aging consciously – shadow awareness (the portal to depth), pure awareness (the portal to silent vastness), and mortality awareness (the portal to presence). It also explores two divine messengers – retirement and life-changing illness.
This section of the book most resonated with me. The chapter on retirement offered me the opportunity to explore what was holding me back from accepting a very generous retirement package and shifted my focus to wanting time affluence – time to do what I want, when I want to do it – versus a fixation on financial affluence – and facing my shadow of fearing financial destitution.
Part Two focuses on Life Review and Life Repair where one is offered the chance to work in ways to review one's life – both lived and unlived and the ways to repair and release the past in order to live more fully in the present. The section offers ways to repair one's past, to look back and reconcile to move towards closure. In reframing the negative, one can see betrayals as initiations into the shadow.
The focus of Part Three is on moving from Hero to Elder and describes the many forms of the Elder archetype – the spiritual, the creative, the Earth, and the activist among others. Elder wisdom calls one to "serve something larger than ourselves" while also transmitting knowledge gleaned over one's lifetime. Part Four centers on Life Completion and consciously moving toward a completed life. It allows one to reimagine death – not as a finality but as the completion of a cycle.
Each chapter of the book begins with a parable that exemplifies the chapter's focus. Each chapter also contains interviews with a wide range of individuals from mystic Robert Atchely, Buddhist teacher, Anna Douglas, and two of my personal favorites, kirtan chant leader, Krishna Das and Jungian analyst, Marion Woodman. The interviews often encapsulate the focus of the chapters in a nutshell. I particularly loved how Marion Woodman spoke about the "crown of age," knowing that the word crone is derived from the word crown – relating to the crown chakra.
As the book encourages action and inner work, at the end of each chapter one is offered questions focused on Shadow Work practices as well as Spiritual Practices, or "contemplative practices to turn your attention from role to soul."2
"Each chapter offers practices from shadow-work and spiritual contemplative traditions to help us break through denial, become aware of these inner obstacles, and overcome them. These practices ask us to slow down, turn within, and self-reflect."3
Dr. Zweig reminds the reader that "as each of us chooses not to merely grow old but to grow whole, to intentionally step across the threshold to become and Elder, we discover that aging can be a spiritual path."4 There is a lot of "stuff" that comes up as one ages and reaches certain milestones that are too often associated with redundancy, where one feels relegated to the corner of the room, no longer viable, when one's "doing" slows down and as such, one might be termed a liability to society and instead of an honored and revered member. This inner work, this move to self-awareness will greatly benefit the reader in particular – and one's community as well.
Dr. Zweig's writing style is easy to understand despite the book being laced with studies from publications such as the Harvard Gazette, Psychology and Aging, and Scientific American. Her descriptions of sessions with clients offer insight and analysis on various archetypes and Shadows, such as Victim and Victimizer.
I highly recommend reading The Inner Work of Age, but more importantly, I recommend doing the work as prescribed.
"With inner work, we move beyond midlife and cross a threshold into later life, emerging as the Elder. We let go of the striving and the pushing; we let go of the "should." We release our past identifies but carry all that we've learned, all that we love, always, within us. In this way, we are evolving from role to soul."5
Do the inner work necessary to transition to the role of Elder – you've earned that crown. Wear it with pride.

Anne Greco is a non-fiction writer who writes about her life experiences and travels with humor, keen observations, and the hope that her words will remind us that "we're all just walking each other home." Her book, Serendipity: Chance Pilgrimages, tells the story of Anne encountering her places of power. As she reconnects with herself at each site, Anne also develops a deeper understanding and appreciation of her connection to both the seen and unseen worlds. Learn more about her work here: http://annegrecowriter.com.
References