Through the Eyes of the Soul: 52 Prophecy Cards & Guidebook, by Cheryl Yambrach Rose
Blue Angel Publishing, 9780648746799, 52 cards, 68 pages, May 2021
We, as humans, are collectively engaged and catalyzed by imagery. The development of keen visualization skills is one of the most important trainings required in spiritual/magickal disciplines. We find our voices through imagery. We sense the emotions and intellect of intention through imagery. We see physically and with our subtle senses. We are continually processing and organizing information through imagery. So, when we are seeking answers to our most personal and profound questions, the imagery provided by whatever oracular tool we use is paramount in being able to completely pull us into that moment of intention and query.
Through the Eyes of the Soul: 52 Prophecy Cards & Guidebook by Cheryl Yambrach Rose checks off all of the boxes of what an oracle deck should accomplish. The imagery is beautiful and has a depth that speaks to Rose's artistic talents and clearly demonstrates her knowledge of spiritual practice and deep teachings.
"Cheryl Yambrach Rose (Glastonbury, UK) is a visionary artist, portrait painter, and author. Her spiritual portraits are published and shown worldwide, appearing in the Nelson Rockefeller Collection, the Rosicrucian Egyptian Museum, the San Francisco Palace of Fine Arts, and more."1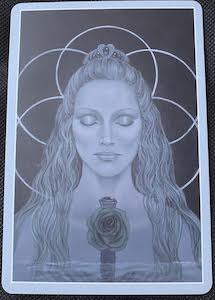 The deck includes 52 cards and a guidebook of interpretations for the meanings of each. Upon opening the box, I noted the image selected for the back of the cards. This image is not simply decorative; rather, it powerfully sets the tone for what is contained on its other side and emanates a subtle energy of deep contemplative quiet. I was immediately drawn into this reflective state and readied for whatever wisdom I was to glean from this palpable visual stimulation.
Each of the cards evokes an emotional response, as any finely crafted piece of art should. The images easily resonate as human to human, rather than fantastical images that are more of deep imaginings. However, upon closer inspection the seeker will be able to sense that although human in representation, those beings depicted on the cards have stepped more fully into their Higher Self and Divine nature. I found this very encouraging of remembering my own Higher Self and what is possible when that transformative awareness comes out of the pictures.
I chose to test out the oracle cards with a simple three-card query: What has brought me to where I am now? Where do I stand in the present? What is my work in moving forward? The three cards selected were on point with my (and, yes I know, very open ended) questions. The gift in the answers was not so much about whether these were magickal cards that could somehow predict, but in the very succinct, yet deeply catalyzing interpretations I read in the accompanying booklet.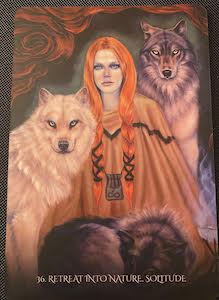 As the reader moves through the guidebook of Through the Eyes of the Soul, it becomes apparent that each of the cards contained within the deck hold special relevance to a particular God/dess, enlightened being or evolved individual from a variety of spiritual paths. The cards of my three-card draw reflected the trials a boy endured as he "climbs the ladder of enlightenment" to become a Shaman of his tribe in Suriname. The second card spoke to the wisdom of the Celtic Shaman and the "Dawning of the Green Man" and the third card introduced me to Libuse, the Prophetess of Prague, a Druid princess in the eighth century and the origins and greater meaning of the naming of Prague.
"This oracle deck is a vehicle for providing intuitive guidance from the mythic beings and divine entities who inhabit sacred sites and spaces. Deep insights and profound answers are hidden within the paintings. Meditating on a card image connects you to the energy of the location where the painting was conceived. You become the weaver of your fate by tuning into the higher self and allowing that spontaneous connection to answer questions or suggest advice."2
One of my favorite cards from Through the Eyes of the Soul is Card 36, "Retreat into Nature. Solitude.":
"Take time for yourself. Leave the daily routine and return refreshed and renewed…Inside the Redwood tree the (non-cultural) Shamanka/Shaman can retreat in silence and enter into the deeper realm of consciousness while feeling totally protected by animal allies."3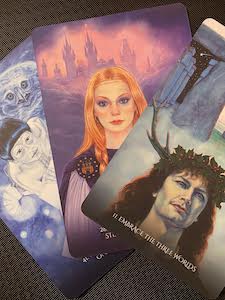 This message, in particular, rang very true for me and I am quite sure it holds true for so many of us. We seek the paths of the old ways, and yet are continually pulled and battered about societal expectations, deadlines, and more. Just simply placing your awareness and intention in the painting of this card, immediately transports the user to otherworldly places, the redwood forests and a space of respite.
I have many oracle decks and have come to hold a good dose of skepticism for how deep they will take the reader and the overall appearance that many have. That is not to say that they do not have an audience that will resonate and gain much from them, but, having a daughter who is a fine artists and has produced some deeply profound and beautiful spiritual paintings has, I admit somewhat heightened my levels of preferring imagery that is magickal simply in its every line, nuance and shading. These are the paintings and images that at first glance "transport" you along a journey of wisdom as each of your senses is awakened in resonance with what you have "seen".
Rose has succeeded precisely in the expectation that I hold. Through the Eyes of the Soul is a gift to your spiritual and mundane Self/self that will awaken within you doorways to unimagined beauty and wisdom. I'll be enjoying this deck for quite some time.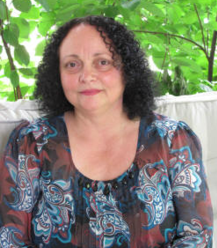 Robin Fennelly is an Elder within the Assembly of the Sacred Wheel Tradition [www.sacredwheel.org]. She is a dancer, teacher, astrologer, author, ritualist and seeker of all things of a spiritual nature. Her writings and classes incorporate a deep understanding of Eastern practice and Western Hermetics and bring a unique perspective towards integration and synthesis of the Divine and Mundane natures of our being. She is a mother of five and lives in Eastern PA with her husband of 45+ years.
References