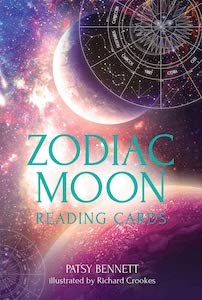 Zodiac Moon Reading Cards, by Patsy Bennett and illustrated by Richard Crookes
Rockpool, 9781925924268, 36 cards, 84 pages, March 2021
Patsy Bennett is a journalist, a psychic intuitive, and an astrologer with over 25 years of experience. Writing horoscopes for magazines and newspapers in Australia and around the world, she has also written several books and is a speaker and teacher in the area around her home in Byron Bay. She created the Zodiac Moon Reading Cards as a "powerful 36-card set and booklet depicting the Sun, Moon and eclipses through the zodiac signs." I watched a YouTube video of Bennett and listened to an interview to get a better idea of her astrology background.  She's the real deal!
I was intrigued by the use of eclipses in this deck.  Although we will only see four eclipses in 2022 (there were four in 2021 and six in 2020), it is interesting to note the energy of an eclipse in each zodiac sign–and this is what Bennett has captured. She features the twelve Sun signs, twelve Moon signs, and the twelve eclipse signs.
Due to my study of astrology over the past two years, I have been interested in anything that focuses on the zodiac, the Moon, or other planets.  She does a great job of explaining the energy of the Sun, Moon, and eclipses, as well as the twelve zodiac signs.  Her language is easy to understand and very informative. Bennet includes two spreads for the deck, although I decided to focus on one-card readings for my initial foray into these cards.  The guidance shared in the booklet is very rich and detailed.
When I saw this deck, my interest was piqued, as I wondered how the guidance for these cards would be revealed, so I dove right in, deciding to use the cards for my weekly Coffee & Cards group.
Initially, I asked a question for myself, posing a query around a work situation.  My card was Eclipse in Leo.  Keyword:  Compassion with Tagline: "Shine brightly like the star that you are."1  The verbiage in the guidebook suggested that I consider this time to be a turning point and remember to use my skills in both compassion and creativity. It also guided me to more self-care and a focus on activities that I love.  
I took this guidance to mean much more to me about a personal project I am about to undertake and saw it as a "green light" to move ahead. It also urged me to: "Keep the channels of creativity and happiness open with an active and optimistic mindset."2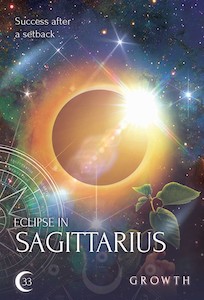 Next, I pulled a card for each of the women in my Saturday card group.  One woman asked a question regarding her new job prospects.  The guidance she received came from the card Sun in Sagittarius with Keyword:  Adventure and Tagline: "Stride out into new territory."3  Similar to my experience with my card, she felt that the card answered a different question she had regarding taking a trip to South America to work with her Shaman.  At the very end of the passage, Bennett shares "If you asked a 'yes' or 'no' question, the answer is 'yes'."4
Another woman asked a question regarding starting a website to sell tarot decks. She has been studying and buying decks for over twenty years. Her card was Eclipse in Aquarius with Keyword: Awakening and Tagline: "Your deeper resolve rises."5 She shared that just this week, she had made a decision to stop job hunting and focus 100% of her energy on setting up her website for teaching Tarot and selling cards. She felt that this card confirmed that decision. One paragraph really stood out in the guidebook for her: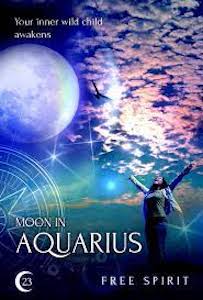 Digital and technological ventures can reach a new level. You may see your abilities in the digital world in a new light. Avoid being consumed by technology; Ensure you create balance in your life between technology and everyday concerns.6 
She shared in the group that while she had a little experience in developing a website, the new technology was a concern.  She took this card to be her confirmation that she can handle whatever comes her way and that her resolve to provide not only cards for sale, but also educational information and support for people on a spiritual journey will be key.
The cards are a little larger than most oracle decks and hard for my small hands to shuffle in the traditional way.  However, by mixing them up on a tabletop or doing an overhand shuffle, the cards can be shuffled for each use.  The cards are of a medium to light-weight card stock and I'll have to be careful not to bend the cards.  Also very glossy, the cards are highly varnished on both sides.  I noticed that I had to turn off the overhead light to photograph them for sharing online. The highly varnished surface reflected the light and distorted some of the graphics. However, this is minimized by turning off the light. The deck and guidebook come in a beautiful box, with an indentation to hold the cards and a magnetic closing flap.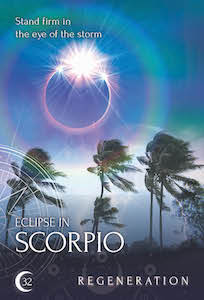 Bennett and her illustrator have done a beautiful job of matching the keywords and taglines with images that bring the verbiage to life. The guidebook is easy to read and has been printed in full color, including color photos of each card. It is arranged in Zodiac order from Aries to Pisces for each of the three sections. Bennett has provided two ways for you to find your card or cards, if you are unfamiliar with the natural order of the Zodiac signs: 1) She has numbered the cards from 1 to 36 and 2) there is also a Table of Contents.
I really enjoyed working with the Zodiac Moon Reading Cards.  The messages were clear and the guidance was detailed and flowed beautifully from the guidebook.  This deck would be great for anyone who wants to learn more about the Zodiac signs and the energy of the Sun, Moon and eclipses.  No prior knowledge of astrology is required and this is really helpful for most people.  I'm also planning to keep this deck close by and refer to it when the Sun and Moon moves into each sign.  This will help me continue to build on my knowledge of the qualities for each of the Zodiac signs.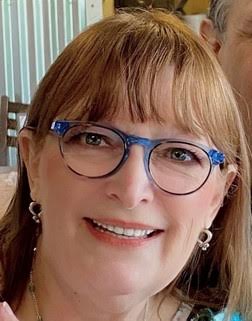 PJ Spur is an author, intuitive, spiritual mentor, astrologer, and hypnotist.  She does tarot & oracle card readings, natal chart readings, grief coaching, and relationship healing. She also has hosted a weekly "Coffee & Cards" event with her Soul Compass Community for the past four years. Her book Navigating Grief with Grace is available on Amazon. Learn more at www.dearpj.com
References