Alanna: Hello Katrina! Thank you so much for taking the time to speak with me today about the upcoming release of your book Anti-Consumerist Druid: How I Beat My Shopping Addiction Through Connection With Nature. I absolutely loved it, and as someone who often tends to overspend during the holiday season, I thought this was the perfect time to read it and reconnect with my reverence for nature.
Sometimes I struggle reconciling my love of shopping with my nature-based spiritual practice and ecological values, and it was relieving to hear another person's story of struggling with their own shopping addiction yet finding a way to overcome that through their own spiritual path. To get started, why don't we give readers a little background on who you are and why you decided to write this book?
Katrina: Hello! Thank you so much, I'm really glad to hear that you enjoyed the book! It began life as a journal I started keeping in 2019, when I had my first bash at trying to give up shopping. I was in my late twenties, new to motherhood, struggling with my body image, and trying to deal with all of that by, essentially, shopping my way to happiness, which unfortunately doesn't work.
I'd been using shopping, dieting, social media, and generally fixating on my appearance as a kind of cure-all since I was a teenager, and honestly I hadn't noticed how much these habits and obsessions had cut me off from nature and the physical world. It was only when I started to break away from those behaviours that I could find my spirituality and start to become more of the person I want to be.
I am a student of Druidry and a devotee of the Goddess Brigid; I live in Hampshire in England and have done so all my life. Writing has always been my hobby and a way to express myself so I'm very excited to have a book in print!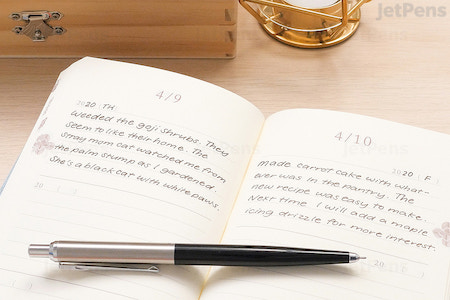 Alanna: I too keep a journal and find it so helpful to notice patterns in my life. How did you get into the practice of journaling, which was a big part of your transformation process, and writing this book especially with a little one to care for at home?
Katrina: It's been a huge part of the process, I've barely missed a day in four years now. Sometimes I wonder where the notebooks will end up after I'm gone – possibly boring my descendants to death, as a lot of my initial process was just exploring my thoughts and feelings about shopping and my self-image, and lists of things I'd bought as I tried to figure out where my money was going.
The little one was only about a year old when I started to realise that my shopping was actually a problem. I had several attempts at buying less, because I could see the money in my accounts starting to dwindle, and I got more and more concerned when I realised how hard it was for me to stop. I started keeping a daily journal to try to get to the bottom of these compulsive urges – I took twenty minutes each morning while the Spud bounced about in his jumperoo, or later on while he napped. When I realised that social media, particularly Instagram, was a big contributor to my out-of-control shopping habit, I started using the journal as an outlet for all those little thoughts and moments I would normally have posted online. It was much more calming and grounding than the frantic online bubble.
Much of the book already existed in my journals and just needed to be spun together, which I did mainly during naptime or after my son was in bed – except the footnotes, which I bashed out over a gritted-teeth weekend while my husband did the child-wrangling.
Alanna: I think many people will agree a shopping ban, especially one that lasts a whole year, would be extremely challenging. What would you say was the toughest thing about your year-long shopping ban?
Katrina: All of it! Ha, no, honestly looking back I'm kind of appalled by just how difficult it was in the beginning. I'd built this whole identity around shopping and clothes, and those first few months I just had to feel everything I'd been pushing away with those habits. Comparing myself constantly to everyone else, feeling like I had absolutely no idea of who I was, and having to face up to how much time, money and energy I had pretty much just wasted.
Alanna: You mentioned before the impact social media had in feeding your shopping addiction. Can you speak a bit more to this? Overall, do you feel like the internet and social media is driving consumer culture?
Katrina: Oh yes, absolutely. I think I would never have come this far if I hadn't realised fairly early on that my constant browsing and scrolling was feeding into my obsessive shopping. I had to ask my husband to change my Instagram password to keep me off the app! It was two-pronged, for me – on the one hand, I was constantly seeing beautiful things, useful things, things I didn't need before that moment but which seemed so much more desirable than the things I already owned, and secondly, I was constantly seeing other people's wardrobes, bodies and lives, which of course are highly curated and edited but which I still felt I needed to live up to. Shoppable feeds also have a lot to answer for, in my opinion – it's about the impulse buy, about removing any friction between the shopper and the purchase.
Alanna: In your book, you describe your journey in confronting your shopping habit, but I'm still wondering, would you say you initially start down this path more for personal reasons? And has your reason for embracing this lifestyle changed through your journey?
Katrina: Initially I'd say my reasons were very prosaic – mainly financial, then emotional. Now I'm a bit evangelistic about how just trying to quit shopping has changed my life. The real deep-down shifts started to occur when I had to find other ways to fill the time and headspace I'd freed up , and started going for long walks in my local nature reserve. It was literally the only way I could think of at first to get away from the temptations of shops and screens, but I soon found that it calmed my constantly chattering mind (and my lively child, which was a bonus!).
After a while I started to really crave my outdoor time, and then things really started to snowball – I got more interested in nature itself which developed into a passionate environmentalism; and I began to experience 'nudges'  and synchronicities of a more spiritual bent, which I could only be more open to now that my mind was quieter, and which led me to start exploring Paganism; and all these things fed back into and served to intensify that original desire to stop shopping.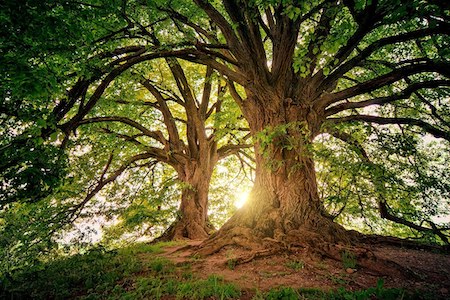 Alanna: I've noticed that a lot of people feel more secure in having a home full of things, whether it's decor, clothes, books, appliances, etc. which drives them to make unnecessary purchases. Do you think there is an aspect of "safety" that comes from having hoards of stuff? And if so, how do you feel Druidry provides this in a healthier way?
Katrina: In a way I suppose there is. I can picture my younger self piling up mountains of clothing and shoes and cosmetics and tchotchkes as a kind of emotional bulwark against all these fears and insecurities I didn't know how to confront, this sense that deep down I wasn't very interesting, not very pretty or worthy of notice, and the more flamboyantly I dressed or the more conspicuously I consumed the more attention I got. And then the things I had and the process of accumulating more things became my whole identity, to the point that I didn't have any other interests, didn't know what I liked any more or even have any sense of myself as a person. So I guess you could say that was my "safety".
Druidry changed me very slowly and gently, and I have very gradually come to realise that how I look and what I buy are the least interesting things about me, that there is a whole world out there that is awake and alive and communicative, and the absolute last thing it cares about is what I am wearing when I show up.
Nowadays I feel a deeper sense of security, a rootedness in the core of myself, and I feel like that stems from finally feeling aware of what Mary Oliver called my 'place in the family of things'. I'm not struggling or striving to be something all the time, I don't need to prove anything, I'm happy in my skin. And one massive benefit of Druidry is, hey, if people don't get me, that's fine, I can always go hang out with the trees.
Alanna: One thing I really enjoyed in reading your book is the honesty about the many times you've fallen off the wagon. Yet each time it seems like you're coming back to yourself and re-committed to starting fresh. What advice do you have for others when they too fall back into old habits?
Katrina: I frustrate myself in that way – I very much wanted to write this linear story of my amazing no shopping year, but I just couldn't do it straight off the bat. I think I had to make those mistakes so I could learn a bit more about myself and build in some better coping mechanisms. When you've worn yourself a groove, it is so easy to keep sliding back into it. But you do eventually learn the difference between cutting yourself some slack and just giving yourself loopholes. I'm mixing my metaphors a bit here I think!
The point is, when you mess up, you can forgive yourself without giving up on yourself. One blip doesn't mean you jack the whole thing in.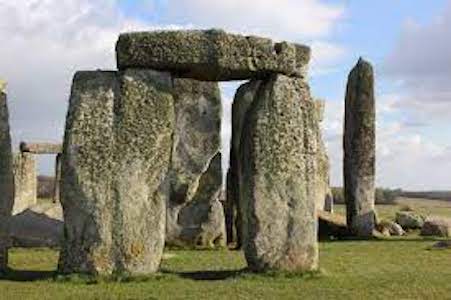 Alanna: I also enjoy how you are upfront about your beginner status in Druidry, as well as your dedication to forging your own path. I thought it was brave to admit you're not an expert on the topic but still willing to share your beliefs. Have you ever felt any sense of gatekeeping on your spiritual path? And if so, how did you overcome the need to fit yourself into other people's version of this spiritual path and move forward with your own?
Katrina: Thank you very much! I figured it was better to be upfront rather than pretend to have knowledge and experience that I just don't have. I hope that I can show people that you don't need to be 'good at' Druidry, or have decades of personal gnosis, or be a powerful magician or whatever, to have very tangible and magical experiences and start relating to the world in a different way.
Gatekeeping… Not since I was a teenager on Wiccan chat rooms at silly o'clock in the morning, but I saw enough then that I take the simple approach of only discussing my personal practice in fairly vague and broad terms, and generally only with people I trust, so that I can get on with what I'm actually doing instead of tying myself in knots over the opinion of people I don't know. I've seen lots of snottiness about other people's paths, the right way to do things, names like 'white lighter' and 'fluffy bunny' being flung around. And I've seen it in myself too, when I want to make comments to my husband about people being all show and no substance (when really, how would I know?), or those moments when I wonder what on earth I think I am doing, writing a book.
I keep moving forward simply by dealing with what I'm experiencing in my practice at any given time. I have an attentive matron goddess who will not be ignored, which makes it pretty easy to keep focus and stay in my own lane.
Alanna: Since a big part of your spiritual journey was noticing signs from the Celtic Goddess Brigid, I'm wondering, are you still cultivating your relationship with Brigid?
Katrina: Oh yes! Brigid has become a huge part of my life, her altar is at the heart of my home. She is like a touchstone for me. I must admit, after growing up in a Church of England school, it has taken me a while to come to terms with having a very vibrant and reciprocal relationship with deity. After years of skepticism, I am still surprised that when I ask, she answers, but it's wonderful and I love it.
Actually, once my eyes were opened to Brigid and her role throughout the history of Britain, I came to see that she is absolutely everywhere. Her signs , symbols and mythology are woven through our culture and landscape even today. I said to someone recently that it feels as though someone has pulled back a curtain and I am only now seeing what was here all along.
Alanna: I certainly know what it feels like to be guided by a goddess. I love your very authentic story; you don't go out of your way to embellish it, which is what makes it so relatable. As we near the end of this interview, what would you most like readers to take away from reading your book?
Katrina: That the world is a deeply magical place. That we are born to be so much more than consumers. That we can free our minds and hearts from the consumerist trap and rediscover enchantment.
Alanna: Any future projects on the horizon for you? I would love to read more about your thoughts as a millennial eco-advocate!
Katrina: I am tinkering around on a new book with a friend, but the going is slow as we both have high maintenance life stuff to juggle! But yes, there is definitely the potential for more in the pipeline, hopefully in the not too distant future.
Alanna: Amazing! I can't wait to read more of your writing. Thank you so much for speaking with me today, Katrina! Truly my pleasure. 🙂
For those whose interest is sparked by this interview, The Anti-Consumerist Druid: How I Beat My Shopping Addiction Through Connection With Nature will be released by Moon Books on November 25th, 2022. I highly recommend it for this holiday season, especially if you're thinking about decluttering or lessening your own shopping habits for the upcoming new year!

Alanna Kali is an astrologer, numerologist, and pioneer spirit that loves to explore life through the lens of depth psychology. She has a passion for studying the humanities and social trends. Her academic work is centered upon reuniting body, mind, and spirit through eco-psychology. She loves reading, spending time in nature, and travel.