Celtic Healing Oracle, by Rosemarie Anderson and illustrated by Susan Dorf
Inner Traditions, 9781644114964, 165 pages, 64 cards, January 2023
An interesting combination of both myth and tradition, the Celtic Healing Oracle card deck by Rosemarie Anderson is filled with healing information and guidance.
Anderson has been studying Celtic traditions since the late 1970's.  She is an author, poet, professor emerita of psychology, Episcopal priest, and award-winning researcher. She is the author of six books, including The Divine Feminine Tao Te Ching, Transforming Self & Others Through Research, and Celtic Oracles: A New System for Spiritual Growth and Divination. She has lived in many different countries around the world, including South Korea, Japan, Germany, Italy, and Ireland. She now lives in Oregon.
The artwork for the cards was created with an art knife and black paper by the artist Susan Dorf. She created the images to represent contemporary block prints. She is well known for her sketches, paintings and prints, as well as workshops in painting and journaling in several countries. She currently lives in Mexico.
Anderson traces her journey to create these cards to a time almost forty years ago when she lived in Germany.  Here she visited the forests and woodland creatures and became aware of the Celts and their belief in the interconnectedness of life. Later, she would live in Ireland, Wales, and Scotland and learn more about the Celts and their rich traditions.
The Celts divined answers to life's questions from the animals, plants, wind, and seasons. Trees and animals had particular knowledge of all things – past, present and future.
In addition to the history of the Celts and their belief systems, Anderson includes tips on how to best use and interpret the cards. For example, she speaks about what to do if the same card shows up time and again:
"If so, watch for that symbol mirroring many aspects of your life. A basic issue, represented by one or more related symbols, may have overriding significance in your life at this time period. For example, you might repeatedly cast one or several manifestations of the goddess in response to a variety of questions, signifying integration of certain of her aspects."1
Anderson also includes several different spreads for use with the cards, including the Spiritual Development Spread. This spread features six cards and a variety of questions that Anderson bases on her own use of oracle systems.
I did a reading for myself with this spread and received a succinct answer to a question that I had been pondering for quite some time.  The message of the six cards could be distilled into a guidance that assured me that I had all of the tools within me to heal old wounds and take decisive action in future endeavors.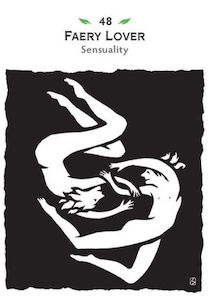 Next, I did a one-card reading for each of the women attending my Sunday Coffee & Cards event on Zoom. For one woman, I drew the Raven card, which speaks of truth-telling and prophecy.  She related that the message really resonated, including the portion that said:
"Your present situation may require speaking the truth to clear the way for newness and avoid misunderstandings. Telling the truth is akin to prophecy. It cleans the eye of the heart."2
For another woman, I drew the Ram-Horned Snake/Shape-shifting card. She related that over this past summer she took a month-long trip to her home state and enjoyed carefree travel plans. She related:
"This ties into my summer so much! Shape-shifting or going with the flow as events present themselves. Don't wait! I've had so many messages from animals and plants lately, too. Thank you for this confirmation."
Although the cards do not appear to be arranged in any particular order, Anderson numbers the cards. This tool makes it easy to find the guidance in the book, which also features a Table of Contents. To break up the black and white art and type in the guidebook, Dorf highlights the name of each card in green and also uses red type for section titles. Anderson includes a bit of history for each card in a section of invocation. Then, she features a section called "If you drew this card," where she shares guidance and messages.
The invocation section title is really helpful, as it gives a word or two that contains the overall energy of the card. For example, with my own six-card reading, I received these words of encouragement:
Power – Change – Selfless Action – Wholeness – Honor – Decisive Action
The cards are printed on a nice card stock and will hold up nicely to repeated use.  Although the cards are printed with a glossy finish, they do not show fingerprints. The back of the cards is printed in green with a black Celtic symbol, while the front of the cards is black and white with tiny green leaves as accents.  The deck is a standard oracle card size with its 3.5 X 5 dimensions.
My favorite card in this deck is #12 Mare – Healing the Wounds of Abandonment and Loss of Trust. Perhaps because I drew this card in the spread where I was asking for clarity, this card really spoke to me of the power of healing the heart so you can be more open and free.
This deck would be good for any level of oracle or tarot reader. The way the guidebook is presented, and the simple design of the cards makes it easy for any reader to utilize. I can see myself adding a one card reading to my intuitive readings or coaching sessions for clients. The guidance is easy to understand and the additional information on Celtic history and traditions enriches the messages.
Anderson also includes a complete "Selected Celtic Bibliography" for those who might want to further investigate Celtic traditions.
In Anderson's own words, the Celtic Healing Oracle cards provide guidance from a rich symbology:
"Whether you choose a card from the card deck to answer a specific question or create a card spread from the cards, the symbols provide a practical and spiritual perspective into the hidden forces within your nature and present circumstances."3
I'll be looking forward to working with this deck in the coming months to learn more about myself, in light of the nature symbols and Celtic traditions.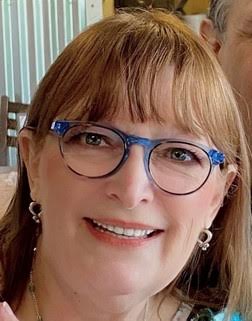 PJ Spur is an author, intuitive, spiritual mentor, astrologer, and hypnotist.  She does tarot & oracle card readings, natal chart readings, grief coaching, and relationship healing. She also has hosted a weekly "Coffee & Cards" event with her Soul Compass Community for the past four years. Her book Navigating Grief with Grace is available on Amazon. Learn more at www.dearpj.com
References