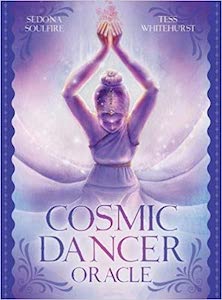 Cosmic Dancer Oracle, by Sedona Soulfire and Tess Whitehurst, illustrated by Elinore Eaton
Llewellyn Publications, 0738767107, 44 cards, 148 pages, 2020 
The Cosmic Dancer Oracle by Sedona Soulfire and Tess Whitehurst perfectly captures the soulful integration of mind, body, and soul. This deck is a mixture of radiance and delight, as the cards beautifully show the flow of energy within the relationship between body and spirit. Elinore Eaton, the deck's illustrator, has magnificently expressed the dynamic rhythm of the movement as a form of self-expression in this illuminating, brightly colored work of art. Working with this deck has been an exciting journey, as it's invited my body to participate in the process of connecting with the unseen to glimpse the answer I seek and revitalize my spirit.
I've always enjoyed exploring my intuition through my body. I actually wrote my thesis on the importance of teaching in a way that promotes one's kinesthetic intelligence, or the body's knowing, as a learning tool. This project evolved into me dancing the principles of eco-psychology and documenting the self-reflection process. Countless hours were spent discovering my body's intelligence, while also researching how impactful dance can be as a form of therapy. It is for this reason that I absolutely adore and appreciate Soulfire and Whitehurst's intention in creating this deck.
As the introduction states, "Life really is a dance. Sometimes it's time to sparkle and shine, and sometimes it's time to retreat and recharge. Some days you're called to lead, and others you're called to follow. At times it's appropriate to improvise, and others call for well-practiced choreography. What's more, invisible currents of energy and vibration coalesce in ways that create and animate everyone and everything in the Universe (seen and unseen), even the passage of time." 1 This deck has done a wonderful job of portraying this sentiment visually, while also providing guidance for the reader to use movement to anchor the oracle cards' messages in their own body.
There are 44 cards in the Cosmic Dancer Oracle, and every single one is unique. The deck truly represents the range of emotions people are able to share through their bodies. Blending cosmic energy and elemental power, the cards offer the reader intuitive images that are sensational visual representations of dancers using movement to embody a sacred oracle message. Truthfully, the artwork on the cards is some of the best I've ever seen in an oracle deck. Looking through the deck, each card fills me with the excitement akin to going to a museum exhibition of my favorite artist. Eaton's imagery activates my psyche and speaks directly to my soul. Some cards make me want to get up and dance, while others help me to honor the need to rest. As I look from card to card, each one's energy activates both my body and intuition.
The accompanying guidebook is uplifting and straightforward in the guidance offered. Messages affirm the importance of ancestry, offerings, surrender, and creative flow. It feels as though I am receiving a gentle spiritual reminder when reading the message for the cards I've pulled that help me to shift my focus towards love, openness, and unity with the current situation I am inquiring about. The guidebook's messages further help to facilitate connection to one's body by offering a movement, pose, or dance for every message. I've really enjoyed following the guidance and doing this, as I feel like it imparts the cards within into my embody reality.
For instance, the card I pulled today was Clear The Vessel. This was very apt to how I was feeling, as I had just finished deleting emails back to 2018 to do a bit of techno-cleansing to prepare for the new year. The guidebook offered a breathing posture of moving into a stance with my feet shoulder-width apart, extending my arm upward, pressing together my index finger and thumb, and doing rapid breathing. As I did this pose, I instantly felt my energy becoming grounded and excess energy being released through my body. It made me feel purified, relaxed, and ready to move onto my next task.
Overall, Cosmic Dancer Oracle is a wonderfully intuitive and well-integrated deck. I highly recommend it to anyone looking to add a bit of mystic movement to their life. The artwork is gorgeous and makes it so this deck can be used for oracle reads, meditative visualization, and altar creation. All my readings with the deck thus far have been just what I needed to hear in the moment. This is definitely a deck that's not going to get dusty, as I'm sure it will be used it frequently.

Alanna Kali is an astrologer, numerologist, and pioneer spirit that loves to explore life through the lens of depth psychology. She has a passion for studying the humanities and social trends. Her academic work is centered upon reuniting body, mind, and spirit through eco-psychology. She loves reading, spending time in nature, and travel.
References