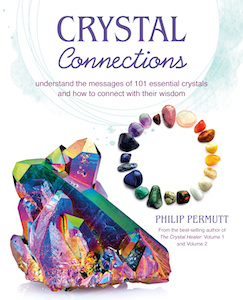 Crystal Connections: Understand the messages of 101 essential crystals and how to connect with their wisdom, by Philip Permutt
CICO Books, 9781800652095, 144 pages, April 2023
Crystal Connections: Understand the messages of 101 essential crystals and how to connect with their wisdom by Philip Permutt is a sequel of sorts to his first two books,  The Crystal Healer and The Crystal Healer: Volume 2. While taking a crystal course a few years ago, I was introduced to Permutt, who is a crystal expert, crystal teacher and author. My teacher recommended Permutt's books as a type of "Bible" for not only the coursework, but also for life. When I learned that he had published another volume, I knew I had to have it.
Permutt is based in England and has been described as "Britain's leading crystal expert"1.  He has been studying and working with crystals for more than 30 years. He discovered crystals and their healing properties after a severe illness and several surgeries put him in the hospital. When he started using crystals for healing, his condition improved and soon he was walking after his doctor told him he might never walk again. Permutt has an honors degree in Biology, is a bestselling author, crystal teacher and lecturer, and runs a successful wholesale and retail crystal business.
He begins his book by sharing his personal introduction to crystals and reminding the reader that crystals are living beings. I love that he calls crystals "Stone People."2 In this book, his goal is to share his methods for "tapping into and understanding these amazing Stone People and the messages they bring us."3
In a very organized manner and with easy-to-read prose, Permutt introduces the concepts of choosing, cleansing, and working with crystals.  Next he discusses the human energy system, including the various auras, chakras, and meridians. For each chakra, he shares a brief description, as well as appropriate crystals, fragrances, and keywords. 
Next, Permutt gives detailed instructions regarding using crystals for divination. I was not aware of this practice and enthusiastically read the information, as well as the exercises to perform a reading, creating a grid and using these crystals for a treatment.  He even includes a way to do a crystal divination meditation, which further personalizes the use of crystals for personal growth and healing. 
Finally, Permutt provides a crystal directory and arranges it by color.  This is so helpful!  Many times, a friend or client brings me a crystal for identification.  If it is not a really common crystal, I have to look it up in my many crystal books.  Permutt usually arranges his books by color and this one is no exception.
One of my favorite sections talked about the need to allow your crystals to "rest."4
"Colors may fade or look dull . . . the crystal needs a vacation, just as we do."5
You can do this by placing the crystal on a piece of amethyst. You can leave it there until the color changes or until it tells you it's ready to go back to work.
Every chapter includes an important exercise or a way to work more closely with your crystals. The "Listen to Your Crystals" meditation is one of my favorites. It's a great way to get in tune with your crystals and learn valuable insights.
I called on a few friends and asked them to give me an emotional issue or healing struggle for research with Permutt's latest book. Here are the results:
For my husband, who struggles with stomach issues, I learned that Obsidian and Tiger Eye can help with digestive issues and Turquoise is good for general healing.
For my granddaughter, who has allergies, I found Carnelian is great for the immune system.
For my friend who is a craniosacral therapist, who works with babies and small children, she needed a crystal to help calm the children in her massage room. Permutt suggests Blue Calcite and I happened to have a nice specimen that I gifted to her.
And for myself, I learned that Black Tourmaline is great for arthritis. Tiger's Eye is also good for that eye issue I had a few weeks ago!
Permutt fills the book with four color photographs of crystals and the quality and coloring is both beautiful and accurate. He also includes quite a number of colored drawings for the exercises and to accent each chapter. The drawings are whimsical and helpful and support the information in a very down-to-earth style.
He includes a Table of Contents and two indexes. One index is strictly for crystals and he includes a bold number for those listed in the Crystal Finder in the last section. The other index is a general index. (Note: I wish that he had included more symptoms in the General Index. You have to go through the Crystal Index and look at "healing" for the area of the body or symptom that the crystal will treat.)
The information in this book is invaluable for a newbie to Stone People. Permutt covers everything from choosing a crystal (or letting one choose you) to working with crystals and healing with crystals. However, even a seasoned crystal lover such as myself can benefit from the exercises, meditations and color-coded list of 101 crystals. I particularly loved the section on allowing a crystal to choose you!
I plan to review the section on crystal divination a little later this week and set up my own twelve crystals for divination and healing. In this way, I will have a handy set of crystal tools for clients, as well as for my own healing. Crystal Connections is now going on my office shelf with my other two Permutt books to guide me on my journey.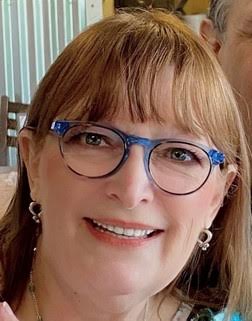 PJ Spur is an author, intuitive, spiritual mentor, astrologer, and hypnotist.  She does tarot & oracle card readings, natal chart readings, grief coaching, and relationship healing. She also has hosted a weekly "Coffee & Cards" event with her Soul Compass Community for the past four years. Her book Navigating Grief with Grace is available on Amazon. Learn more at www.dearpj.com
References