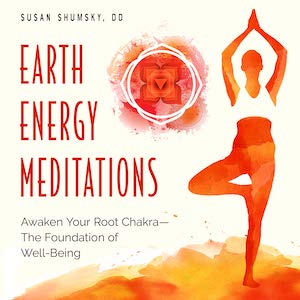 Earth Energy Meditations: Awaken Your Root Chakra – The Foundation of Well-Being, by Susan Shumsky, DD
Weiser Books, 978 157863 703 4, 224 pages, 2021
In her book Earth Energy Meditations: Awaken Your Root Chakra – The Foundation of Well-Being, Susan Shumsky sets the stage for personal work on a level that is both sustainable and achievable. A highly respected teacher, author, and founder of Divine Revelation, Shumsky's goal is to educate those who feel called to explore their chakras and learn how to both bring them into and keep them in balance. Beginning with the first chakra, known as the root chakra, Shumsky shows how to reconnect with the earth and humanity through a series of readings and meditations.
Real talk: I have a hard time with meditating, simply because of the guilt that arises each time I try and sit and do 'nothing'. I think we all have a degree of that sense of 'I should be doing something productive instead of sitting here breathing' and for me, I find I spend more time fighting that than actually visualizing the sphere of light or whatever I am supposed to be focused on. I do my best to stick with it as I understand the benefits, but I've never been able to do it for any great length of time.
Knowing this, Shumsky chose to take a different approach using the introduction section of the book. She explains that the book contains a series of guided meditations, carefully written out with pauses built in and encourages the reader to record their own voice. Jumping ahead in the book is discouraged, however. Shumsky says, "The book is written in a particular order to help you gain increasing strength and integrity. So it is best to practice these meditations in the order they are written."1
Despite that, there is a provision for those who wish to explore a specific topic in their meditation, and Shumsky encourages focusing on the related chapter. With chapters on such topics as healing ancestral entities, developing inner wisdom, and living your truth to name a few, it's easy to see how one might want to dive into a later chapter that could offer more of a robust lesson in meditation.
Personally, I did something I never do: I started at the beginning and worked my way through the book as directed. I recorded my own voice as suggested and did my best to try and relax and breathe through the various stress-filled moments where I felt like I should be doing laundry or cleaning or something more important. I think a big part of meditation is learning how to put yourself first, and that idea of putting myself before other things been something that has not come easily or naturally to me.
One meditation that completely resonated with me to the point of tears is around releasing your false self. Shumsky says:
"Human being generally identify themselves with the false self, a.k.a. the ego – limited and bound by ignorance. When I say "ego", I am not referring to "egotism" or being "egotistical". I am referring to how you define yourself, i.e, who or what you imagine yourself to be."2
After the passage, Shumsky then asks the reader to record the affirmation that follows in a strong voice with conviction and I have to tell you, this specific affirmation worked wonders for me. I am not much for the 'love and light' crowd as I feel deeply that things need to be balanced and too often we strive for that balance on the side of lightness. There is something to be said for coming to a deep realization that we are beyond what our conscious mind believes.
Meditating and working with the root chakra unlocks a bunch of hidden stuff that can either be allowed to overtake you or can be used to gently strip away that which is no longer needed. Personally, I like shadow work in all forms and I liken this book to that practice completely. Learning how to connect and ground through simple mantras and other techniques is incredibly helpful for times when I need something concrete to hold onto. In the middle of a panic attack, I don't have to think about too much outside of deep breaths and palms pressed together. That to me is a comfort. As I become more practiced, perhaps other techniques will surface for me to use but for now, this works brilliantly.
Shumsky writes with a practiced ease and answers questions you didn't know you had until you started reading. Her style is open and gentle and is both accessible and reachable in terms of who can practice. There is no feeling of needing to catch up nor is there any shaming if you aren't able to perform the simplest of meditations. This is meant for the reader to experience as they will and is not meant as another tool with which to beat yourself up over.
Anyone interested in learning chakras but feeling a bit overwhelmed by the whole thing would do well to read Earth Energy Meditations. I am very much for foundational readings, and, as this book covers the root chakra, this is a great place to start. The writing is approachable and the book itself set up into chapters that clearly identifies what specific area is being explored. I would caution that some of this work gets a bit heavy and if you find yourself sinking too deeply, there is no shame in reaching out for help. Asking for guidance is an act of bravery and does not mean you are unable to look after yourself. We all need help from time to time and the best way you can show yourself how much you love yourself is by getting the help you need.
Sarrah October Young is a writer and practising witch who wished she could do stand-up comedy. When she isn't writing or witching, she can be found posting about her cats on IG @therealoctober.
References