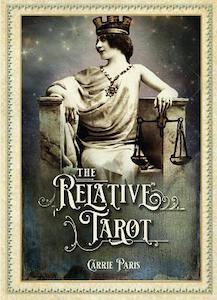 The Relative Tarot: Your Ancestral Blueprint for Self-Discovery, by Carrie Paris
Weiser Books, 1578637627, 96 pages, 82 cards, November 2021
Ancestry has been a prominent theme for me this November. I've taken an ancestral astrology class, while also curating book club questions on Hiero for Badass Ancestors. The Relative Tarot: Your Ancestral Blueprint for Self-Discovery by Carrie Paris came along in perfect harmony with these other happenings. So far, it's one of the most unique tarot decks that I've ever worked with. I'm just loving the bridge it opens between past, present, and future.
And this is exactly what Carrie Paris does best, as her work often allows for divination across the barriers of time and space. She holds a Masters in the Cultural Study of Cosmology and Divination from the University of Kent, UK. Paris also has recently published Generations Oracle with Lisa Bonnice, which uses casting pieces, such as charms and coins based on the Lenormand Oracle, and a pendulum to connect with ancestors.
One of my favorite divination systems created by Paris is the Magpie Oracle, which uses small charms to cast divinations. I've always found her approach to divination very out of the box. It's refreshing to have new ways to connect with spirit, and it's clear Paris puts a lot of thoughtfulness into her creations.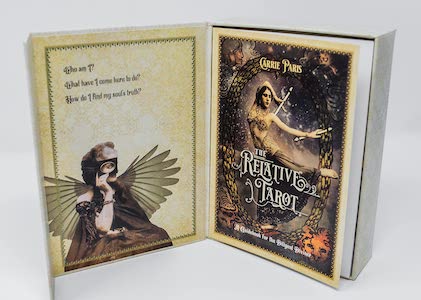 The methodology for The Relative Tarot is just as unique. Paris asked her readers to send her photographs of their ancestors, and thus this deck was born of their images and stories. Initially, she planned for it to only be Majors and Court cards, but she received so many portraits and requests to be included that she decided to also include the Minor cards as well.
A sturdy box holds the cards. It has a side-flap for easy opening. Right when flipping it open, a mysterious woman with a mask and wings catches the eye, piquing intrigue and igniting curiosity in the reader. The potency of the deck can be felt as a glittering shimmer of magic that is decades old, now recreated to continue to flow through the veins of time.
The cards are absolutely stunning with their golden edges and beautifully crafted imagery. Old photographs are laid over colorful starry backgrounds with traditional tarot symbolism intermixed too. They feel of a different time, and this out of the ordinary sensation heightens the connection to the slip-space in the cracks of time, where intuition shines.
As I look through the cards, I wonder who these people were and what their story was. It's like discovering a treasure chest of photographs in the attic, enchanted with memories, hopes, and wishes. You can see the personality of all the ancestral relatives on these cards shining through the looks in their eyes.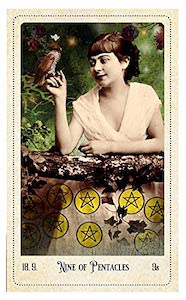 I am someone who enjoys historical non-fiction books because I enjoy the sensation of putting myself in someone else's shoes and seeing what their life was like to live. I listen to their story and then integrate it into my own life, filled with the wisdom of those I have taken the time to learn more about. I feel like this deck gives me the ability to do this, only now these relatives are guiding me in regard to my spiritual path and potential future outcomes.
However, The Relative Tarot is not like a usual tarot deck, and as soon as you look at the guidebook you will see this. This deck is intended to help the reader "to create a divine Tarot Blueprint that will illuminate who you are, and what you're here to do."1 Paris writes this deck was created to experience your soul's truth through an ancestral filter, helping one to see how ancestral influence is affecting one's personal evolution and ancestral line.
Paris uses three types of cards for this ancestral and self-discovery method: Birth Cards, Annual Cards, and Significator Cards. Birth Cards are Major Arcana cards that represent one's soul expression, including their personality, core ideals, challenges, unconscious urges, and ancestral agenda.2 Annual cards are also Major Arcana cards, but these change each year, offering a glimpse of the energies of the upcoming year, including opportunities for growth and key lessons. Then Significator Cards are Court Cards that connect the reader to their ancestral imprint, showing what might be impacting our choices and behavior.
To make it easy to navigate these calculations, Paris provides detailed instruction on how to find your cards through numerology. Then the Major and Court Cards in the deck are labeled with numbers to make pairing the cards together easier. The bottom left show the Birth Card numerological patterns and the bottom right indicates the corresponding Minor Arcana Cards with that Birth Card pattern.
For example, my Birth Card pattern is Universe, Hanged Man, and Empress. This pattern pairs with all the 3s in the Minor Arcana. However, it goes even deeper than this because within the Birth Card pattern, there can be shadow cards, whose energy is often unconscious or not tapped into.
To be honest, at first I found the entire system a bit confusing. I had to really concentrate and do the calculations and read the guidebook thoroughly for about an hour to start understanding this system. But Paris does a fairly good job of making this complex system approachable for readers. There's even a Blueprint Review on pages 50-51 of the guidebook that is a fill-in-the-blank page for all the calculations.
In the end, I did get a lot of meaning out of using this process to learn more about my soul's path and ancestral influences in my life. I think it would be especially helpful if readers also used this deck in combination with Mary K. Greer's Archetypal Tarot, which focuses in-depth on birth cards. It's also worth noting, this system is very different from simply doing tarot spreads to learn more about your ancestors, such as the process described in Ancestral Tarot by Nancy Hendrickson.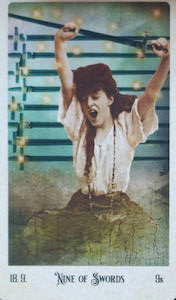 While this deck is phenomenal in what it offers, readers should be aware that it doesn't give any descriptions of the tarot cards in the guidebook. For this reason, I recommend it to more experienced readers that are already comfortable with the traditional meanings of each tarot card, in case they want to use the deck to do spreads or read for others.
But it's for this same reason that I DO recommend it to advanced readers because it's a deck tailored to a different system of reading that can yield rich insight. Even though it takes a bit of time to learn it, I think once the general meaning of the Birth Card, Annual Card, and Significator Card is understood, this becomes a potent way to connect more deeply to one's soul purpose, current lessons, and their ancestral line.
One last thing that really impressed me about the deck was how Paris designed it to have 82 cards, and this isn't because she added new cards. Rather, Paris offers a much-needed option for tarot decks: the choice of three Lovers cards (one male/female, one female/female, and one  male/male). I thought this customization was just lovely to make the deck more inclusive to all relationships. Then Paris also allows readers to decide if they want Strength and Justice in the Major Arcana to be 8 and 11 or 11 and 8, depending on the system of reading they use.
All in all, The Relative Tarot is a really neat deck to add to one's collection, especially for advanced readers or those interested in learning more about their ancestral line through the cards. The imagery is stunning and the process of reading with these cards is rich and potent with soulful wisdom. Paris has made a timeless deck that moves us into the liminal realm where our ancestors can speak to us and our intuition can be heard; past, present, and future weave together to open a portal for spiritual discovery and integration.

Alanna Kali is an astrologer, numerologist, and pioneer spirit that loves to explore life through the lens of depth psychology. She has a passion for studying the humanities and social trends. Her academic work is centered upon reuniting body, mind, and spirit through eco-psychology. She loves reading, spending time in nature, and travel.
References