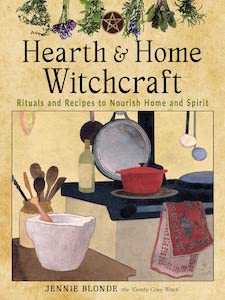 Hearth & Home Witchcraft: Rituals and Recipes to Nourish Home and Spirit, by Jennie Blonde
Weiser Books, 1578637737, 211 pages, September 2022
A balm. A comfortable chair that offers you the ability to relax in order to dream, to conjure, to recharge. A friend, a companion, a motivator. This is what Hearth & Home Witchcraft: Rituals and Recipes to Nourish Home and Spirit by Jennie Blonde, the self-proclaimed "Comfy Cozy Witch", was to me. I'm sure it will be the same for you.
Blonde succeeds in combining witchcraft for the hearth and home with hygge, the Danish and Norwegian lifestyle concept that translates loosely into "hug." I've often written on the topic of hygge, so it was a quite "coincidence" to begin the book by reading how Jennie incorporated hygge into her practice to create something "comfy, cozy, and witchy."1
This wonderful, informative book guides the reader into finding and practicing comforting and nourishing hearth and home magic for every season. As with hygge in general, one is asked to keep in mind that what is comforting and cozy to you may not be the same to another person. You are called to create a home and hearth that reflects you, that nourishes you, and comforts you. Jennie also reminds the reader that "everyone's idea of comfort within witchcraft differs."2
Blonde has been practicing witchcraft for over two decades. In addition to this book, she has a podcast called… you guessed it: Comfy Cozy Witch. She writes in a way that is both informative and casual; she writes as if we are sitting in her kitchen talking over a cup of tea. The book is "a blend of story-telling, witchcraft, and warmth…accessible to any witch, at any point of their journey. A book filled with information, personal anecdotes, rituals, spell work, and recipes to nourish yourself, nourish your home, nourish your spirit."3
Hearth & Home Witchcraft is divided into seven sections, each focusing on places (hearth and home, kitchen, garden and nature), one's self, and everyday rituals. Also included is a reference to the book's rituals and recipes as well as a glossary of terms and references for future reading. The Wheel of the Year is detailed with corresponding delicious, easy to make recipes including mini bread loaves (Lughnasadh), honey butter (Imbolc), and sangria (Litha). The recipes ensure this is a book to keep out year-round.
Readers are introduced to the concept of choosing a household deity (if one feels so inclined) to work with. Blonde offers a few suggestions for household deities, such as Hestia, Vesta, and Brigid but leaves open to choice what resonates with the reader, noting it could also be a spirit of local lands of an animistic deity. There is a corresponding house goddess ritual too. 
There are also suggestions on ways to make one's home both magical and homey, inviting and nourishing. There are magical cleaning tips, everyday magical items with which to "work," and suggestions for making areas of your home both reflect and sustain you. Here Blonde focuses on the basic tenants of the home of a hearth witch:
"Hearth craft begins and ends in the home, there is a focus on cleanliness, there is positive nurturing energy with subtle touches of magic, and there is a respect for all of nature."4
In turning one's attention to the hearth, or kitchen, Jennie writes about the kitchen altar, herb and tea magic, as well as kitchen rituals for meditation and balance. There is a large focus on food and recipes, for as she writes, "the kitchen of a home is a place of gathering. Food, in and of itself, is magic."5 Some of the ones I've tried so far are the pumpkin chocolate muffins and herby biscuits, which were both delicious.
Imagine tales in which the witches toil over a cauldron to create magic – Blonde helps the reader create similar magic in a modern kitchen with tried and true items such as tea, cinnamon, honey, and mint. There are sprays and rituals for things such as energy cleansing and lessening anxiety, which I made for one of my daughters. It was simple to make, yet I felt the potency of the mixture as I blended it together. So far, she's loved the calming effects.
Blonde encourages the reader to set up one's own sacred space – be it in the home itself or on the property surrounding the home. "A sacred space is personal in nature and the location varies depending on who you talk to."6 One can engage in "witchy self-care" in these sacred spaces – ways to ground, relax, recharge, and reconnect. For extending the interior space to the natural world, there are tips for setting up a witch's garden, and working with Fairies. I am especially looking forward to trying out the Ancestor Honoring Ritual for Samhain.
Overall, Blonde helps the reader identify ways to find "magic in the everyday things, no matter how big or small."7 The biggest suggestion is to find time – no matter how small – to participate in one's rituals. She reminds us to find the magic that surrounds us, and that "It isn't the length of a ritual that matters, it's the quality."8  To settle into the magic so that it supports us, comforts us, grounds us and activates us, Hearth & Home Witchcraft is the book to read. It's the small things we do with meaning that matter. I highly recommend this book to settle into the comfy, cozy routines of your life that make it magic.

Anne Greco is a non-fiction writer who writes about her life experiences and travels with humor, keen observations, and the hope that her words will remind us that "we're all just walking each other home." Her book, Serendipity: Chance Pilgrimages, tells the story of Anne encountering her places of power. As she reconnects with herself at each site, Anne also develops a deeper understanding and appreciation of her connection to both the seen and unseen worlds. Learn more about her work here: http://annegrecowriter.com.
References