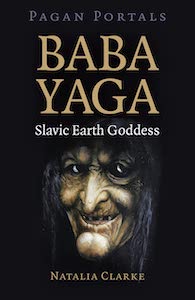 Pagan Portals – Baba Yaga, Slavic Earth Goddess, by Natalia Clarke
Moon Books, 1789048788, 104 pages, January 2022
I recently finished season two of the Witcher, which had a prominent focus on the Deathless Mother. The chant to call her goes, "Behold the mother of forests, the Deathless Mother, nesting in dreams. Turn your back to the forest, hut, hut. Turn your front to me, hut, hut." As I watched, the Deathless Mother started to remind me of Baba Yaga.
I had first encountered (figuratively) at Philadelphia's der Geischderschtrutz (Parade of Spirits) annually held in dark days of winter. The purpose of the Parade of Spirits is "observance of the shadow side of the self, of the murky times in shortest days of the year, and of shady entities and liminal deities.'1 My first year there, I was challenged to enter the hut of Baba Yaga, but unsure of whether she'd want to eat me alive or provide timeless wisdom, I kept my distance. Even if it was just a custom, the energy was potent and I felt a shiver of fear every time I looked in that direction.
It's been years since that experience, and though I continued to respect Baba Yaga (my coven's primary focus is the Sacred Hag, of which one might say Baba Yaga is a archetypal representation of), I had yet to muster the courage to embrace Her in personal life or magical practice. But Pagan Portals – Baba Yaga, Slavic Earth Goddess by Natalia Clarke has changed my perception a bit, and I feel like I now view Baba Yaga with a new lens.
Clarke invites the reader to get to know Baba Yaga that goes beyond folklore knowledge. The book is filled with Clarke's journal entries through the years as she established a connection with Baba Yaga and incorporated this relationship into her own spiritual practice. This presentation style of wisdom is less of a "how-to", though some suggestions are provided for working with Baba Yaga, and more of a journey into possibility filled with rich, descriptive writing that sets the scene for the magic of this book to unfold.
I appreciated how the book integrated Clarke's revelations and creative writing with information about Baba Yaga, as it provided a bridge towards Baba Yaga, who otherwise can feel very intimidating to connect with. I am a big fan of Clarke's intuitive approach to spirituality as described in her book Pagan Portals – Intuitive Magic Practice. In this book, it's as though she translates her natural intuitions about Baba Yaga into a reference for those wishing to walk Her path.
One of the most unique features of Clarke's approach to Baba Yaga is her intention to explore Baba Yaga in the context of Earth-based spirituality, rather than fitting Her into "literary, cultural, or societal concepts and beliefs."2 I find this approach extremely valuable, as my spiritual practice is deeply connected to nature.
In this passage, Clarke illuminates how Baba Yaga feels to her:
"She doesn't feel like a grandmother or an old Crone with terrifying features. She's a master shapeshifter, and her essence is that of nature itself. She's the changing seasons, the leaves in the forest in the autumn and a smell of the coming snow storm. She's footsteps on the ice and a cold mountain brook. She is like the wind as she flies and in the whooshing sound of a breeze she's gone. She's the smoke in the dark and she can be found in animal bones. She is in the smallest insect and the highest tree, the snake hiding in the undergrowth. Illusive, unobtrusive, hardly ever visible and fiercely private. Her dwelling is her own and, on her terms, where everything is just so. It is for no else to make sense of."3
These words make me feel a spiritually tangible and embodied connection to Baba Yaga, as my senses are opened through envisioning these words. Clarke is able to convey Her essence in this book, which is no easy feat considering Baba Yaga is a deity that prefers to not bother with human affairs, preferring solitude over interruption. I think this is one of the things that in the end draws me towards Baba Yaga, based on Clarke's experience and description of Her though.
I like that Baba Yaga isn't for everyone, doesn't directly answer one's pleas for answers, and can't be summoned on-demand. Working with Baba Yaga seems to take determination, self-awareness, and a bit of grit. There's a chapter called "Bones, Skulls, and Skin Magic" about how incorporating Animal Magic, using bones, skulls, and skins of animals, can strengthen one's relationship with Baba Yaga. These items aren't just your typical herbs or crystals, and I think it speaks to the nature of Baba Yaga as a deity.
My favorite chapter in the Book was "Baba Yaga's Apprenticeship" where Clarke prompts the reader with the question: "How well do you know nature and how you relate to it from within?"4 I thought this was a profound question, and Clarke encourages taking one's time to find the answer. Meanwhile, to connect with Baba Yaga, Clarke details the necessity of awareness of the elements, seasons, one's psychology, and one's spiritual self. Clarke provides prompts on how to work within these areas to become an apprentice of Baba Yaga, leaving the reader with hope that they too can eventually be initiated into Her wisdom.
Another really interesting chapter was "Baba Yaga and Motherhood" where Clarke suggests working with Baba Yaga for "integrating your birth mother or your own inner mother when birthing and mothering you own children."5 Baba Yaga is not a deity I would have ever considered working with for this purpose, but Clarke's reasoning that it's important to accept both the good and bad aspects of ourselves as mother and our own mothers was interesting. For this particular reason, I am feeling more drawn to working with Baba Yaga.
And the last thing I'll say is that I really think The Witcher is drawing from Baba Yaga's folklore, and especially even more so after reading the chapter "The Three Horsemen and the Masculine". In this chapter, Clarke describes how Baba Yaga has three horsemen (red, white, and black) that "represent an archetype of the sacred masculine , in service to the sacred feminine/the Earth."6 She then describes how the color of The Three Horsemen correspond to different stages of the alchemical process and how working with the cyclical nature of their energy can help to strength one's bond with Baba Yaga. But red, white, and black as the colors of them? For anyone who's watched The Witcher Season 2, this is very significant and something I thought was totally cool.
While initiating a relationship with Baba Yaga requires patience and willingness to accept hard truths, Clarke showcases the value of working with Her over time. Pagan Portals – Baba Yaga, Slavic Earth Goddess is a wonderful book to learn more about Baba Yaga for anyone considering deity work with Her. And even if Baba Yaga doesn't seem aligned for a personal deity relationship, there's still a lot of value in learning more about Her in general, especially if one is interested in nature-based spirituality.

Alanna Kali is an astrologer, numerologist, and pioneer spirit that loves to explore life through the lens of depth psychology. She has a passion for studying the humanities and social trends. Her academic work is centered upon reuniting body, mind, and spirit through eco-psychology. She loves reading, spending time in nature, and travel.
References