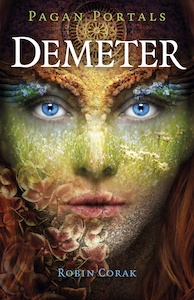 Pagan Portals – Demeter, by Robin Corak
Moon Books, 1789047838, 128 pages, October 2022
At first glance, Pagan Portals – Demeter by Robin Corak seems like a straightforward book. The story of Demeter and her daughter, Persephone, is one that has been used to illustrate many variations of the mother-daughter dynamic in a variety of different contexts. Corak is taking that story and exploring various other themes that aren't apparent at first glance.
A long-time practitioner of paganism, Corak is a member of the Sisterhood of Avalon where she currently serves as the Board Secretary and is the author of Pagan Portals – Persephone: Practicing the Art of Personal Power. Honestly, there's no one more perfectly positioned to write the book on Demeter than Corak and her prose is both insightful and informative.
The book is sectioned off into specific areas that deal with Demeter's background, specific rites and rituals, and other topics I didn't expect to find. At the risk of outing myself as not being all-knowing about the goddesses and gods of the Greek pantheon, I had to look up two aspects of Demeter that I was not aware of that were referenced in this book: Demeter Chthonia: Grief and Loss and Demeter Chloe: Manifestation Magick. Blown away, completely and totally. Don't get me wrong, I knew that Demeter was associated with grief (her daughter being taken away from her) and abundance (Goddess of the Harvest), I just didn't know there were actual aspects devoted to these attributes.
There's so much information in this book and all of it is both relevant and timely. The astonishing realization that Demeter was still subject to patriarchy despite being a goddess was something I hadn't considered. It was my understanding that Demeter's power would ensure her personal agency. When Demeter is told by Helios that Hades abducted her daughter, Demeter's opinions are not even considered as she is told that Hades would make a fine husband for her daughter. Because Demeter is dismissed, she then decides that nothing on Earth will grow until her daughter is returned to her. Her actions eventually see the return of Persephone to her, and it's interesting to note that Demeter is the only goddess to make Zeus give in to her demands, and in a short amount of time. Underestimate an abundance Goddess at your peril!
A surprising aspect of this book is the focus on balance, something that most who identify as feminine struggle with due to the numerous stresses experienced through jobs, home, relationships, and other factors. Corak addresses this in the introduction, saying:
"Working with Demeter can facilitate a powerful journey of self-discovery resulting in a re-envisioning and reclaiming of our potential and our own lives. For those of us who may not have had a positive relationship with our own mothers, Demeter empowers us to access our own nurturing abilities so that we may provide ourselves with the quantity and quality of love that we feel we didn't receive."1
It took me a few days to process that, I will be honest. I do not have a good relationship with my mother and as she ages, I have had to come to terms with the very real fact that there will never be apologies or clarity around why certain events were allowed to happen. I found this book to be immensely helpful in navigating my personal grief around this, although I would be lying if I said I was able to completely resolve the anger. I took solace in a powerful sentence from Corak:
"The mother archetype is not just about loving and nurturing, it is also about protection and advocacy to ensure that that which has been given life will survive and thrive."2
I sat with that for a moment, and realized that's what I had been doing for myself by not engaging as deeply as I wanted to with my mother. I intuitively knew that this was something I could do to protect myself from additional harm, and this book opened my eyes to all that I have been doing for myself in this realm.
There is so much healing in this book depending on what is required. For me, I chose to go through "Chapter 3 – Healing the Mother Wound". Corak includes a definition of mother wound as "the loss or lack of mothering which can include abuse and neglect. Those who experience the mother wound don't receive the love and attention they need as children and have mothers who seem to be distant and less attuned to their emotional needs."3
This section in particular really hit me hard, as I thought I had dealt with my issues around this through extensive therapy. Clearly that was not the case, as I often found myself curled up in a ball with my cat gingerly offering me head butts and consoling licks. That is not an exaggeration, by the way. This book is excellent and devastating in a way I didn't expect but am so glad I experienced.
If any of this resonates with you, I would highly recommend picking up Pagan Portals – Demeter. If you have a therapist, I would also highly recommend enlisting their help for this journey because working with Demeter calls up all sorts of childhood trauma that needs to be brought out so that it can be healed.
One of the best parts of this whole process was learning that I could mother myself and did not need to rely on my emotionally unavailable mother to provide that. While seemingly heartbreaking, releasing yourself from unrealistic expectations of those who cannot possibly meet you where you need them to is freeing in a way that could potentially allow you to move on. Who wouldn't want that?
Sarrah October Young is a writer and practising witch who wished she could do stand-up comedy. When she isn't writing or witching, she can be found posting about her cats on IG @therealoctober.
References