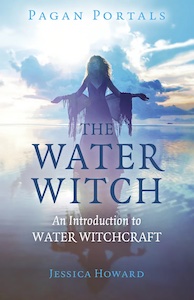 Pagan Portals – The Water Witch: An Introduction to Water Witchcraft, by Jessica Howard
Moon Books, 978-1-78535-955-2, 112 pages, March 2023
As a practicing witch with over twenty years' experience, Jessica Howard has provided a blueprint for inviting the element water into personal practice. Her book, Pagan Portals – The Water Witch: An Introduction to Water Witchcraft, is full of useful information and insight. Not only does Howard talk about the various ways water could be used to develop one's connection to the Divine, she also shares her own personal experience with the element, furthering the concept of there being no right way to practice this particular type of witchcraft.
Howard has laid the book out in both highly digestible and very practical sections in only 112 pages. The table of contents provides a glimpse of what's contained within this book: an in depth look at the various facts of this craft. 
Personally, as a Fire sign I find water incredibly challenging to work with. Despite the great healing abilities water contains, along with various divination and knowledge seeking qualities, I have found it very difficult to use regularly. Howard's clearly written book identifies the challenges and addresses them in the third chapter titled "Connecting With Water Energies". In this chapter, she identifies and addresses the main root of my personal block when it comes to water: being gentle with yourself for not getting it right away. She explains why it might feel disheartening at first, saying:
"Sometimes we have shut ourselves off for so long that it can take a while to open ourselves up to these energies. So even if it doesn't work with the first meditation or first blessing, keep at it. Try different approaches, search for more ideas than just what's in this book, and keep at it until you find something that works for you."1
I like the fact that Howard recognizes and fully embraces the fact that not every practicing witch is going to connect to water in the same way she has. By building in flexibility and encouraging additional studies outside of the book she wrote, she creates a sense of trust with the reader that isn't overly cloying or fake. There is no loftiness in her language; not to say that what she writes is basic, rather, the way the book is written invites dialogue and experimentation on the part of the practitioner. Howard has not written a book telling the reader specifically how to be a water witch – she is sharing her journey and providing the steps she took in order to connect with the element in the way that she does.
This lack of information gatekeeping is so refreshing! Too many times I've read books that start off promising to share insight into whatever and before too long the realization that nothing is actually being shared sets in and I'm left with a book that doesn't help my personal pursuit of knowledge. It's disheartening and causes immense frustration. Howard has gone out of her way to ensure that if nothing else, the reader walks away with a healthy understanding of water in the context of magic and how useful it can be when used in conjunction with current practices.
In a later chapter, Howard talks about the environment as it relates to those who follow a magical path. She is forthright in her requests to the reader in this specific framework: not only does she challenge those magical practices that instruct the practitioner to contribute to the ongoing crisis we see all around us in nature, but she gives specific thought to what we as individuals could do in order to reduce our footprint in this mass destruction. I've not seen anything as specific as this in any previous magical books and I am glad she took the time to remind us of the devastation our practices can cause if we aren't mindful. Howard says:
"I've seen books on witchcraft which have recommended putting your petition into a plastic container and throwing into a river…pouring perfume into rivers because undines like pleasant scents. Please do not follow this advice. If you want to throw something into a river to help rid yourself of negativity, use a stick or small stone. If you want to give an offering to the undines, use a small vial of water which has had naturally grown rose petals steeped in it. Please stop and think about what you are offering and what the potential harm it could have before you make it."2
This might turn folks off who want to just do their thing and not concern themselves with the harm they might be doing to the environment. Personally, my offerings are usually a combination of items that can be composted (fruit, flowers), and containers that are specific to the use of magic (candle holders, cast iron cauldron). While some of this might come off as sounding 'holier than thou', I share this only to show how simple it is to be mindful of the materials being used in your practice.
Pagan Portals – The Water Witch is a wonderful book for those looking to expand their practice to include water work. It's beautifully written and full of useful information that encourages the reader to learn more through other channels. A softer read than I am used to, this book both challenged my ideas around water magic and whether I could actually use it and helped me to find my own path as I navigated my deep feelings around being open to new things and performing magic.
Sarrah October Young is a writer and practising witch who wished she could do stand-up comedy. When she isn't writing or witching, she can be found posting about her cats on IG @therealoctober.
References