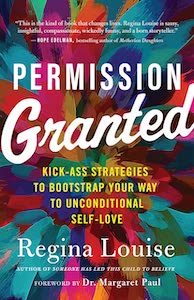 Permission Granted: Kick-Ass Strategies to Bootstrap Your Way to Unconditional Love, by Regina Louise
New World Library, 1608687268, 320 pages, June 2021
In a world filled with many voices claiming to be able to easily and quickly show readers the pathway to self acceptance, Permission Granted: Kick-Ass Strategies to Bootstrap Your Way to Unconditional Love by Regina Louise is really the only book you need ever pick up. Packed full of information and actual real-life strategies that make sense, this book cuts through the noise and provides the tools needed to go on this journey and find the pot of gold at the end.
As a speaker, coach, author, and teacher, Louise is no stranger to hard work and dedication. Her frank prose allows you to connect instantly with the source material and to make connections within yourself that previously you might have overlooked. With fourteen "Kick-Ass Strategies" in the table of contents, readers can jump to whatever they need in the moment or go through the book in a methodical way. Personally, I always read the whole thing front to back, although in this case I was sidetracked by Kick-Ass Strategy #6: Be Big (and Small).
In this chapter, Louise explores what it means to take up space and to lean into it. Having been told for much of my life that I need to tone down, be quieter, watch my language and all that, this chapter resonated with me so much I needed to put the book down and take a few breaths Louise pinpointed precisely what I feel during those moments, saying:
"…if you're anything like me, and you've been told that you're a big personality, that you're too much, which you translate as 'I'm not wanted' and 'I'm about to be abandoned', then the next thing you know, you're lost in a big-ass trauma response."1
I hadn't thought of it like that, in terms of a trauma response. In reflection, it makes sense, and it's these moments of realization that makes this book so worth the time investment. Louise writes with such authenticity and awareness that only comes from someone who has walked this path before.
Along with this is the sprinkling of personal anecdotes, a skill that not all books in the same realm as this one can say they've mastered. I find that in most situations, anecdotes can be overused as the writer might not have enough content for the actual book, and so it ends up reading more like a memoir. Not that I mind reading about other people's journeys: I am completely interested in hearing about their challenges and how they overcame them. I just want the book that is sold to me to be the actual book I get after purchasing. This book is precisely what it says it is and I couldn't be happier.
Subsequent chapters deal with big topics that could actually be books in their own right. This meaty book delves into a lot of muck that we tend to ignore in our quest for happiness and security and love: things like championing yourself, reconnecting with our inner child, fully engaging in our messiness, and giving ourselves permission. In Kick-Ass Strategy #5: Compose a Permission Statement, Louise takes us through the challenging exercise of drafting a permission statement that ultimately gives you mentorship of yourself. Louise says:
"Drafting a permission statement is an act of enormous generosity toward yourself. It's evidence of your willingness to get on board with who you are, and it offers you the chance to examine your values and beliefs and to own your inherent right to flex your personal power."2
It's writing like this that pulls you in and helps you bypass some of the resistance you might feel around doing the exercises. This chapter also raises interesting questions around being fully seen and feeling psychologically safe in those moments and challenges the reader to fully engage with the material.
Part of this exercise includes selecting words from a list that best describe you. In doing this particular exercise, I found it hard to pick only the suggested number of twelve adjectives, and harder still to reduce that number down to six. Challenging, but not impossible.
It meant I had to sit with myself and really dig deep to find out which words actually resonate with me and which ones I wanted to be. There is a huge difference there. It's exercises like this that teach us how to connect with who we really are and to start to accept ourselves as just that: not good, not bad, just who we are.
The combination of anecdotes and writing exercises makes this book an absolute treasure. Louise's way of taking the reader through the self-discovery process is delightful, if a bit painful at times. Part of this process includes uncovering those parts of the self that might be resistant to change and helps to uncover the roots of why that might be. If this sounds like shadow work, it absolutely is. While it might not take the usual form of what would normally be classified as shadow work, Louise's book most definitely falls into that category.
If you thought you could bypass doing any actual work just by reading a book, Louise's book will change your mind and encourage you to engage with the material. Honestly, digging deep into your own psyche is not fun, but feeling like Louise is right there with you, telling you how they managed to get through it and what the results were make a huge difference and helps you to feel less alone while you root around in the darkness. Trust me.
Those who identify as being on a journey of discovery through self-awareness of behavior and societal triggers would benefit from this book. In fact, I would suggest that most people even interested in the idea of being self-aware would derive a lot from Louise's fantastic book.
Permission Granted is about more than just accepting yourself. It's also about finding space for otherness, for those who aren't like you but exist in the same space. Once we discover that those around us aren't really that different, perhaps that knowledge could lead to a better, more stable foundation upon which we can build a more sustainable society. 
Sarrah October Young is a writer and practising witch who wished she could do stand-up comedy. When she isn't writing or witching, she can be found posting about her cats on IG @therealoctober.
References