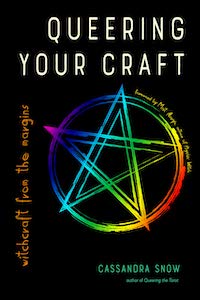 Queering Your Craft: Witchcraft from the Margins, by Cassandra Snow
Weiser Books, 1578637218, 288pages, November 2020
From now on, whenever someone asks to me to recommend a book about getting started in witchcraft, this is the book I am going to recommend, whether or not that person is queer. I say this because Queering Your Craft: Witchcraft from the Margins by Cassandra Snow breaks the practice of witchcraft down into simple components that can be picked up by anyone, anywhere and used however they wish, making the craft of magick much more of a personal celebration of creativity, passion and power. To make the craft of magick-making accessible to a diverse, marginalized population, Snow guides their readers on how to customize their craft so that it can hold meaning and be powerful, even when practiced individually, on a budget and with limited resources.
This is a "how-to" book on making magick and living a magickal lifestyle. First though, Snow tells us why we need a specifically "queer" magic textbook. The two most influential craft-based magical lineages in the West, Gerard Gardener's Wicca and Alistair Crowley's Thelema use symbolism and themes strongly rooted in gender-binaries, which can be alienating to the growing population of the magickally inclined who identify as non-binary. 1
For Snow, queering magic is recreating symbols, themes, and sacred space for a wide variety of gender and sexuality variance. Their first step on this path is offering a "Queer Witch Manifesto" in the introduction of the book, which Snow refers back to repeatedly throughout the book as an ethical framework for practicing magickal craft and identifying as a witch. Snow's "Queer Witch Manifesto" acknowledges (in sum):
✨Infinite genders and sexual identities. (Throughout the book Snow uses the abbreviation LGBTQIA2SP+ whenever referring to queer-identified individuals)
✨The need to dismantle white supremacy and patriarchal power and the need for this dismantling to come from the non-white community.
✨The positivity of all expressions of consensual sexuality.
✨That anyone can invoke Goddess energy regardless of whether they have a uterus.
✨Physical, emotional, and mental disabilities do not make a person unable to practice magic.
✨Personal healing is a precursor to collective healing.
✨We must protect and heal the Earth.
✨We are all equals in magic.
✨All bodies can be magical, regardless of ableism.
I kind of want to needlepoint this onto a pillow! How about you?!
Laying out this list (with much clearer articulation and more detail than my summary here) at the beginning of the book, the rest of the book is about practicing the craft of magic-making. Snow knows history and as a result is able to deconstruct magical rites, rituals, and practices from their origins in order to present them as something simple anyone can start to practice. For example, they note the transformative magick of making lists, ""My money magick usually… starts with a list of my financial goals and immediate needs and then I add a list of long-term goals." 2. Then for the the transformative magick of prayer to a spiritual being, Snow writes "Prayer is so easy, free, and accessible that anyone can do it…. A quick prayer that is literally just 'thank you' when you get unexpected luck or a despairing "please help" when you're feeling your absolute worst is enough." 3
Snow strongly advocates a DIY Witchcraft, which is making your magickal craft out of what is available to you and infusing your magick with intentions specific to you. While she does discuss some examples of collective magick, such as covens or working spells in a group context for political aims, Snow acknowledges that for queer people, the most powerful accessible magick may be that which they create on their own from their own hodge-podge of wisdom, creativity, desire, and power. Snow even offers a "how-to" worksheet for designing one's own spells.
My personal favorite parts of Queering Your Craft is the section on "Fashion and Style Witchcraft" where your magickal intentions can be enhanced by dressing a certain way. Snow writes, "I might pull out a purple outfit for creativity. I also might pull out a long pencil skirt and a button-down to give myself that "professional writer" feeling."4 Then later in the book, I also really like Snow's list of LGBTQIA2SP+ aligned gods and goddesses, including Athena, Loki, and my personal favorite discovery — a Drag Queen God from the Voodoo tradition named Ghede Nibo.5
For the seasoned practitioner, this book may seem elementary. Snow summarizes common methods of divination such as tarot, astrology, and runes. They explain the significance of the Four Elements (five including "Spirit") and how to call them in. They offer a guide to the Lunar phases and Sabbat holidays. This is truly an inclusive essential starter handbook, inclusive on all fronts! However, the manner in which Snow explains the cornerstones of witchcraft and presents them in regard to the Manifesto outlined in the front of the book widens the lens through which these practices are understood and used — and this is exactly the point. For the purpose of this book is to make magick accessible to anyone and to make magick empowering to those who may not feel at so at home in straight cis-gendered spaces.
Queering Your Craft concludes with a queer grimoire, including spells "A Protection Spell for Trans People in Small Towns," "A Protection Spell for QTBIPOC," A Spell of Protection Against the Patriarchy," "An Anti-Gatekeeper Spell," and "A Spell to Protect Activists," plus many more spells to fill all categories.

Carter is a professional Astrologer and founder of Success in the Stars Astrology. She has her Master of Divinity (MDiv) degree from Emory University with certificates in Women in Theology and Ministry, Clinical Pastoral Counseling, Motivational Interviewing, and Compassionate Communication. Carter received the Zen Buddhist Jukai ordination from Roshi Joan Halifax at Upaya Zen Center and is a 2nd Degree Reiki practitioner.
References