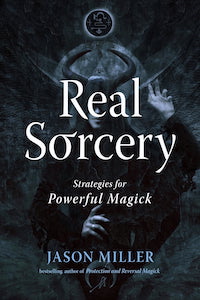 Real Sorcery: Strategies for Powerful Magick, by Jason Miller
Weiser Books, 1578638003, 256 pages, July 2023
Sorcery, the wielding mystical powers and tapping into otherworldly energies has captivated human imagination since the dawn of time. It is no wonder that sorcery has been a popular subject in literature, movies, and even video games. But what exactly is sorcery? How does it work? And can it really be practiced in the real world? These answers and more can be found in Real Sorcery: Strategies for Powerful Magick by Jason Miller, who assures readers that magic is real and with consistency and dedication everyone has the ability to become a sorcerer.
I was drawn to Real Sorcery because I knew that Jason Miller had lived in southern New Jersey, where I currently live, and connected with the "spirit of place"; he's well known in the magical communities around here. I've always enjoyed his "keep it real" style of writing and the frank way he shares his magical insight. While I've been on his email list for quite some time now, which I highly recommend as an introduction to Miller's work since he leads group spellwork and offers live classes throughout the year, the only book of his I have read previously is Financial Sorcery. Given that Financial Sorcery absolutely shifted my mindset in regard to wealth, aiding me in finding more lucrative jobs and creating a better financial situation overall, you would think I'd have picked up his other titles, such as Protection & Reversal Magick and Consorting with Spirits.
Luckily, like the titles just mentioned, Real Sorcery was recently republished with new commentary on Miller's original text; in this case, Real Sorcery is the updated version of The Sorcerer's Secrets: Strategies in Practical Magick (2009). The additional text from Miller adds a new layer of depth to the previous work, inviting readers old and new to see how his thoughts have changed (or not) over the past decade.
The content itself is rich as ever, filled to the brim with practical advice for readers wishing to learn more about how to take their magic practice to the next level. What I like most about Miller as a teacher is that he expects something from his students. He writes:
"If magick is a fantasy for you, then of course you want it all to just jump to life because of how magickal you are, but if we accept that Sorcery is real, with everything that implies, then that expectation should dissipate like fairy dust, revealing the truth that it takes work to get good at things, and that discipline and persistence will outperform natural talent at every turn."1
Miller reminds the readers that magic is real, but so are certain conditions of our reality. Therefore, instead of relying on magic alone, his strategy is to work with the conditions in play rather than against them. And it goes without saying, this often takes a heap of self-awareness, willingness to learn from one's mistakes, and resilience in the face of disappointments. For some, this might feel like a stripping of enchantment from their practice, but for many it's a reassurance that with time and practice, one can improve their sorcery.
"Part One: Basic Training" is dedicated to teaching readers the basic magical foundation he operates from as a sorcerer, and it's certainly eclectic! What stands out about Miller's imparted wisdom is that he isn't afraid to learn and work with various magical systems, as he recognizes the universal similarities that underlie different traditional systems. I want to frame it as a distillation of many great truths into a workable system for readers, but I say this without implying it's reductive in any sense. In fact, I find his approach extremely liberating, and it helped me to see how the magical working of different paths and traditions are all working with the same planes and principles.
"Part Two: Strategic Sorcery" has chapters focused on various types of magical workings: divination, influence/persuasion, finance, protection, love/lust, and more! All the sections have information that is both magic and mundane, making it easy for readers to employ Miller's wisdom in their practice at their current skill level. While sharing spells, chants, and other general "how-to" guidance, such as gesture and vocal commands and creating altars, Miller imparts so much first-hand knowledge of his own experience. I find this invaluable as a reader; I want to hear the stories of magical workings gone right and wrong to have a more well-rounded idea of what the heck I'm doing and the myriad of potential consequences.
While there's plenty I've learned from this book, the current takeaways that are still churning in my mind are the reminder that I can determine my own magical ethics – Miller absolutely works in the gray area, leaving room for readers to decide what workings they're comfortable with – and the concept that I don't have to obsessively protect myself. For all I've learned about protection magic, Miller was the first person to acknowledge that too much protection and defense can actually hinder other types of magical working, such as spirit communication. These two insights overall seem to be pointing to a rebalancing of my current workings, giving me the confidence to venture into a new magical landscape.
For those of you ready to delve into the secrets of sorcery and explore the fascinating world of magic, Real Sorcery is a wonderful place to begin. Miller provides a wonderful foundation to begin your sorcery path or enhance your current level of skill. From the different types of spells and rituals to the potential benefits and risks of practicing magic, Miller cuts through the fluff to provide clear guidance. I highly recommend this book for anyone who is serious about starting or furthering their magical practice.

Alanna Kali is an astrologer, numerologist, and pioneer spirit that loves to explore life through the lens of depth psychology. She has a passion for studying the humanities and social trends. Her academic work is centered upon reuniting body, mind, and spirit through eco-psychology. She loves reading, spending time in nature, and travel.
References