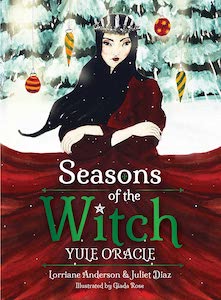 Seasons of the Witch: Yule Oracle, by Juliet Diaz and Lorraine Anderson
Rockpool Publishing, 1925946223, 44 cards, 144 pages, September 2021
Even though we are quickly approaching one of my favorite sabbats, Samhain, my mind recently has been wondering towards Yuletide already. This is because I've been doing daily pulls from Seasons of the Witch: Yule Oracle by Lorraine Anderson and Juliet Diaz. While I know the first deck in this series, Season of the Witch: Samhain Oracle, might be more appropriate for the current season, I haven't made the switch just yet. The insight I've been receiving from Seasons of the Witch: Yule Oracle is just too good to await the winter to use!
I want to start off by saying the deck is absolutely beautiful. With gilded green edges, it feels like I'm holding a shiny present in my hand. Images of candles, Fir trees, and furry animals make the deck come to life. There's a gentle warmth that radiates from the deck, which reminds me of the sense of community and hope that we naturally call on to make it through the dark days of Winter. Simultaneously, cards such as Solitude and Crone remind us of the inevitable necessity of going inward and facing one's own depths during this season too.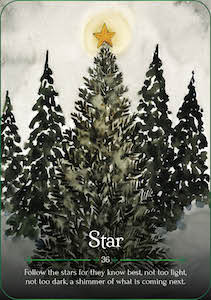 As I look through the deck and do my daily pull, I find the oracle cards perfectly capture all the cozy, snowy, magical feelings of the Yuletide season. I am genuinely impressed with Anderson and Diaz's choices for card names, such as Chills and Ringing of the Bells, which instantly tap me into the sensation of Winter. I enjoy how the deck includes Reindeer Medicine and Bear Medicine, along with Poinsettia, Mother Mary, and Father Christmas.  The cards are a soulful reminder of all the special parts of the Yuletide season for one's craft. As the authors write:
"Christmas is a Christian tradition but its roots are based in pagan ways. Familiar symbols such as Christmas trees, stars, lights, giving gifts, and even Santa Claus are threaded through pagan cultures and predate the Chrsitian celebration."1
My favorite cards feature traditional Yuletide snowy scenes with silhouettes of a witch on her broom riding in the sky. The folklore of La Befana, the Italian Christmas witch, is near and dear to my heart, so I truly enjoy seeing a witch in action outside of the usual Halloween imagery. I like imagining there's a Christmas witch that watches over us all, delivering presents of the heart to us as we are hunkered down inside for the cold Winter months.
Each oracle card features a beautiful image, the name and number of the card, and a short one-sentence oracle message. The guidebook then elaborates quite eloquently on each card, offering keywords and heartfelt messages that have been spot-on every time I've pulled a card so far. Along with advice for working with this deck, including spreads and magic tips for some cards, the guidebook is also filled with Yuletide imagery. It's a pleasure to look through it, as images of mistletoe and holly line the pages. It's worth noting this guidebook does not provide reverse oracle meanings as the guidebook for the Samhain Oracle does, but this didn't bother me at all because I hardly use reverse cards in oracle readings.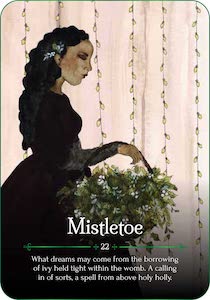 One spread I really like is The Evergreen Wreath, which assists the reader in figuring out where they are now and where they want to go. Another one I thought is creative is The Christmas Cross Tarot Spread, based on the traditional Celtic Cross, but framed in the perspective of Yuletide (ex. Card 2 is Winter Storm, while Card 5 is Ghost of the Past), once again heightening the connection to the season. I'm also looking forward to The New Year Ahead spread once it gets closer to the start of 2022.
I've come to trust this deck, which doesn't always happen instantly for me, and not just because my first pull was the card Squirrel Medicine, when squirrels are my favorite animal ever. It's something more; Yule Oracle feels imbued with good vibes and an openness, which I believe stems from the author's intention when crafting this deck. There is a really heartfelt section in the guidebook about reclaiming the witch, in which the authors write: 
"The way we view magic needs to change. It's time to reclaim this world for yourself. To reclaim magic means to honor yourself through the magic you create. If your magic is pink and purple with glitter and that feels good to you, then it's your right to express that magic in this way. If you love beautiful things and aesthetically pleasing design but are also a witch, know that your magic is no less valuable because you also value art. If your magic is about rolling in the dirt under a full moon to connect with the earth, then so it is. Your magic is beautiful in its dirty rawness."2
This meaningful passage really made me appreciate the mindset of the authors. It also reaffirmed that my magic, which I will say leans towards the pink and glittery kind, is valuable, even if it's not the traditional imagery of gothic witchcraft. I feel like there's this greater reclaiming of our inherent magic, and within this shifting of the imagery, there is limitless potential of how everyone's unique magic will be expressed. I have a lot of respect for Anderson and Diaz for acknowledging this as part of this introduction to this deck, especially since they also acknowledge the lack of diversity in Samhain Oracle.
All in all, I can say I'm in love with the Seasons of the Witch: Yule Oracle. There's just something about the traditions and sentiments of this season that always brings up the good tidings. The range of oracles in this deck provide inspiration and divination from all sorts of guides: animals, sacred symbols, Yuletide folklore, and the simplicity of winter life. I think this deck will be the perfect present for Witch Switch gift swaps or to give as a meaningful gift to your inner coven of loved ones.
And, just to get you excited, I found out via Google that there will be a Seasons of the Witch: Beltane Oracle coming in March 2022! Woohoo! 🙂 I'm a very seasonal person, so it's a thrill to have decks to embrace the energy of the season. Speaking of which, it's probably time to pull out my Seasons of the Witch: Samhain Oracle!

Alanna Kali is an astrologer, numerologist, and pioneer spirit that loves to explore life through the lens of depth psychology. She has a passion for studying the humanities and social trends. Her academic work is centered upon reuniting body, mind, and spirit through eco-psychology. She loves reading, spending time in nature, and travel.
References