The First Female Pharaoh: Sobekneferu, Goddess of the Seven Stars, by Andrew Collins
Bear & Company, 1591434459, 464 page, April 2023
Most people are familiar with the famous Egyptian queens Cleopatra, Nefertiti, and Hatshepsut, but few are aware that they were preceded by Sobekkara Sobekneferu, the first woman to break the glass ceiling and be crowned pharaoh of Upper and Lower Egypt. Sobekneferu (pronounced "sob-bek-nef-frew") was the last ruler of the Twelfth Dynasty, which brought the Middle Kingdom to a close about 3,800 years ago. She may have been around 30 years old at the time of her accession to the throne, and she ruled for almost four years, between the approximate dates of 1798 to 1794 BCE. The circumstances surrounding her coronation and her untimely death are unknown.
I first learned of Sobekneferu by reading Egyptologist Kara Cooney's work When Women Ruled the World: Six Queens of Egypt (2018), and I was thrilled to review a book dedicated to this fascinating monarch. In The First Female Pharaoh: Sobekneferu, Goddess of the Seven Stars, author Andrew Collins (Göbekli Tepe: Genesis of the Gods, 2014) does rigorous archaeological detective work, analyzing a variety of statues and beads honoring Sobekneferu, in an effort to humanize her and unravel the mystery of her life and death. This book also has a historical whodunit vibe, as Collins explores possible political intrigues that may have led to her rise and fall. It's amazing how much information can be gleaned about her from so few inscriptions and artifacts, and Collins walks the reader through each exhibit, clarifying its context.
Collins begins his search for the enigmatic Sobekneferu in London's British Museum, where he inspects a cylinder seal bearing her royal titles. He presents clear diagrams of the inscriptions on the seal, accompanied by translations of the hieroglyphs so the reader can examine the artifact along with him and imagine the feeling of this ancient stone bead rolling between their fingers. We learn from the seal that her throne name, Sobek ka Ra, means "Sobek is the soul [ka] of Ra,"1 and her personal name, Sobek neferu, means "Beauties of Sobek of Shedet"2.
The ancient city of Shedet (known to the Greeks as Crocodilopolis), located in the lush oasis of the Fayum, was the cult center of the crocodile god Sobek, to whom Sobekneferu was devoted. Sobek was a manifestation of the solar deities Ra and Horus, and as Sobek-Ra he represented the sun's nocturnal journey through the Fayum's great lake, Lake Moeris, before being reborn at dawn every morning. He was also connected with the divine right of kings to rule and the annual flooding of the Nile. Before Sobekneferu, the Twelfth Dynasty pharaohs, who ruled Egypt from the city of Itj-tawy in the Fayum, adopted the name of Amun or his consort Wosret. Sobekneferu's identification with the fierce male crocodile god and her alliance with his local priesthood may have politically supported her claim to the throne.
Another seal in the Egyptian Museum in Cairo gives the grammatically masculinized forms of her names, suggesting that the gender of her royal epithets may have sometimes been changed to legitimize her rule. A headless quartzite bust of Sobekneferu in the Louvre Museum in Paris may have been smashed in an attempt to erase her from history. What remains of the decapitated statue depicts the striped lappets of the nemes-headdress worn by male rulers cascading over her shoulders, and although she is wearing the shoulder straps of a woman's dress, she appears to have flattened breasts.3 Like the Eighteenth Dynasty Queen Hatshepsut, it appears that Sobekneferu masculinized herself to be accepted as pharaoh, and perhaps Hatshepsut was inspired by her predecessor's images. Other statues Collins analyzes have also been defaced. He explains that iconoclasts broke noses off of statues in the belief that without them the soul of the deceased wouldn't be able to breathe in the afterlife.
Sobekneferu's Two Ladies appellation, Sat sekhem nebet tawy, meaning "Daughter of Power, Mistress of the Two Lands," is a reminder that she inherited the throne from her father, the mighty king Amenemhat III.4 Sobekneferu further legitimized her reign through her divine patriarch by honoring his memory, completing his pyramid complex at Hawara, known as the Labyrinth. 5 She deified him there and made herself the high priestess of his temple cult, a suave political move that emphasized her reign being the will of the gods. 6
Her Horus name, Meryt-Ra, meaning "Beloved of Ra," was feminized, and was a title often given to priestesses, indicating that she may have served as one before rising to power.7 Collins believes she may have served the goddess Hathor. 8 During the Twelfth Dynasty, it was trendy for queens and kings to be depicted as sphinxes. In doing so, the monarch embodied the lion-headed goddess Sekhmet, the vindictive aspect of Hathor, whose name means "The Powerful One."9
While Sobekneferu's tomb has never been discovered, there is evidence that cult veneration of her continued long after she passed away. Graffiti left by visitors in the funerary chapel connected to the Theban tomb of a priestess of Hathor named Senat indicates that her burial site doubled as a place of veneration for Sobekneferu.10 Perhaps pilgrims were drawn to this location because it was the only Middle Kingdom tomb built for a woman.11
Sobekneferu's older sister, Neferuptah, was heir to the throne, but she died young, and was buried in a small pyramid in her father's temple complex. 12 Neferuptah was the first Egyptian woman in history to have her name inscribed within a royal cartouche, suggesting that her father may have been preparing her to rule after his death.13 Collins brings up the possibility that Neferuptah was murdered.14 Her cause of death is a mystery because her body unfortunately disintegrated due to groundwater leaking into her tomb.15
After Amenemhat III passed away, presumably from old age, Sobekneferu may have wed her brother Amenemhat IV upon his ascension to the throne and co-ruled with him, a position that had been intended for Neferuptah.16 Nine years later, Amenemhat IV died without a male heir to take his place, perhaps due to sterility resulting from generations of inbreeding.17
In ancient Egypt, a woman could take the throne as regent, temporarily ruling on behalf of an heir who was perhaps too young to rule himself.18 Hatshepsut, for example, established herself as regent but did not relinquish the throne when the male heir, her co-king and nephew, came of age. After the death of her brother-husband Thutmose II, Queen Hatshepsut served as regent for her two-year-old nephew, Thutmose III 19. Instead of functioning as a placeholder who would step down when he came of age, by the seventh year of her regency (or perhaps sooner), she was officially coronated as king, assuming full pharaonic power through the religious authority of the oracle of Amun, which had declared her the rightful ruler. 20
In the case of Sobekneferu, when her brother died, there was no heir, and she took the throne without the pretense of regency, which is quite amazing. Collins suggests there may have been a nationalist plot to usurp Amenemhat IV and place Sobekneferu on the throne.21 Her brother's "progressive ideologies" and open border policies would have been perceived as a threat to Egyptian nationalists, who were concerned about the influx of western Asiatic foreigners settling in northern Egypt and occupying positions of power, which no doubt paved the way for the Hyksos invasion a few generations later. 22 He was also allied with the priesthood of Atum in Heliopolis rather than the local cult of Sobek. 23
A controversial theory which Collins presents for the first time in this book is that the legend of Queen Nitocris, recorded in book II of The Histories by the Greek historian Herodotus in the fifth century B.C.E., is a dramatized account of Sobekneferu exacting revenge for her brother's regicide. 24 According to the legend, Nitocris invited the Egyptian subjects who murdered her brother-husband to a banquet in an underground chamber and then drowned them by flooding the room with Nile water through a secret channel. 25 Afterwards, she committed suicide by throwing herself into a chamber of hot ashes in order to avoid retribution for her actions. 26
The Egyptian historian Manetho recorded that Nitocris was the last ruler of the sixth dynasty, but there is no evidence that she ever existed, and Collins believes that the twelfth dynasty ruler Sobekneferu is the best historical fit. 27 "The real Nitocris of legend was, I would argue, an abstract memory of the life and deeds of Sobekneferu," Collins says. 28 He suggests that she may have collaborated with Egyptian nationalists to have her brother assassinated, then shifted blame onto her political opponents after she was placed on the throne. 29
Sobekneferu may have fallen out of favor due to low flood waters during the third year of her reign, which would have been disastrous for the cultivation of crops. 30 Since the failure of the inundation would have been perceived as her fault, Collins suggests that she may have been pressured by the priesthood at Heliopolis to take the role of sacrificial king and either commit suicide or be murdered. 31
Collins has an intriguing theory regarding the method of her ritual death. He suggests that the serpent involved in Cleopatra's suicide may have been symbolic for the ingestion of poisonous plants or the inhalation of their smoke, 32 which leads him to believe that the chamber full of hot ashes into which Nitocris threw herself may have been a room suffocated with mephitic fumes, and that this was how Sobekneferu committed suicide. 33
While the theories Collins presents are often pure conjecture, he clearly delineates between what is based upon concrete archaeological evidence and what is speculation, all the while acknowledging that we may never know the truth. Readers who are armchair archaeologists will appreciate his detailed analysis of artifacts, and those who want to learn more will find Kara Cooney's book When Women Ruled the World: Six Queens of Egypt, which Collins cites several times, to be an excellent companion text to The First Female Pharaoh.
The figure of Sobekneferu is just as relevant today as ever because she presents an interesting historical perspective on gender stereotypes and public perceptions of women's leadership abilities both past and present. Women in positions of power are still pressured by society to adopt masculine fashions in order to be taken seriously, such as the pant suits worn by modern female politicians and other professionals. One might argue that these suits have evolved to become gender neutral, but originally they were worn to project an air of male authority, and on a subliminal level, they still convey the same message. Appearing androgynous often requires women to minimize or conceal their femininity instead of embracing it, perhaps even blurring their perceived gender identity, as was the case with both Sobekneferu and Hatshepsut.
Hatshepsut in particular depicted herself as a man towards the end of her reign, and in When Women Ruled the World, Egyptologist Kara Cooney says that rather than this being an indication of her own gender confusion, "Hatshepsut's problem was that she was trying to inhabit a masculine role within a patriarchal system on a long-term basis while there was a male king already occupying the throne." 34 Depicting herself as a man was a way of validating her right to rule.
In modern times, Sobekneferu has reincarnated in pop culture as a dangerous Egyptian queen with supernatural powers who returns to the realm of the living by possessing a young woman's body. The subtitle of The First Female Pharaoh: Sobekneferu, Goddess of the Seven Stars, invokes Bram Stoker's Egyptian novel The Jewel of Seven Stars (1903), in which the daughter of an Egyptologist, a young woman named Margaret, is possessed by the spirit of Queen Tera.
Critics have perceived this as a Gothic horror personification of the New Woman movement of First Wave Feminism at the turn of the century. As the spirit of Queen Tera takes control of Margaret, she becomes more strong-willed and independent, putting up increasing resistance to the masculine authority of her father and love interest, perhaps serving as a cautionary tale about the dangers of female empowerment, since Stoker didn't seem very fond of the movement based on his treatment of strong female characters.
Collins believes that Stoker's evil Queen Tera was inspired by Sobekneferu, 35 and that she in turn influenced the character of Queen Kara in the 1980 film based on the novel titled The Awakening, starring Charlton Heston. 36 Collins posits that Stoker's source materials were two works on ancient Egyptian star lore and mythology by Gerald Massey (1828-1907) that featured Sobekneferu, associating her with an ancient "Mother-Goddess of Time," the "Goddess of the Seven Stars," identified with the constellations Draco and Ursa Major. 37
The enigmatic queen Sobekneferu has also made quite an impact on the occult community. Esteemed occult writer Kenneth Grant drew connections between Sobekneferu and an ancient Draconian cult in his Typhonian Trilogies (1972-2002).38 According to the Tumblr account of Pacific North Witches, Sobekneferu even has a feast day, which falls on July 23.39
It seems this ancient queen has indeed been resurrected into the collective consciousness. Whether we view Sobekneferu as a high priestess of Draconian magic or as the ultimate embodiment of female empowerment, she has achieved the dream of immortality that all the mighty ones of ancient Egypt sought to attain, inspiring new generations with her mysterious legacy, nearly 3,800 years after her death.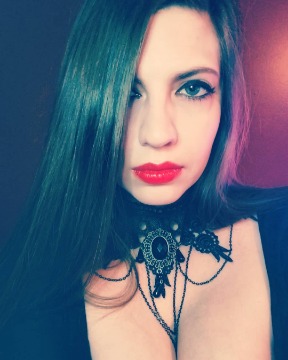 Rachel Christina McConnell is a witch, tarot reader, intuitive astrologer, and writing spider. She holds an MFA in Fiction from Columbia University in the City of New York. Her short stories have appeared in Dark Moon Lilith Press and Minerva Rising Press's The Keeping Room. Links to her publications are available here: https://rachelchristinamcconnell.wordpress.com
References