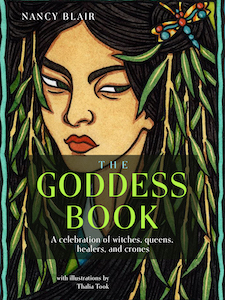 The Goddess Book: A celebration of witches, queens, healers, and crones, by Nancy Blair and illustrated by Thalia Took
Hampton Roads Publishing, 1642970203, 234 pages, April 2021
It's not every day that I have the opportunity to invite 52 friends into my home, but that's what happened when Nancy Blair's book, The Goddess Book arrived at my doorstep. As I happily opened the door to retrieve the book, so too did I gladly open myself up to welcoming these goddesses into my life to share their wisdom with me. As Nancy writes in the Preface, "our Goddess heritage and her story, the greatest story never told, brought me home."1 She continues:
"Goddess spirituality brought me home: to my Self, to the innate wisdom of my body, to our living Earth body, and the body of women's wisdom long repressed. The return of the Goddess is a rising tide that cannot be held back."2
I was attracted to the book as I wanted to participate in the celebration of witches, queens, healers, and crones — pretty great company if you ask me. I liked that Nancy worked with the Goddesses in a seasonal way, 13 Goddesses for each season. I read the book in its entirety, but then I focused on the Goddesses of Spring as that is the current season where I live.
I'll keep this book out the entire year, and I plan on working with one Goddess a week based on the season to allow for a deeper relationship with each. I am really enjoying being introduced to Goddesses with whom I wasn't aware of such as Vila (Spring), Oshun (Summer), Ungnyeo (Fall), and Aida Wedo (Winter). I also welcomed reconnecting with some of my favorites such as Tara (Spring), Selena (Summer), Baba Yago (Fall), and Brigit (Winter).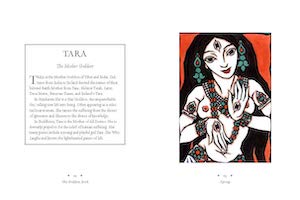 The book has a very brief introduction for each season before profiling the 13 Goddesses. There is a short description of the Goddess followed by an exercise to work with the Goddess and a related affirmation.
Thalia Took's illustrations remind me of beautifully colored woodcuts that greatly enhance the writings. As the author is also an artist, I thought it a great testimony to Took's talent that Nancy chose her to illustrate the book rather than doing so herself. I absolutely loved the illustrations, some favorites were the multi-breasted Diana of Ephesus, Inanna bejeweled in stars and the moon, and Willendorf, the first time I've seen her portrayed in a two-dimensional with a face rather than the tiny sculpture of which I'm most familiar.
Nancy is an artist and published author (Amulets of the Goddess: Oracle of Ancient Wisdom) who imparts a Mother Earth-based familiarity with these Goddesses in an approachable way. With Demeter, for example, we meet the Goddess whose Roman name, Cere, is where the word cereal is derived. One is encouraged to "invite Demeter to feast with you as Autumn's light grows thin."3 The three-line accompanying affirmation focuses on healthy food and nourishment. The illustration of Demeter shows a woman with long blonde hair resembling corn, cloaked in green.
We meet Sophia in the Winter season. As Holy Wisdom, she will "lead you to your true destiny."4 In the Affirmation we hold "inner wisdom as my road map."5 She is illustrated as with the almond-shaped eyes reminiscent of a Byzantine image. The yoke of her cloak is covered in similarly almond-shaped stones that mirror her eyes.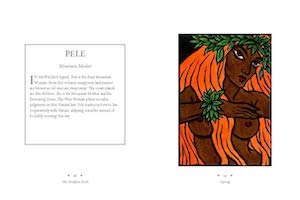 Danu, the Great Goddess, appears in Spring. We see her in profile, rooted leaves forming her hair. All in green, her upper body and face are covered in the spirals that are most identified with Celtic art as she is the "Great Mother Goddess, from whom all Irish gods descend."6 The affirmation calls us to embrace our power.
Summer introduces us to Yemaya, Goddess of the Sea. A dark-skinned woman, she is cloaked in a patterned batik fabric. Shells adorn her upper arm, neck, and ears. She is a "mother spirit: matron spirit of women, especially pregnant women."7 Call on Yemaya to "release you from old beliefs, thoughts, or feelings that seem to enslave you and keep you estranged from your sacred Self."8
As I said, this book will be a reference for all the seasons to connect with the many different Goddesses who support us on our path. The Goddess Book packs a lot of information and offers empowering affirmations. I recommend using this as a guidebook, inviting these Goddesses to become your companions as you move through your life and the wheel of the year. Meditate on them, embrace them, and accept the guidance they are providing. Blair and Took have done a wonderful job of depicting the many facets of the great Goddess and bringing them all to life.

Anne Greco is a non-fiction writer who writes about her life experiences and travels with humor, keen observations, and the hope that her words will remind us that "we're all just walking each other home." Her book, Serendipity: Chance Pilgrimages, tells the story of Anne encountering her places of power. As she reconnects with herself at each site, Anne also develops a deeper understanding and appreciation of her connection to both the seen and unseen worlds. Learn more about her work here: http://annegrecowriter.com.
References