The Guardian Angel Oracle Deck, by Delia Ciccarelli
CICO Books, 180065085X, 160 pages, 72 cards, January 2022
You've most likely heard of people having a guardian angel. Perhaps you've even prayed to your guardian angel or felt their protection, love, and guidance. But did you know that you can learn more about your guardian angel based on your birthday?
The Guardian Angel Oracle Deck by Delia Ciccarelli features the 72 angels of the Kabbalah, also referred to as the 72 names of God. Ciccarelli explains that there is a guardian angel for each day of the year and on the day we are born, certain angelic qualities are given to us through this guardian angel. Understanding the gifts of our angel reveals special qualities about ourselves and the purpose of our life structure.
"The guardian angel in Kabbalah is also referred to as "the Angel of the Incarnation," and it tells us what we have come to manifest in ife and reveals our purpose. Knowing our angels helps us to understand how we work on an energetic level and what we need to change within us to transcend to a higher state of being."1
As soon as I took the cards out of the box, which is nice and hefty for storing them safely, I was overcome with a feeling of calmness. This tranquility made me feel deeply at ease, initiating a moment of inner peace. I hadn't realized how scattered and discontent I had been feeling until I was washed in this gentle, healing energy.
Each card is absolutely beautiful. In the guidebook, Ciccarelli makes note that angels are high vibrational energy and not the well-known imagery of a being with wings. Therefore all the images feature serene, elegant images of women dressed in flowing robes. It was comforting to see the feminine aspect of angels. There were some I thought might be male angels, but even if so, there is a very womanly feel to all the images in the deck.
Swirling energy and color give a sense of motion to this deck. The energy of the cards is not static; it certainly feels as though it's flowing through the reader, but in the most gentle way possible. Holding the cards, or even just gazing at them, activates subtle healing and loving energy within me. Instantly, I feel safe and surrounded by a divine presence.
Ciccarelli shares different ways to connect with the angel of the deck in the guidebook. She suggests invoking the angels, meditating with the angels, and doing oracle readings with the cards. There are four spreads shared for readings, indicating what each card placement means when arranging the cards.
However, there is no divinatory meaning for each card like in most oracle decks. Rather, the reader has to piece together an intuitive understanding of the reading based on the attributes and qualities of the angel. I think it's easiest to do just a one or two card pull, rather than the more complex spreads. I've found them to be especially useful for meditation and journaling.
The guidebook is a hard-covered small book. For all 72 angel oracle cards, there is an epithet, dates of their guardianship, name pronunciation, zodiac sign association, angelic choir level, and their associations and qualities. There's also a picture of each card, making it nice to browse and learn more about the angels even without using the deck.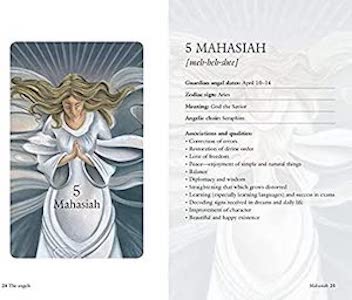 Immediately, I went to the guardian angel of my birthday: Manakel. I was very surprised and pleased to see that the listed qualities are some of traits I've always most loved about myself, including lasting friendships and finding work quickly. I've never hesitated to quit a job because I instantly get a new one! And I always cultivate meaningful, lasting friendships that last years, even decades. Knowing these angelic traits and aspects of my birthday make me appreciate these qualities in a new way.
Another one that I really felt connected to was dreams because I've always found meaningful symbolism in my dreams and even considered becoming a professional dreamtender. Now, knowing the qualitiesI feel like I know what aspects of my life to cultivate and grow because they resonate with my guardian angel Manakel. The deck is also very useful for learning the Hebrew names of the angels, as well as the different levels of the angelic hierarchy.
I've learned so much about each one through reading the associations, and I've enjoyed looking up friends' and family's birthday cards to see if they reflect traits about them – and they do! This has helped me when giving advice to people too; I could help them to see these attributes they possess, uplifting their perspective and attuning them to their inner gifts.
All in all, The Guardian Angel Oracle Deck is immensely illuminating. The beauty of the angels shines through each card, alleviating all negative feelings and bringing tranquility and peace to any situation. Connecting with your guardian angel is truly a life-changing experience. This meaningful deck will teach you more about your life path and purpose. It's an incredible access point to connecting with the angelic realm at any time.

Alanna Kali is an astrologer, numerologist, and pioneer spirit that loves to explore life through the lens of depth psychology. She has a passion for studying the humanities and social trends. Her academic work is centered upon reuniting body, mind, and spirit through eco-psychology. She loves reading, spending time in nature, and travel.
References