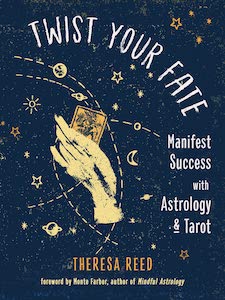 Twist Your Fate: Manifest Success with Astrology and Tarot, by Theresa Reed
Weiser Books, 1578637686, 272 pages, August 2022
Astrology and tarot go hand-in-hand if you ask me, but prior to Twist Your Fate: Manifest Success with Astrology and Tarot by Theresa Reed, I had never seen a book that combined the two. Twist Your Fate does a wonderful job of synthesizing the intricacies of these two mystical systems into easy to practice exercises and inquiries that are sure to have a lasting impact on one's spiritual journey. Beginners and experts alike have something to gain from this book, which is bound to call in the magic that happens when you align will with the forces at play.
Reed, also known as The Tarot Lady, has formerly published books on both tarot and astrology, including Tarot No Questions Asked: The Art of Intuitive Reading and Astrology for Real Life: A Workbook for Beginners, making her the perfect writer to introduce readers to the dual-system of using astrology and tarot in combination. Her other works include Tarot for Troubled Times, The Tarot Coloring Book, and Create Your Own Tarot Cards for those who are inclined to get creative with the tarot.
It often seems the amount of studying and dedication that goes into learning tarot and astrology make people pick one or the other to focus on. It's common for expert astrologers to only have a basic knowledge of the tarot, and vice versa with skilled tarot readers only knowing their Sun sign. Plus, even for those who are drawn to both, there's little information about how to use the two in combination. But with Twist Your Fate, Reed helps readers go beyond the either/or and do a deep-dive into both astrology and tarot before integrating the two together, opening a whole new world of possibilities.
Divided into four parts, Reed leads readers through lessons on astrology, tarot, listening to their intuition, and bringing it all together in the end. The longest section of the book is the first one, humorously named "Part One: Cover Your Ass-trology". I was pleasantly surprised with the range of astrology topics Reed included: the midheaven, nodes, transits, retrogrades, influence of the moon, and even vocation and life calling. She did a wonderful job of making these astrological concepts approachable, and it's for this reason this has become the book I would recommend to beginners to astrology above all other books on the topic.
Even if the astrological terms or process of reading the chart feels intimidating, Reed's gently direct approach helps readers to gain their own footing. She provides her own interpretations for all the different astrological placements, feeding reader's insight about their own chart, but also leaves plenty of room for everyone to connect with the chart in their own way and form interpretations from within. Throughout the chapters there are plenty of "astrocises" which are exercises intended to help the reader examine their chart further to facilitate integration of the chapter topic.
These astrocises are quite creative and are good for creatively engaging with one's astrological chart. I've been a professional astrologer for many years, and sometimes I'm tempted to gloss over others' interpretations of the houses, signs, or different planetary energies. But Reed caught my attention and kept it through and through. Even though the astrological topics covered are something I am quite familiar with, her approach was novel and engaging. The way she presents the material was an invitation for me to do a check in and truly deep dive into my astrological chart, which I honestly hadn't done for quite some time. As I worked through the astrocises, certain patterns coming up for me right now were illuminated, and I felt like I gained a better perspective about the blessings and challenges emerging in my life at this time.
Then the tarot section was just pure gold because Reed has been reading cards for over 30 years! She shares her interpretation of the 22nd Major Arcana cards and the 56 Minor Arcana cards – both upright and reversed. Additionally included is the numerology and planetary correspondence of each card. The images used are the traditional Rider-Waite-Smith deck, which I think helps readers, especially beginners, to see all the subtleties of the cards since it's a very popular deck that many other decks are based on.
My favorite chapter in the tarot section was "Taking Your Cards to Work" where Reed guides readers through asking the right questions and using spreads to get the most out of one's reading. Some of the spreads she shares are The Astrological Wheel, The Horseshoe Spread, and The Options Spread, which I found to be great for decision-making! A real perk of the chapter is how Reed uses sample readings so the reader gains an understanding of how she puts it all together to come to an interpretation of the cards. Plus, along the way there's plenty of "tarotcises" that once again facilitate an opportunity to connect with the lessons of the chapter.
"I have always said that astrology creates the map; Tarot shows you the detours. But there is one more crucial element – your intuition."1
Before the culminating section, Reed binds astrology and tarot together with insight on how to discover, develop, and trust one's intuition. This section is essential for all readers, as astrology and tarot both ask you to learn to have confidence in the answers you receive, both from your chart, cards, and most of all, from within. I appreciate that in this section Reed doesn't sugarcoat the intuitive journey though, making it all "love and light", rather she provides advice about what to do if your intuition is wrong or if there's no meaningful insight coming through in a reading. This section definitely helps readers to feel better about the bumps in the road on their intuitive journey, while providing guidance and advice about how to make it a bit smoother.
The final section invites the reader to grab their chart, get their cards, and use their intuition to divine insight into a present situation. Reed aptly calls it an "astro-tarot-intui-cise"2 To be honest, I haven't worked my way up to this fully comprehensive spread yet! I wouldn't say I'm intimidated, as Reed has prepared me well, but I feel like this is going to be a meaningful reading, so I want to give it the time and space it deserves to truly delve into the reading. I like knowing I can pull out the "big guns" aka this thorough reading when it's needed most, and I'm trusting the time to use it will present itself sometime down the line!
All in all, Twist Your Fate is a fantastic resource for deepening one's connection to astrology, tarot, and intuition. Reed's experience and wisdom shines through the text as she guides readers on the journey of learning how to manifest success, which many agree is no easy feat! Without even realizing it's happening, readers will start to gain confidence in themselves as they reveal new facets of their astrological make-up and gain the ability to interpret what life presents through a lens of empowerment, rather than discouragement. The tools taught in this book are sure to have life-long value, especially the more you practice and trust the messages you receive.

Alanna Kali is an astrologer, numerologist, and pioneer spirit that loves to explore life through the lens of depth psychology. She has a passion for studying the humanities and social trends. Her academic work is centered upon reuniting body, mind, and spirit through eco-psychology. She loves reading, spending time in nature, and travel.
References