Unusual Animal Messages Oracle Deck, by Manda Comisari
CICO Books, 1800651619, 52 cards, 64 pages, November 2022
Nature and all the wondrous animals that live within it are absolutely amazing! But why does it seem like we often overlook the more obscure creatures? Most likely because they're not on our radar; I mean, aside from a select few people in science or conservation jobs, who regularly thinks about the Sea Cucumber or Gobi Jerboa? In Unusual Animal Messages Oracle Deck, Manda Comisari gives voice to these unique animals, attuning us to the lessons they have to share so that we can reap their one-of-a-kind wisdom.
Comisari is a talented wildlife illustrator, who holds a Master of Fine Art in Illustration and has been recognized by The Society of Animals Artists, The David Shepherd Wildlife Foundation, and Buzzfeed for her work. Additionally, she's an experienced energy worker certified in Theta Healing.1 This deck is the perfect combination of her illustrative career and familiarity with energy healing.
In the guidebook introduction, Comisari reminds deck users that all of nature is interconnected and that every living thing must be protected to maintain ecological balance. She chose these far-out, unusual animals for the deck to inspire readers to feel an empathetic connection with them, creating a new appreciation for their role in the natural world.
"Developing empathy toward our environment and all the wildlife within it ensures that we will want to protect the planet. We don't learn about nature, we learn from nature, because we're part of it. Not better than, not masters of, but an equal participant."2
This deck is intended to provide spiritual advice from the animals, though it's not a deck to tell the future, but rather to provide insight in the present moment. It has a very grounded and natural feeling, as Comisari's illustrations bring to life animals in their own habitat, plain and simple without extravagance. There isn't an esoteric, ethereal, or otherworldly vibe to this deck at all; it's centered within the beauty of the natural world.
There are no special spreads suggested. Comisari simply recommends "pulling a card, either daily or when you feel like you could use some spiritual support and guidance."3 Though the cares are divided into developmental categories for the reader: Establishing Goals, Managing Perspectives and Emotions, Managing Hardship and Personal Growth, Self-Care, Managing Community, Friends, and Relationships, and Learning to Cooperate and Remember Delight.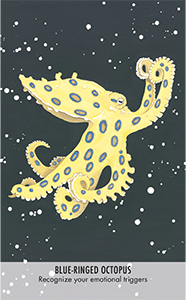 When reading with the deck, you could either pick the specific development category you want to focus on and draw from only those cards, or you can pick at random and let the developmental category inform your reading as a broader perspective to the card you pulled. For instance, when I specifically wanted insight on how to improve my self-care, I went to the guidebook and pulled out the cards featured in the self-care developmental section. However most of the time, I've done general pulls from the deck. Both ways have provided me with insight!
There are 52 cards in all, and I will be honest, they are not the most awe-inspiring or aesthetically pleasing cards. These unusual animals are NOT the cute and furry ones that people tend to love. My mom was quite upset when she pulled Cockroach; the Tardigrade looks straight-up freaky; and Goblin Sharks might give you nightmares. That isn't to say there's not some adorable-in-a-funny-looking-way animals in there too, such as the Axolotl, Blue-Ringed Octopus, and Sloth. But I'm warning you, be prepared! You might jump when you see the Red-Lipped Batfish.
And these are only a handful of the unique animals in there. If you read the last paragraph thinking, "What animal is that?" then you'll have the same joy of discovering new species that I have using this deck. I frankly did not know many of these animals existed prior to using this deck, and it has been fun to learn more about them, which the guidebook makes very easy to do. Though, I still often find myself Googling to learn more!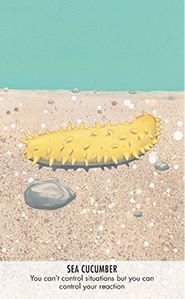 For every animal, the illustrated guidebook showcases an image of the card along with information on the animal's habitat, wisdom the animal shares with us based on facts about them, and a "try this" recommendation about how you can put the wisdom of the animal into practical use. And below the image, both on the cards themselves and in the illustration in the guidebook, is a few-word message from the card, if you just want quick and easy meaning to focus on.
So far I've found the cards to be quite insightful! I was just telling my husband today about how I feel the need to wave off other's opinions and focus more on what is best for me, following my intuition rather than external sources. When I got home and began this review, I decided to pull a card. I pulled the quite ugly, borderline scary (I'm trying to not judge these animals for their looks, but truly, this one image is not for the faint of heart!) Red-Lipped Batfish. The card reads, "Be true to yourself without seeking outside approval."4
Going to the guidebook to learn more, I found out how even though this batfish can swim, "it prefers to walk on the sea floor and often uses its fins as pseudo-legs to get around."5 The overall message Comisari has extracted from the habits of the batfish focus on how we can be unapologetically ourselves, living authentically without the need for other's approval. And the "try this" she offers is to take the time to get to know yourself (likes, dislikes, quirks, etc) and reflect on if you're living true to yourself while also acknowledging if you're respecting others for living true to themselves too.
I really liked this message! Having used the deck for a few months now, I find it interesting both learn more about these unique animals and also read Comisari's perspective on how we can gain wisdom from reflecting on their behavior. I enjoy the connection I feel building within to the natural world as I remember that there is no greater teacher than the many marvelous beings we share this beautiful planet with.
My only complaint about this deck is that the cards are not numbered, so you have to skim through the guidebook to find the message. This isn't too much of a hassle, but it can take a minute or two to locate the cards if you're skimming to fast.
Overall, Unusual Animal Messages Oracle Deck is a one-of-a-kind deck. It's not your typical oracle deck, but it's quirkiness make it stand out. If you are an animal or nature lover, this is a wonderful deck to add to your collection. Not only will it offer guidance and insight to reflect upon, it will introduce you to new animals and provide you with lots of new facts about these unusuals creatures!

Alanna Kali is an astrologer, numerologist, and pioneer spirit that loves to explore life through the lens of depth psychology. She has a passion for studying the humanities and social trends. Her academic work is centered upon reuniting body, mind, and spirit through eco-psychology. She loves reading, spending time in nature, and travel.
References