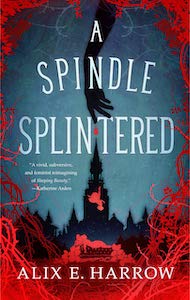 A Spindle Splintered (Fractured Fables #0), by Alix E. Harrow
Tordotcom, 1250765358, 128 pages, October 2021
I was so enthralled with The Once and Future Witches by Alix. E Harrow that I decided to read her most recent book, A Spindle Spintered (Fractured Fables #0), over the weekend. Talk about a fairy tale for modern young women! Harrow has a knack for capturing the heart in her tales of romance, magic, and self-discovery.
Zinnia Gray expects to die shortly after her 21st birthday. She suffered the ill effect of lax corporate environmental regulations, which caused a group of children in her town to have incurable health issues. No one has made it past 21. Nevertheless, Zinnia lives by her "Dead Girl Rules", one of which is to move fast, and pursues a study in folklore. Sleeping Beauty was alway her favorite fairy tale, ever since seeing a photograph of her emerging wide-eyed and alive after death-life trance. Despite her resignation to the reality of her situation, a part of Zinnia hoped to change her story and emerge from the curse of her illness.
On the night of Zinnia's 21st birthday, her best friend, Charm, throws a surprise Sleeping Beauty party for her – spindle included! As per the traditional fairy tale, Charm encourages Zinnia to prick her finger just like Sleeping Beauty. What happens next is most unexpected!

Zinnia hops dimensions and is transported INTO the bedroom of Sleeping Beauty, called Primrose in this tale. Primrose has yet to prick her finger, as her father has burnt all the spindles, but the tug to fulfill the curse is still strong. Primrose is utterly miserable. From the curse that puppeteers her when she sleeps, beckoning her to succumb to a century of sleep and a life in the palace that narrows her options to marriage to a less than superb knight, there seems to be no escape. Zinnia's unexpected arrival turns out to be her moment to help Primrose change her story – and that is just what they do!

I won't go further than this, but the book is AMAZING. Zinnia has a really down-to-earth attitude that still seeks to believe in magic. And the portrayal of Primrose and her world was like reading a real fairy tale. Together, Zinnia and Primrose realize they are living out the same story, but they also have the power to change the narrative. I really liked this concept because I have studied the power of archetypes within the psyche, and I've learned the power of identifying the mythological/fairy tale story one is living out. For real change to occur, both individually and on a societal level, requires a change of narrative, and this is exactly what Harrow has given readers.
For instance, Charm is very into women and Zinnia is super open about her own sexual preferences, at one point saying she's ¾ straight, but acknowledging there's a piece of her that also finds women attractive. I enjoyed how the characters weren't type-cast and it embraced the whole spectrum of personality. There's a lot of blending, rather than fixed edges. From Charm and Zinnia's friendship, colored with mutual attraction, to the ability for characters to merge with others living out their narrative and work together to change it.
And that's what is cool about the tale: the bonds of women. While the typical "hero's journey" is often an individual pursuit, this book portrays fairy tales as a teamwork effort. I think it's more in-line with a feminine way of being; opening up, trusting, finding allies, and choosing to stick together until everyone is out of harm's way. There's an element of choosing to help another over helping oneself, but not in a self-sacrificing way. It is in the spirit of cooperation and seeing that one person as an individual can make a huge difference for someone else, and in doing so, overcomes their own obstacles.
A Splintered Spindle invites us to reconsider what a hero looks like and reimagine the fairy tale so that it's not only a prince that saves us at the end. True love's kiss, well that one is kept for the story, but in the spirit of female friendship. And ultimately, sure it's a happy ending, but also a very heartwarming, honest ending. And I think those are the best kind in real life  because they are not fake. Sure, we can't outrun reality, but we can always believe in the magic within ourselves.
I sincerely hope that Harrow keeps on writing these revised feminist stories of fairy tales, magic, and witchcraft. This one was short and sweet; I read it for only about 2 hours. I highly recommend it to women of all ages, but particularly young women, because I think it provides a new narrative to live out. For those of us who still hold dear to our fairy tale dreams, this book will be perfectly satisfying too. It's a wonderful mixture of reality and magic, hope and despair, and the choices we make to forgo saving ourselves to help a friend.

Alanna Kali is an astrologer, numerologist, and pioneer spirit that loves to explore life through the lens of depth psychology. She has a passion for studying the humanities and social trends. Her academic work is centered upon reuniting body, mind, and spirit through eco-psychology. She loves reading, spending time in nature, and travel.