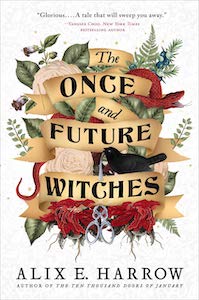 The Once and Future Witches, by Alix E. Harrow
Redhook, 0316422045, 528 pages, October 2020
Embracing the season of the witch, my book club picked The Once and Future Witches by Alix E. Harrow for our October read, and I am in love! This is such an empowering tale of women finding their strength, courage, and magic to change the world. It's a reminder of what happens when women from all walks of life embrace witchcraft and join together to raise hell!
At a whooping 528 pages, this book wasn't just a rinse-and-repeat story with the typical exposition, rising action, climax, and resolution. There were so many twists and turns along the way, which made it a really lovely read to sink my teeth into. I knew this wasn't a book I was going to tear through, and this opened me up to embracing all the characters that I'm sure will live on in my heart for quite some time.
This is a tale of the three Eastwood sisters, Agnes, Beatrice, and Juniper, who are reunited in New Salem under magical circumstances. Having all escaped the wrath of their abusive father, the girls are each making their own way in the world: Agnes as a mill girl, Beatrice as an assistant librarian, and Juniper as a good-intentioned suspected criminal on the run. As fate would have it, Beatrice chants secret hidden worlds that bring back the lost tower of Avalon, a place that was banished the last time it was called back by witches in Old Salem, leading to the great purge of witchcraft.
Suddenly, the sisters are brought back together, though not without their share of quarrels and hard-feelings between them. Juniper, who has taken up the cause of women's suffrage, is set on using magic to further the rights of women. Bella, though hesitant to be drawn in, is obsessed with collecting witch-stories and tales. As witches know, all that is required is the will, the words, and the way. Together, the sisters use their strengths to create their own group of witches and start to wreak mayhem in the town.
Mayoral candid Gideon Hill is dead-set on capturing the witches and bringing them all to justice. There's an oddity about him, and the shadows of the town seem to obey his will. However, this doesn't stop these women from advocating for the ways of witchcraft to be brought back. And there's just so many twists and turns, with a whole lot of love — both romantic and sisterly!
I won't get too far into the plot, because as mentioned already, it's a long book. But I will rave about it from the stance of a witch. It did a really good job of portraying witchcraft as inclusive, open to everyone regardless of their social status, ancestry, and even gender. The book is filled with spells, fables, and fairy tales – all with a witchy spin to them. It makes one proud to be a witch, and I wish more women could unite under common causes to protect one another.
The book also draws heavily upon the maiden, mother, crone archetype, as well as the united three-circle witch's mark. There's a mixture of academic witchcraft aka grimoires and arcane spellwork with witchcraft that is only spoken and passed down through oral traditions. I especially liked the focus on the Daughters of Tituba, which is an African-American group of witches that the Eastwood sisters become involved with.
Another aspect I liked was how magic was used for social justice. As many women in the book acknowledge, small spells are mostly for mundane things, such as whitening the laundry or keeping one's hair in place, but as the women share their words and ways with each other, they discover that bigger change can happen through magic. I love reading about women working together, understanding each other's plight, whether it be as a mother, abused daughter or wife, or part of the LGBTQ community .
There's a strong acknowledgement of the desperation that often leads one to tap into magic in order to create a path where one was not before. This book isn't about girls who "do the right thing", it's about the women who decide to claim their power in a world that refuses to give it to them. I felt very sovereign reading about these badass witches who didn't back down and kept witchcraft alive even in the face of adversity. They didn't adhere to stereotypes, but were happy to throw them in other's face with their pointed hats and broom flying.
I highly, highly, highly recommend this book for anyone who's into witch-fiction. Once and Future Witches one of the best books in this category I've ever read. There's so much beauty, love, and magic interwoven in the pages; every reader's heart will certainly swell, as their magic grows. This powerful read will remind you of what can happen when you choose a life of magic and decide to stand in solidarity with a community to achieve so much more than you ever could on your own. All the while, teaching the importance of healing old hurts, forgiving the past, and opening one's heart to learn to love again. <3

Alanna Kali is an astrologer, numerologist, and pioneer spirit that loves to explore life through the lens of depth psychology. She has a passion for studying the humanities and social trends. Her academic work is centered upon reuniting body, mind, and spirit through eco-psychology. She loves reading, spending time in nature, and travel.