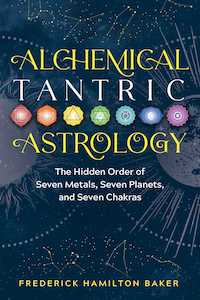 Alchemical Tantric Astrology: The Hidden Order of Seven Metals, Seven Planets, and Seven Chakras, by Frederick Hamilton Baker
Destiny Books, 1644112809, 242 pages, June 2021
Recently, my husband completed the course Spiritualized with astrologer Aeolian Heart, and it really ignited a lot of spiritual growth for him. The premise of the course was to energetically move through the alchemy of astrology to facilitate healing through the gateways of the chakras.
Curious to learn more about this, I was delighted to discover Frederick Hamilton Baker recently published Alchemical Tantric Astrology: The Hidden Order of Seven Metals, Seven Planets, and Seven Chakras, which seemed to essentially be drawing from the same alchemical/astrological associations as Aeolian Heart did in my husband's course. Now it was my turn to take a deep dive into the material, and I've been delighted with the quality of Baker's dedication to this subject.
Baker begins by sharing how he came to develop the Alchemical Tantric Arrangement (ATA), his own astrological system, through his time studying in California, serving in the U.S. Navy, and visiting sacred sites around the world. Blending his study of astrology, alchemy, and the chakra system of tantric yoga, Baker has concluded Capricorn to be the final sign of the zodiac and Aquarius as the first.
I really resonated with this conclusion, particularly after watching the events unfold during major alignment of planets in Capricorn in 2020 and getting to know my own Capricorn stellium in my chart. It simply makes sense, given the many "new beginning" holidays in Aquarius (Candlemas, Chinese New Year, Imbolc), and I personally have always waited until February to set my new year intentions.
Diving right into associations between chakras, astrology, and alchemical metals, Baker clearly lays out the correspondences that are the foundation of ATA. From there, he delves into the mythology of every zodiac sign, which was very beneficial as an astrologer to read. While I am familiar with most of the mythology, the way Baker illuminates all the archetypal energy within each zodiac sign through his interpretations was extremely insight.
By offering a cross-culture description of archetypal energies (gods and goddess) from different pantheons, my understanding of the energies of each zodiac sign expanded. For instance, I previously did not know that Hecate and Vishnu are both associated with Pisces. I also really liked his thorough descriptions of Mercury/Hermes roles, including some such as secret keeper, midwife, and seducer, which I hadn't previously realized.
Next, Baker gives an overview of kundalini energy and the tantric aspect of transforming consciousness with astrological energy. He notes this process can also be referred to as Hermetic astrology, where the alternating feminine and masculine energies of the signs move up and down the chakras to facilitate shifts in conscious awareness. Therefore, Baker concludes, "Knowing the signs and their associations with the two directions of the chakras, those who are acquainted with transits can now use astrology to tune into the most appropriate time for their meditation and actions."1
Baker teaches the reader how to sense astrological energy as having an upward motion (Aquarius to Leo) and downward motion (Virgo to Capricorn), moving the energy in a cyclical way, just like the continual inhale and exhale of our breathing. Through his very illuminating descriptions of the relationships between each zodiac sign and the corresponding chakra, I gained a deeper understanding of this upward and downward energetic motion he describes.
For instance, Pisces and Sagittarius are both associated with the second chakra, however Pisces is the upward energy of the second chakra, while Sagittarius is the downward energy of the second chakra. Additionally, he provides the Hermetic phrase for each zodiac sign, giving further explanation of how the astrological energies are expressed through the chakras. One example is "The key word of Hermetic Scorpio is transformation."2
My Aquarius Sun and Mercury found the most interesting section to be when Baker moved beyond the Saturian planets, which have a long alchemical history, to explore the trans-Saturian planets (Uranus, Neptune, Pluto, and Eris) with Chiron as a gateway. He relates Uranus, Neptune, and Pluto to the radioactive elements uranium, neptunium, plutonium, and americium (respectively), which completely blew my mind and is a connection I would have never made on my own, but fascinated me in terms of alchemy and the future.
Since Chiron is still rather new to astrology, discovered in only 1977, many astrologers are still working to figure out the energy of the asteroid. In his philosophy of ATA, Baker asserts "Chiron is the key to unlocking the central nadi in the chakra system and a bridge between the downward and upward paths of the zodiac signs."3
He goes on to explain, Chiron serves as a guardian of the threshold between the traditional alchemical metals and planets and the radioactive metals and planets. His insight on Chiron is worth reading for those interested in astrology, for it presents an archetypal explanation of the role this energy may hold in how the future unfolds.
This section concludes with information on the numerology of the astrological houses, the connection between DNA and the chakra energy, and how astroyoga can open multidimensional portals through meditation. Baker offers written-out guided visualization processes for the reader to tap into this potent energy.
I also really enjoyed the final part of the book, which focuses on interpreting events through the lens of ATA, and is the practical application of this complex system. Baker teaches the reader how to understand this Hermetic Chart compared to a traditional Western astrological chart. They look quite different, and I had to hand sketch how my Hermetic chart would look because there's no program to produce this. I'm still not sure exactly how to interpret the placements (yet), but it helped to understand the alchemy of my personal chart better.
I particularly enjoyed Baker's focus on the alignments happening in 2020, which I had been waiting years to see how they would unfold, knowing major change is in store for everyone on both a personal and collective level. HIs interpretation of events, both past and future, did not disappoint. I find his evolutionary approach to astrology to be very aligned with my own conclusions, particularly his thoughts on the upcoming transit of Pluto through Aquarius, as it wraps up a transit through Capricorn. He certainly knows his stuff and has given immense thought to the impact of the transiting planetary energy currently shaping events.
The one thing I do have to say about the ATA, as forward-thinking and integrative as it is, I would assert these ideas are not new and others have drawn similar conclusions as well. While this lends credence to the ATA system, I also think it's valuable to acknowledge a lot of this system is rooted in alchemy, astrology, and yoga practices that have existed for centuries.
Nevertheless, Baker's perspective, stemming from years as a researcher and practitioner of these arts, certainly bolsters the knowledge on these subjects and integrate them in a way that can be practically applied in one's life for energetic attunement with the zodiacal energy. He has a way of sharing his wisdom that makes it easily accessible to readers, both logically and intuitively. There is plenty of information for readers to gain from Alchemical Tantric Astrology, and it is a wonderful book for readers to become acquainted with Hermetic Astrology.
I have been truly delighted to discover similarities in my own astrology practice with Baker's practice. Currently, I am looking forward to seeing if I notice the downward energy shift as the Sun moves into Virgo next week. I feel like this integration of the tantric energy into my nature-based spirituality and astrology practice will be bolstering my awareness.

Alanna Kali is an astrologer, numerologist, and pioneer spirit that loves to explore life through the lens of depth psychology. She has a passion for studying the humanities and social trends. Her academic work is centered upon reuniting body, mind, and spirit through eco-psychology. She loves reading, spending time in nature, and travel.
References