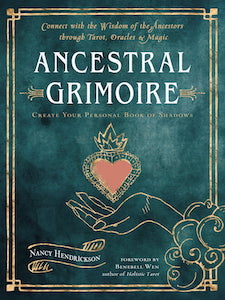 Ancestral Grimoire: Connect with the Wisdom of the Ancestors through Tarot, Oracles, and Magic, by Nancy Hendrickson
Weiser Books, 1578637775, 240 pages, September 2022
Lately I've been all about exploring magic through a community-based lens. In Western occultism there seems to be an exclusive focus on the individual, but the deeper I've dived into my own practice, the more I see the interrelatedness and notice how the dynamics/energy of relationship influence our own manifestation, healings, insights, and so on. And it's for this reason that I've been interested in cultivating a deeper relationship with my ancestors.
My seeking to learn more about my ancestors led me to Ancestral Grimoire: Connect with the Wisdom of the Ancestors through Tarot, Oracle, and Magic by Nancy Hendrickson. Hendrick's previous book Ancestral Tarot: Uncover Your Past and Chart Your Future (2021) was the first time I realized tarot cards could be used for ancestor work; I loved this novel approach of using the tarot to know more about my own ancestral lineage. Plus, I trusted Hendrickson as a guide since she also has written extensively on using Ancestry.com to and discovering one's family history online.
Ancestral Grimoire is the natural combination of her expertise, allowing readers to the next step of using tarot and oracles to enhance one's own magical practice with the help of the ancestors by creating a personal grimoire, also referred to as a Book of Shadows. This book equips readers with tools beyond the tarot to reconnect with their ancestors, including pendulums, oracle cards, sigils, casting charms, runes, sidewalk oracles, and energy work. But it also goes beyond just reconnecting the reader with their ancestors; Ancestral Grimoire guides readers to discovering their own magic.
"One ancestor can be with you for a lifetime, another for just a moment. Ask for someone to show you the way out of darkness and they will hand you a blueprint no architect could even conceive. Want to know the most potent form of magic? Ask."1
Hendrickson focuses on four types of magic (family magic, personal magic, elemental magic, and celestial magic) as she guides the reader through a full-year process of creating their own grimoire. The invitation is to both experiment with different magic and also experience the enhancement that comes from trying out these forms of magic with ancestral assistance. No two months are the same, and the variety makes for an interesting practice month to month.
And there's no need to fret if you start reading in a month other than January. You can certainly pick up right where you are in the Wheel of the Year or you can even skip around and choose to do the magic during a different month. As with most magic, there's room for variation and a personal touch.
For instance, I started this book all the way back in September (yes, over six months ago!) and have been making my way in chronological order since without concern for the standard January-December year. You might find the book calls to you a certain time or perhaps you want to begin this grimoire with a particular sabbat. Trust that it has come to you at the right time and move through it in a way that feels aligned with your practice.
September has been one of my favorite months so far in this practice. It was a celestial magic month with the focus being sky magic. The tarot spread for the month focused on connecting with my celestial ancestor and discovering their karmic influence on me, the intergenerational sky magic I've inherited, and a solar or lunar symbol I could create to honor this ancestor (with ideas included on how to create this symbol). Then there also is a pendulum spread to discern where balance is needed, fitting for the time of the autumn equinox.
But what I enjoyed most about this month was the practice "Messages in Paint and Fire" where I got to play with finger paint! There's also an option to use smoke signals, but I for one enjoy getting my handy dirty and engaging in the creative process. Hendricks writes, "Keeping your question in mind, look for answers in the paint."2 I still have my painting hanging up and it continues to give me new inspiration and insight from time to time.
This month, April, is focused on elemental  magic, specifically land magic, using the tools of tarot, a pendulum, and energy work (chakras). Hendricks writes, "I invite you to ask for an ancestor who was a land whisperer, an ancestors who knew how to communicate with the nonhuman entities who watched over the land, as well as with the land itself."3
Though I haven't delved in yet, I can see this month for my grimoire that I will be doing a bit of shadow work, using the pendulum to tap into energy points within my own neighborhood, and exploring the energy of my chakras along with land chakras. Exciting stuff! 😀
All in all, Ancestral Grimoire is filled with practices to discover your own personal magic while strengthening the connection with your ancestors. This book is a doorway to discovery about the hidden strengths and shadows of your ancestors that have been inherited, providing you with the tools needed to divine, manifest, heal, and create meaningful relationships with your predecessors. I recommend this book for anyone looking to explore their ancestry while also expanding their knowledge about who they are and where they come from.
Even if readers aren't familiar with some of the tools used in the book, the month to month practice will build their confidence as the new skills are developed. In just a single book, there's a whole year of possibility as your spiritual team grows and you learn who to call on for what purposes. It's comforting to know you're never alone and there's always ancestors from beyond the physical realm available to be called on for advice and guidance.

Alanna Kali is an astrologer, numerologist, and pioneer spirit that loves to explore life through the lens of depth psychology. She has a passion for studying the humanities and social trends. Her academic work is centered upon reuniting body, mind, and spirit through eco-psychology. She loves reading, spending time in nature, and travel.
References