Answering the Call of the Elementals: Practices for Connecting with Nature Spirits, by Thomas Mayer
Findhorn Press, 978- 16441122144, 160 pages, June 2021
Answering the Call of the Elementals: Practices for Connecting with Nature Spirits by Thomas Mayer is a timely book that incorporates the melding of environmental consciousness and the intuitive nature within humankind that desperately needs reawakening if we are to co-exist with those beings that inhabit the natural world.
It is no secret to those who live collaboratively with the ephemeral spirits, beings, and other sentient forces that we are at a crossroads. How we proceed, who (or what) we consider to be allies to form alliances with, will dramatically affect the outcome of this planet and all of the life that occupies it.
Mayer has brought this need to the foreground in a book filled with first hand experience and a prodding for the reader to seek out their own measure of experience that will give proof of the existence of nature spirits. 
Even if we are not consciously aware of it, we live in the realm of elemental beings. Everywhere, and all the time, they penetrate our souls and slip into our hearts. The whole world around us is ensouled with elemental beings. Elemental beings participate in everything that is happening in nature around us… 1
Answering the Call of the Elementals is separated into twenty chapters and is a narrative of the author's recounting of his experiences in seeking those beings he identifies as elementals. One thing that struck me in reading this book was the lack of a definitive definition as to what "elementals" are. There is a movement between the semantics of "elementals" and "nature spirits" that is not always easy to follow in terms of whether they are interchangeable or something altogether different.
But, even in saying that, there is a purposeful wisdom in what appears to be lacking definition and by the end of the book the reader realizes that there is no generic definition of these beings. They are changeable. They move through many worlds and have many agendas to fulfill in both the physical and spiritual worlds.
Beginning with the opening pages of "Chapter 1: The Plea", the reader is immediately drawn into the experience of Mayer and his conversation and meeting with the four Elementals (beings) of nature. In simplistic form, these beings are the pure essence of their respective alchemical realms of earth, air, fire, or water, as they exist within the natural world. This meeting comes as a plea from their realms:
We are the beings of the nature elementals. We encompass and represent them. We come to you with a request. Humanity has forgotten the elemental beings. We live in your subconscious, we are a big part of your lives, but you know nothing of us…2
This plea is the driving force behind the authoring of this book. In Mayer's writings, the reader can palpably and emotionally feel the imminent need to awaken and to rekindle the long forgotten relationships with those beings we still, albeit not acknowledged, live so intimately with. Mayer provides the reader with as much descriptive and ambient tone as possible to allow the information to wash over the reader at all levels of understanding and, perhaps, to also stimulate the urgency abiding in how far removed we have become from the natural world and these elemental beings.
It is time. In this moment I decide. It is all perfectly clear in an instant. I will do their bidding. As a first step I will focus on teaching the meditation courses, and the following steps will develop from there…3
In Answering the Call of the Elementals, Mayer succeeds in providing a step-by-step plan of developing and awakening the sensorial tools necessary to "see", feel and dialogue with nature spirits".4 In particular, "Chapter 4: Experiencing Elemental Beings" provides some of the "how" to make contact and the "why" of its potential and necessary agenda. 
Experiencing elemental beings is generally prohibited by mental blocks. These mental blocks tend to come up particularly when you begin with practical exercises. You think your own perceptions are figments of the imagination, or fantasies, and you are so full of mistrust that nothing remains. So right away, you throw out the baby with the bathwater…5
As the reader moves deeper into this chapter, there is a slow building of confidence in abilities crafted by specific examples of the author's experiences, interwoven with sound and practical contemplative endeavors that serve not only this purpose but many others relating to spiritual practice and growth. There is a lot of information in what appears to be not many pages, and the information is dense and rich.
Mayer is very methodical in the step-by-step approach of training the reader to be able to access the largely intuitive and feeling nature that aligns with that of the elemental beings. And, it is precisely this analytical methodology that allows the "mental blocks" that persist to be assuaged in their need to dominate and over analyze so that something more natural and organic can open in their place. This opening becomes the threshold of meeting and perceiving those inhabitants of the elemental worlds, and it is in this space of mutual recognition that the healing of the planet, self, and spirit may begin. 
There is a lot of information to ruminate over and to digest between the covers of Answering the Call of the Elementals. Mayer uses the teachings of Austrian philosopher and esotericist Rudolf Steiner as the underpinnings of this book giving a layer of Christian mysticism to a topic that is also part and parcel of pagan practices. This makes the content more globally based and underscores the intention of its writing; collaboration and co-creation between humanity and the realms of the more ephemeral beings.
It is important to note that Rudolf Steiner was the founder of a specific branch of philosophy known as anthroposophy, which supported the concepts of an objective and intellectually comprehensible spiritual world that could be accessed and experienced by humanity. This is a key understanding Mayer uses throughout the book as a given ability that all of humanity has.
Answering the Call of the Elementals is definitely a title I will return to for another read through. I have a sense that each reading will undoubtedly reveal another nuanced subtleties inherent in this re-connection to the spiritual world. The Epilogue of this title speaks to the author's …vision for the future "includes elemental beings once again becoming a cultural public resource for our civilization"6
Mayer outlines a vision of the future that integrates elemental beings into the fabric of all of society's daily workings. These include a school-level course of study focused on the elemental beings as part of the traditional educational studies, elemental research groups at universities, local governmental departments, and committees dedicated to the well-being and care of elementals, as well as farmers enlisting the strength and help of agricultural elementals and the direct connection of contractors and builders with those elementals of the mechanical and work equipment being used. These goals feel lofty in aspiration, but perhaps what is required is lofty ambitions and devotion to restoring our connections to the natural world.
This vision is surely unfamiliar today and beyond the normal conceptual frame. To me, it is not only realistic, but necessary. The nature elementals are eagerly waiting for human beings to consciously grasp them, for their future existence is dependent upon it. We humans and the elemental beings have a common destiny – to rescue the elemental beings…7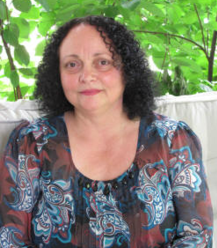 Robin Fennelly is an Elder within the Assembly of the Sacred Wheel Tradition [www.sacredwheel.org]. She is a dancer, teacher, astrologer, author, ritualist and seeker of all things of a spiritual nature. Her writings and classes incorporate a deep understanding of Eastern practice and Western Hermetics and bring a unique perspective towards integration and synthesis of the Divine and Mundane natures of our being. She is a mother of five and lives in Eastern PA with her husband of 45+ years.
References