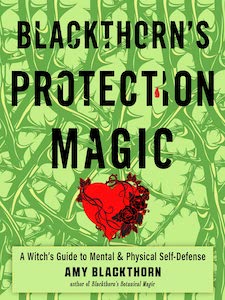 Blackthorn's Protection Magic: A Witch's Guide to Mental & Physical Self-Defense, by Amy Blackthorn
Weiser Books, 1578637619, 208 pages, March 2022
My spirit journey took an unexpected twist recently. After spending a year delving into the realm of mermaids, I suddenly felt very called to explore the world of superheroes, self-defense, and protection magic. For the first time ever, I watched all the Marvel movies, and I became inspired to increase my physical strength and psychic defenses. This is what led me to reading Blackthorn's Protection Magic: A Witch's Guide to Mental & Physical Self-Defense by Amy Blackthorn. It has been a game-changer, awakening so many new ideas with practical tips I can immediately incorporate into my practice.
I had heard of Blackthorn because of her best-selling books Botanical Magic, Sacred Smoke, and Blackthorn's Botanical Brews. But I was very surprised to discover Blackthorn also has a background in security. She holds a bachelor's degree in Criminal Justice, is a blackbelt martial artist, and shoots pistols competitively in addition to teaching women self-defense. How freaking badass can only possibly be? I would have never guessed! Her experience in both magic and security makes for one all encompassing, hell-of-a read.
The book is divided into four parts and covers mind, body, and spiritual protection. Then the last part is the additional information section that shares information about timing work according to the day of the week/moon phase, color correspondences, and plants to use for different types of spellwork. Plus, Blackthorn provides a fantastic introduction into the topic of protection magic, writing about ethics, boundaries, and her own magical point of view. Her very straightforward approach made me more comfortable with the idea of using protective magic, and I especially liked how she clearly defined magic, curses, hexes, and jinxes for readers. There's even a curse assessment for readers – how cool is that?
This book is the perfect blend of practical advice for self-defense and instruction on how to perform protection magic. What really stands out about Blackthorn's writing is her conversational tone. She uses anecdotes to illuminate the content, such as bravely sharing her story of dealing with a stalker, and also ensures readers are taking the utmost precaution with their supplies. For instance, she continually reminds readers essential oils should never be used on infants and notes when certain herbs or essential oils are not appropriate to use. It feels like Blackthorn has your back as you read, which is such a reassuring feeling.
Blackthorn even wants to protect us from getting scammed! I really enjoyed the section of the book where Blackthorn shares how to determine the quality of essential oils and crystals. She goes into depth about how one can determine if they have a diluted essential oil or if it's using low-quality ingredients. Then she discusses how to know if a crystal is legit, which I've always struggled to figure out. I will absolutely now be testing the quality of my essential oils and more discerning in my crystal selection.
I also now want a tactical pen to carry around with me. And I convinced my husband we should practice Blackthorn's advice on how to get out of being tied up. I also looked into going to a shooting range because for the first time ever I saw the value in being able to defend myself. And all of this is so out of my typical lifestyle in so many ways, but it's exactly what my hippie-heart needed to read to remember we can be loving and badass at the same time.
Another great thing about the book is that Blackthorn offers so many suggestions of how to incorporate protection magic into your practice that every reader is bound to find something that works for them. From energy practices (breathing, grounding, shielding) to outdoor gardening, the options offered seem limitless. And Blackthorn is thorough! The section on crystals did a great job of explaining their properties and it came in handy later when she talked about creating a crystal grid for protection. Her information on gardening, both indoor and outdoor, for home protection was wisdom I've never read elsewhere. There's incense recipes, tarot spells, mirror boxes, and so much more.
The energy practice that I've been using most (and with great success) is one where she discusses visualizing oneself in an eggshell. Visualization practices usually never stick for me, but the way Blackthorn teaches it, including customizations one can make to their eggshell, has really stuck for me. I feel so much less anxious being around a lot of people now and haven't felt "pulls" on my energy since I've started practicing this energy technique.
The only thing missing that I wish was included in the book is information about protecting oneself online, such as insights on tech-defense and thoughts on how to protect one's energy in the digital world. Society is becoming more reliant on technology, most people use the internet daily, but with the amount of animosity, hate, and confusion that spreads like rapid fire nowadays, it can be tough to know how to protect one's energy online.
I have developed my own practices, and based on the wealth of information given by Blackthorn, readers could definitely piece together a spell for online protection. But I just value Blackthorn's insights so much that I wish I could learn her thoughts on digital safety and protection too. However, this in NO WAY detracts from the immense amount of information provided in the book for day to day protection.
All in all, Blackthorn's Protection Magic is the best book I've ever read on the topic. Blackthorn gives her readers the low-down we all need to stay safe, strengthened, and shielded from harm. Her unique blend of practical and magical wisdom make for a comprehensive how-to guide when it comes to protecting oneself on all levels: mind, body, and spirit. I feel strong after reading this book – and more street smart. I highly recommend this one for your collection!

Alanna Kali is an astrologer, numerologist, and pioneer spirit that loves to explore life through the lens of depth psychology. She has a passion for studying the humanities and social trends. Her academic work is centered upon reuniting body, mind, and spirit through eco-psychology. She loves reading, spending time in nature, and travel.