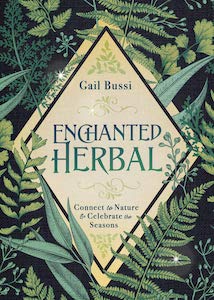 Enchanted Herbal: Connect to Nature & Celebrate the Seasons, by Gail Bussi
Llewellyn Publications, 0738766119, 288 pages, December 2020
Living seasonally is a very important part of my spiritual practice. The best ways to connect with the seasons that I've learned over the years are practices that keep me grounded, such as cooking, journaling, and self-care. Though I've been living this lifestyle for quite some time, I have been delightfully surprised by all the inspiration offered by Gail Bussi in Enchanted Herbal: Connect to Nature & Celebrate the Seasons. This book is handy, practical, and filled with wisdom for all the seasons. Reading it just through Winter thus far, I've already felt a shift that deepened my mind-body-spirit connection to the season. I've also had lots of fun trying out new recipes and learning about seasonal herbs.
Immediately I resonated with Bussi's words, "Each season brings its own gifts, lessons, opportunities, and sometimes challenges — but I believe nature also offers us the remedy for these challenges if we are open to connecting with her each and every day of the year."1 By participating in the energy of the seasons, adjusting our routines accordingly, there is wisdom to be gained from the natural cycles of the Earth. Bussi's writing nurtures the reader and enhances feelings of being calm and centered throughout the seasons. With this book in hand, I feel ready for all the shifts in nature through the year.
The book starts with Spring and moves along in seasonal order to end with Winter. Every season is divided into sections: Heart Notes, Create, Nurture, Grow, and Taste. The way this compendium of seasonal knowledge is organized makes it easy to find just what you're looking for, whether it be general information about the time of the year, a scrumptious recipe, or an idea for a creative project. Enchanted Herbal has it all — simple practices to connect with the energy of the season, gardening tips, homemade body products, and a wide array of tasty delights.
What I like most about Enchanted Herbal is that it is a very hands-on book. Reading it makes one want to partake in the seasonal energy through the wide variety of projects, creative suggestions, and cooking ideas that Bussi offers. My initiative was ignited, but in the most soothing and centered way, as I am reading it during winter which is the "do nothing" season. The promptings to bake, cook, or partake in self-care felt very intuitive. I would feel called to try this recipe, or steep that tea, and the experience of reading through the book over the course of a few weeks yielded a Juniper Cleansing Mist, Eucalyptus and Jasmine Foot Soak, and dinner of Stir-Fry Brussel Sprouts with Bacon, Pecans, and Garlic (yum!).
Even though I only partook in Winter activities, I did read through the other seasons and got very excited for all the things I wanted to try out. My mouth was joyfully anticipating some of the recipes in the book, such as Chocolate Mint Pots, Fireside Mushroom Soup, Pumpkin Fritters with Sage, and Spicy Coconut Chicken. It's worth noting that Bussi previously ran a catering company and has published a cookbook, so she truly knows her stuff when it comes to food! Furthermore, there are even recipes for enticing beverages – to name a few: Spring Morning Tea, Coconut Tumeric Latte, and Dandelion Wine.
Some other ideas inspired by Enchanted Herbal are planting an astrological garden, creating a nature mandala, and practicing the art of foraging. I'm very much looking forward to Spring now that I have this book to guide me into new ways to attune to nature and celebrate the season. I am already intending to create the Spring Morning Toner, which uses all the natural ingredients to refresh the skin, and Lemon Verbena Massage Oil that can be used for the skin or dropped into a bath. I'm pacing myself, but it's tempting to not hold off on all the Summer recipes (Tri-Colore Tomato Salad!) and self-care DIY projects (Peaceful Nights Pillow Mist, After-Sun Soothing Tub) I'm eager to try out! 
Bussi has filled each season with so many ways to engage with the herbs that the reader has room to pick and choose as they feel called, coming back over the course of a long while to perhaps finally try it all. This is definitely a book that you will reference back to many times through the year, as the recipes are worth repeating and the instructions for projects like creating essential oils, foot scrubs, and aloe vera gel will always come in handy. It is a wonderful book to begin your herbal journey of healing and self-nurturance.
All elements of my being felt supported when reading Enchanted Herbal, as it truly teaches how to tend to one's self with love and care to become more aligned with the natural energy of the year. I highly recommend this book to anyone who enjoys cooking, DIY projects, or gardening that wants to further deepen their connection to the energy of the seasons. There's magic in these everyday activities, and Bussi teaches the reader how to find joy throughout the year by living in harmony with the seasons.

Alanna Kali is an astrologer, numerologist, and pioneer spirit that loves to explore life through the lens of depth psychology. She has a passion for studying the humanities and social trends. Her academic work is centered upon reuniting body, mind, and spirit through eco-psychology. She loves reading, spending time in nature, and travel.
References