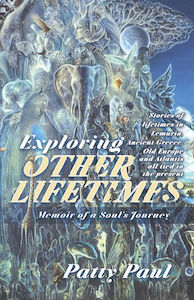 Exploring Other Lifetimes: Memoir of a Soul's Journey, by Patty Paul
IMDEX Publishing, 0964272601, 174 Pages, June 2021
Do you believe in past lives and that the present can be impacted by the experiences you had in previous incarnations? I personally do, especially after some impactful regression sessions I've had that provided a lot of insight into my current attitudes, feelings, and beliefs. In Exploring Other Lifetimes: Memoir of a Soul's Journey, Patty Paul shares her spiritual awakening through the exploration of past lives. Reading her story has reaffirmed many spiritual truths in my life, and it also has awoken me to new dimensions of the spiritual realm that I had previously not known much about. From start to finish, I was drawn into her honest, heartfelt account of the power of uncovering our past lives for personal growth, healing, and enlightenment.
Patty Paul, who acknowledges that this is only her currently incarnated self, has been exploring and teaching about spiritual growth for decades. She has authored another book titled A New Spirituality: Beyond Religion, and she also hosted a TV talk show called Living Wisdom for ten years. You can see really neat episodes of her interviewing well-known channeled beings on her YouTube channel. (For those who are new to channeling, I would highly recommend watching some of her videos to see how the process works!)
What I like most about this book is the way that Patty weaves together all her lifetimes to clearly present them in memoir style. She believes not only are these past lives impacting present events, but that they are also taking place simultaneously in a multi-dimensional reality. Through her experiences, she's been able to unveil quite a bit of information about current circumstances by traveling to her past lifetimes through meditation and also working with channeled beings.
Throughout the book she mentions certain techniques she uses, such as blending, to merge her energy with that of the person in the past life experience. She has been both male and female in different lives, and some of her incarnations date back to prehistoric times and even Atlantis and Lumeria. Now I realize when these places are brought up, many quickly dismiss their existence as New-Age propaganda. However, I was immensely impressed by Patty's rejection of many New-Age idealism, which makes me feel her work is grounded in some deeper and more authentic.
I have always kept an open mind about the existence of these places, and to be honest, am more inclined to accept them on a spiritual level than an ideological one. What I mean by this is that I am not as convinced by those who have mapped out exactly where they were placed and the exact purpose of these places, but I did find Patty's descriptions of her incarnation in these places to be testimony to their existence on some level of reality, at some point in the time/space continuum.
In fact, I very much enjoyed learning more about Lemuria and Atlantis through Patty's stories of different incarnations. Quite a few of her past lives highlight how Atlantis lost the balance between masculine and feminine polarities, becoming too hyper-focused on technological advancement and exterminating "undesirable" people who did not fit the status quo. The destruction of Atlantis sadly made me reflect on our current time in history, where it seems as though many of the lessons are repeating themselves.
On that topic, overcoming or altering lessons repeating themselves seems to be one of the greatest benefits of engaging in exploration of one's past lives. In one section, "Ties That Bind — Lifetimes Related to Present-Life Events," Patty describes five different lifetimes where the events were influencing her life trajectory in this incarnation. By remembering these lifetimes, she was able to access a new perception of her reality in the present, and regain more conscious control of current events.
In some of the lives, she even benefited from going back to the time of death for these former incarnations. One time she held her former self in love and peace as they passed, and this helped to unblock energy in her current life. In another lifetime, she needed to figure out the last dying thought of her former incarnation that was presently impacting her current life. By doing this work, Patty's current life always shifted for the better as her sense of self expanded to incorporate these new dimensions of her spiritual being. Reading all her stories, which are filled with emotion and historical information, really inspired me to be more proactive about discovering my own past lives.
It was touching to read about Patty's five key foundational lifetimes, which were described in the first section of the book. For each lifetime, she told the story of her experience and shared the key takeaways, both positive and negative. I found this method of sharing to be very impactful; it really helped me to see how understanding these lifetimes can make a huge difference to allow someone to move through life with a more expansive awareness of the dynamic in play.
I found Patty's story so immensely profound because I enjoy storytelling as a form of learning and sharing wisdom and also deeply respect those who share their wisdom, especially when it's not very "mainstream." I particularly was fascinated by her lifetime as a little girl named Maya, dating back to 37,200 BC. This one really touched my heart and seemed to awaken me to the purpose all lives have and also the connection we share with nature.
I also very much enjoyed the section titled, "Loves, Lost and Found — Completing Stories," where Patty discusses the romantic relationship she's had in this lifetime in which she and the man also had former lives together. It was so interesting to hear these stories, and it gave me faith that love is never lost and can travel through time, allowing people to meet time and time again. Patty also had a connection to artist Agnes Pelton, a painter who strived to capture the spiritual world in her transcendental paintings. Reading the story of how Patty remembered her connection to Agnes was synchronicity and a very beautiful story.
Throughout the book, Patty is candid in her personal struggles, from resorting to alcohol at one point to struggles with her daughter who suffers from mental health problems. Her honesty paved the way for trust for me as the reader, as well as allowed me to see the genuine desire of Patty to share this information not for personal gain, but to simply share the wisdom she's learned through her current lifetime.
In the final section, Patty describes lifetimes where she had mastered her spiritual wisdom and the events in that incarnation reflected this. One lifetime that really stood out to me was when she was Crystal Temple Priest in Atlantis. Reading about the crystal grids that powered Atlantis was super interesting. Her stories affirmed for me that we do learn and grow spiritually with each lifetime, and there will be opportunities to live the wisdom we've developed through different incarnations.
Overall, I really loved Exploring Other Lifetimes. It inspired me to incorporate more regression, meditation, and perhaps even channeling into my spiritual journey. I believe wisdom is meant to be shared, which Patty has done with skill and grace in service to a higher good. Leading by example, Patty invites us too to explore other lifetimes to better navigate the present reality. Her story, and the stories of all her former incarnations, are ones that will be with you for quite a while on your journey, calling you too to come and discover the greater journey of your soul.

Alanna Kali is an astrologer, numerologist, and pioneer spirit that loves to explore life through the lens of depth psychology. She has a passion for studying the humanities and social trends. Her academic work is centered upon reuniting body, mind, and spirit through eco-psychology. She loves reading, spending time in nature, and travel.