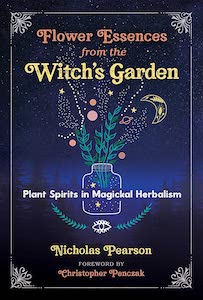 Flower Essences from the Witch's Garden: Plant Spirits in Magickal Herbalism, by Nicholas Pearson
Destiny Books, 1644113007, 512 pages, April 2022
While doing a chakra meditation, I discovered that my heart chakra was calling for me to deepen my relationship with flowers, which surprised me. I appreciate the beauty of flowers, but aside from my herbalist astrology teacher's reference to the properties of different flowers, I hadn't really ever delved into flowers or their potent magical essence before. Luckily, Flower Essences from the Witch's Garden: Plant Spirits in Magickal Herbalism by Nicholas Pearson had just been released, and I decided this book might be a good starting point.
This book is packed full of valuable information! I feel like I received my beginner's introduction that steadily progressed to expert-level advice as I continued reading. Pearson makes flower essences approachable for all, while simultaneously sharing patiently accumulated wisdom and knowledge that will benefit all who work with flower essences.
Pearson begins by sharing his journey to working with flower essences and then dives into a very thorough explanation of what exactly is a flower essence. Right off the bat, this description of what flower essences are and are not was very helpful in clearly understanding how the essence, or vibration, of the flowers can be used for one's magical practice. Plus, the chapter "The History of Flower Essences" provided great insight into how the use of flower essences has evolved over time, situating the information being shared within a larger historical context.
"Flower essences are indeed magickal, because magick is medicine for the soul. Essences are infused with the life force, healing virtues, and consciousness of the plant kingdom. They offer safe, economical, and environmentally friendly ways to connect with plant spirits and add their blessings and powers to your magickal practice."1
Another way that Pearson lays a good foundation for the use of flower essence is teaching about spirits of nature, including devas, plant spirits, and green familiars. He notes the similarities between a green witch that works with plant intelligence and the practice of using flower essences, both of which draw upon the spiritual force of the "guardian consciousness of the plant itself"2
Exploring the realms of "green intelligence" makes it so readers of the both have access to greater range of understanding the consciousness of plants. And included exercises, such as Plant Spirit Attunement and Seed-to-Flower Meditation, further help the reader to connect with the spirit essence of plants before getting started with flower essences. My favorite exercise was Journey to Hecate's Garden, where one is guided to explore the plants of poison and power there.
It's not until nearly 100 pages in that Pearson gets into the making of flower essences, and let me say, he does not skip one step! It's like every question I could have asked about the process was being answered as I read on. He covers materials needed to get started, making the essences, bottling the essences, dosages, and so much more!
And with the practical "how-to" clearly laid out, Pearson turns to the subtle art of creating flower essences. He writes about the significance of the number of petals of a flower, planetary correspondences, elemental signatures of flowers, and the meaning of different colors. This information is the foundation for someone to really start getting creative with their flower essences, fine-tuning them to their specific intention. And for those who are unsure, he offers methods such as dowsing, kinesthetic intelligence, and communing with plant spirits to discover what one needs.
It is at this point that Pearson moves into writing about flower essences in one's magical practice. Topics include anointing candles with flower essences, flower essence charms and amulets, incense, bottle magic, and even potions, which he provides ample formulas for things such as making flying blends, love, and even countermagic. I personally really liked the sabbat formulas shared to create essences that bolster and balance the energy of each one.
Pearson even goes into spagyrics in the chapter "Plant Spirit Alchemy", at which point you know you've really advanced in your flower essence education!  He shares how to make an alchemical plant tincture, as well as flower essence spagyrics. This part was very interesting because I love alchemy, but for the time being a little too beyond my skill set. It does motivate me to practice creating and working with flower essences enough to get to that level though, plus it's very valuable alchemical knowledge for those who also share an interest in the topic.
The final chapter, "Dictionary of One Hundred Flower Essences", spans over 200 pages and is so handy to have at one's fingertips! For each one, Pearson provides elemental, planetary, and zodiac signature, corresponding chakra, magical use, and therapeutic indications, along with multiple paragraphs of additional information to provide readers with a full understanding of the flower. I've both read through the chapter, just to learn more about each essence, and turned to it when trying to decide what type of essence to create; in all cases, the dictionary has been immensely helpful. For example, in regard to Hawthorn, Pearson writes:
"Hawthorn lore teeters between light and dark. The more pleasant tales of hawthorn depict it as a tree of healing, love, and connection to other worlds. Hawthorn fruit and flowers were sometimes used in divination, especially to dream of your future while, while their thorns have been used to defend again malice and harm, to break curses, and to cast out spirits and other malevolent beings."3
I also really appreciated a list of flower essences suppliers, including their websites, in the Appendix. Just in case I'm not up for making my own, it's good to know where I can purchase high quality flower essences.
All in all, Flower Essences from the Witch's Garden has been a very insightful read. I'm deeply impressed with how Pearson laid out the book so perfectly, thoroughly educating the reader from the ground up, to give a full-spectrum education into flower essences. The level of detail is astounding, from the history and lore included to the charts and tables that help one to visually understand different properties of the flowers–everything you need to know is covered. This book is a one-stop-shop for those hoping to delve more into flower essences.
I highly recommend it for beginners and experts alike, as so much is covered within these pages that it's well worth having nearby for reference. I feel like a whole new layer of magical working has opened for me after reading this book. I plan on making my own flower essence and then using it for candle magic. I'm excited to see how the results unfold!

Alanna Kali is an astrologer, numerologist, and pioneer spirit that loves to explore life through the lens of depth psychology. She has a passion for studying the humanities and social trends. Her academic work is centered upon reuniting body, mind, and spirit through eco-psychology. She loves reading, spending time in nature, and travel.
References