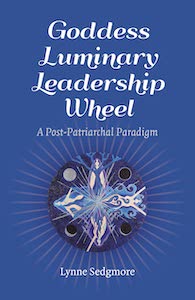 Goddess Luminary Leadership Wheel: A Post-Patriarchal Paradigm, by Lynne Sedgmore
Changemaker Books, 1785354787, 208 pages, December 2021
Empowerment through Goddess-center spirituality is something very dear to me. Attending a Catholic college, I realize just how great of an inequality there was between men and women in regard to spiritual authority. This set me off on a path of reclaiming the Goddess, from studying about matriarchal societies to obtaining a degree in ecopscyhology, studying the relationships between ecology, psychology, and feminism. Meeting Starhawk, the person who awoke me to goddess-centered magic and spirituality, is a memory I'll always cherish fondly. Therefore, I was quite excited to begin Goddess Luminary Leadership Wheel: A Post-Patriarchal Paradigm by Lynne Sedgmore and thrilled to realize she too was deeply attuned to this paradigm shift, writing about and studying the same sources I just listed – plus more!
This book opens readers to the many facets of goddess-centered worship through sharing background knowledge on the topic, and most especially, offering a pathway to Luminary Leadership. Doesn't it just sound radiant? Sedgemore writes:
"I use the term Luminary to replace the more masculine word leader and all its associations, and to bring about a radical shift in how it is manifested. Luminary means 'a person who inspires and influences others, someone prominent in their field'. It also means 'a natural light-giving body, especially the sun or moon', someone who illuminates."1
This is the type of leadership I aspire to! And Sedgmore has made it easy for all readers to adopt this style of leadership through the Goddess Luminary Leadership Wheel (the Wheel for short). Sedgemore draws from her extensive knowledge on the subject of leadership, including over 40 years of leadership in mainstream and spiritual organizations and a doctoral thesis on spiritual leadership, to develop this post-patriarchal model.
Sedgmore has reframed all her experience in leadership to create the Wheel, placing the Goddess within the center of it. In this way, she uniquely bridges spirituality and leadership to reposition feminine values of love, beauty, and connection at the core of communities. The Wheel incorporates both the Moon phases and elemental energies, which are two of the shamanic elements of the wheel.
The other two are Goddess Gnosis and Luminary archetypes. Sedgmore defines Goddess Gnosis as "your personal unique truth of the direct experience and knowing of the Divine as Goddess, as sacred female."2 Then the six Luminary archetypes reflect the six cycles of the Wheel that practitioners move through. Sedgmore describes them as "valuable metaphors for self-understanding and coming to wholeness"3
Also embedded within the Wheel are radical Luminary leadership approaches: "the Luminary Leaderful Way, States of Being, Paths of Power, and Ways of Knowing"4). These are the synthesis of Sedgmore's leadership experience, integrated into the Wheel to foster new models of leadership. For instance, Ways of Knowing focuses on embodiment and bodily intelligence as a source of wisdom, which is often overlooked as integral to leadership. Together, these shamanic elements and Luminary leadership approaches make the Wheel both practical and adaptable; there's both stability and a sense of flow, which ultimately allows each practitioner to develop their own relationship to the Goddess, as well as their leadership potential.
While all of these integrated aspects of the Wheel might seem a bit complex, Sedgmore does a wonderful job of explaining it piece by piece. And once one delves into the practice of using the Wheel, it feels intuitive. What's also very helpful is that Sedgmore provides a diagram of the Wheel for readers who are more visual. There's a general outline for each Cycle, but also a very natural flow to the book that guides readers through reflections, mythology, and new ways of relating that are embodied, present, and from a place of inner power.
One of the neatest aspects of Goddess Luminary Leadership Wheel is that the reader can move through the Wheel individually or create their own group to lead with it as a manual of sorts. Reading each cycle and doing the practices, reflections, and exercises feels like a sacred ceremony. There's a ritual in each chapter, starting with a call in and check in and ending with a chant and reflection. Sedgmore has ensured we all know how to create a safe space to do this inner work, containing this transformative knowledge in a protected circle. It makes me want to  create a group to practice the Wheel collaboratively in a circle with others.
And this is why I am impressed by Sedgmore's own leadership style, which is reflected in the way she presents the Wheel in the book. She genuinely hopes people all over will feel a connection to her method of Luminary leadership and put it into action. I always appreciate when leaders have faith in the autonomy of others to learn and do, which is exactly what Sedgmore demonstrates in offering this model for everyone. She put out the call, even writing a Luminary Charge for those who feel called to this path.
What I really like about the Wheel is how accessible it is. First of all, Sedgmore is very clear that this is an inclusive model for everyone who identifies as a woman. The archetypes end with x, such as Illuminatrix and Connectrix to reflect this notion.  Furthermore, she delves into topics such as feminist intersectionality, gender, and cultural appropriation, offering reflection questions to assist with personal reflection and awareness.
I also really enjoyed how part of the Wheel delves into shadow and toxic leadership. Cycle V The Brilliance of the Dark Moon, whose archetype is Wisdom Keeper, is where practitioners get to connect with the Dark Goddess. We learn about how the archetypes manifest themselves through this energy, examples being Saboteur and Imposter.
The exercises help to discover these shadow characteristics in one's self, as well as an invitation to notice what one projects on others because they can't see it within themselves. The Wheel's exercises assist the reader in transforming their projections into a reflection of their own positive qualities. There's also information on surviving toxic leadership, which I think many people could benefit from reading.
All in all, Goddess Luminary Leadership Wheel is a wonderful book for those who are looking to do inner work around leadership but are looking for alternative models for how this might look. This is also a must-have for anyone who holds space as a spiritual leader, particularly if you're leading a group of women. The Wheel is a powerful model that will provide a lot of insight into one's leadership style and potential in a way that fosters growth, awareness, and connectivity. I am happy to now be thinking of myself as a Luminary, rather than the traditional leader, and have felt very empowered exploring what this term means to me while making my way through this book.

Alanna Kali is an astrologer, numerologist, and pioneer spirit that loves to explore life through the lens of depth psychology. She has a passion for studying the humanities and social trends. Her academic work is centered upon reuniting body, mind, and spirit through eco-psychology. She loves reading, spending time in nature, and travel.
References