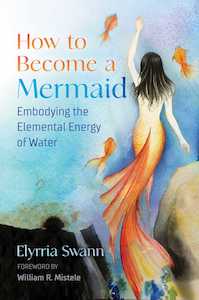 How to Become a Mermaid: Embodying the Elemental Energy of Water, by Elyrria Swann
Destiny Books, 164411450X, 128 pages, December 2021
I have one main goal for 2022. Are you ready for it? Promise you won't laugh? It's to become a mermaid. This has been blossoming for quite some time. I would say it started after I moved to the coast of Southern California, met all the wildlife along the shore, and started cultivating a meaningful relationship with the ocean. Overtime, I accumulated a seashell collection, which is now at nearly 300 different types of seashells, and focused on learning sea magic. I even have mermaid swim training with the tail booked for February at the LA Mermaid School.
When I discovered How to Become a Mermaid: Embodying the Elemental Energy of Water by Elyrria Swann, I was absolutely thrilled to read her perspective on this topic. It hadn't crossed my mind that there might be a larger mermaid community out there or that I could learn from someone with experience in the mermaid realm. Lucky for me, Swann is the perfect bridge for beginner mermaids with the mermaid realm, teaching them how to cultivate a path to developing their own relationship with the mer-folk and embody the element of water in their daily life.
Swann's approach to the topic of being a mermaid comes from her own experience, but it is filled with references to the works of others, which guides readers to new sources. It's whimsical at times, and I would bet that quite a few might be dubious of her experience living as a mermaid, deeply connected to the elemental realm of water and astral realm of mermaids. I've always been someone who truly believes in angels, fairies, unicorns, and other mythical creatures, so opening up to Swann's wisdom about mermaids wasn't a far leap for me. But for some it might be, and that's okay.
If a person can't widen their perspective to include the possibility of mer-folk, then chances are this isn't the path for them. I intend to review this book for an audience that has an interest in learning more about the topic, rather than try to convince a disbeliever of its merit. This being said, you might not be the right audience for this book if this concept seems far-fetched to you, as Swann doesn't downplay her experience or restrain her knowledge of the subject to fit neatly into a "normal" lens of reality.
In fact, part of Swann's reasoning for writing the book is to create a guide for those who feel called to working with the mermaid realm, or are even mermaids themselves, so they are a bit less lost in the world. At the same time, Swann repeatedly cautions readers about energetically connecting with mer-people. She asserts the need for an open heart and pure intention when working with the element of water, as well as knowledge of energetic protection and some preparatory basic skills of energy work.
One of my favorite sections in the whole book is about the mermaid's energetic protectors in the astral realm: krakens, gorgon medusas, selkies, and hydras. These can become allies or foes, depending on one's intention for the mermaid realm. Swann shares really interesting stories of engaging with these allies in the astral realm, as well as successful experiences of calling on them for protection in the world.
I enjoyed learning about these astral entities and their protective qualities, though I'm not sure I'd be ready for an alliance or communion with them just yet. Their presence made me more aware that the mermaid realm isn't all fun and play; there are many energies in the astral that one has to be prepared to encounter, and I am grateful for Swann's illuminating this.
The greatest change in my perception about mermaids came from Swann's description of what a mermaid is:
"Mermaids are elemental beings that embody the vibration of water. A simple way to think of it is that they are the personification of the watery element. If water could talk, then it would be a mermaid. The purpose of the mermaid realm is to love and enrich the water element in the spirit world. "1
This definition heightened my awareness of the element of water being the primary aspect of being a mermaid. It might seem rather obvious, but previously I didn't realize that working with mermaid energy is essentially learning how to engage with the element of water. While this can feel like a daunting task, as anyone who's ever studied working with the elements can attest to, Swann offers practices to help one get to know their watery mermaid energy.
One example, recommended to be tried in the bathtub, is called "Meditation to Integrate the Spiritual Water Element." I found this meditation to be quite helpful for discovering my own "unique signature vibration"2, as Swann describes it, of water. She also includes a "Meditation to Enter the Mer-realm" that I am looking forward to doing soon.
I deeply resonated with Swann's call for mermaids to heal the world's wounding and find a deeper meaning to this path:

"Donning mermaid tails, owning pet fish, and supporting mermaid merchandise companies is fun and makes life beautiful, but it is not enough. We must become what a mermaid (or merman) is. We must choose love, empathy, and "now" consciousness to be in alignment with a reality where Earth succeeds. We must take physical action when and where we can. Every decision we make can be conscious and rooted in a desire for the good of all."3
One way that Swann suggests mermaids do this is through learning how to clean up the ocean not only physically, but psychically as well. This was a fascinating concept to me. Though, I have to admit, I tried doing the "psychic clean-up" of the ocean after a storm, where it is known that sewage overflows into the ocean, and I ended up with a sinus infection for two days. I definitely saw Swann's point about the need for protecting oneself' while working with the very fluid element of water. I got a feeling that the toxic energy I was trying to clear from the runoff caused a buildup in my sinus cavities.
As a result, I eagerly have been looking into the recommendation Swann provides to study the magical system called Hermetics developed by Franz Bardon in order to strengthen my relationship with water to learn more about on an element level. She describes how Bardon's Hermetics system teaches about cosmic letters and numbers, which correspond to different elements and elemental properties. Swann writes these cosmic letters and numbers "are vibrations that are accessed through visualization , sound, concentration on imagery and feeling, and oneness with the element it represents."4
For instance, Swan explains that M is the mastery of the water element. Through meditating on the letter M, people can strengthen their connection to the water element. I think this concept is extremely neat, especially since I love numerology and the correspondence between letters, numbers, and energy. This is yet another technique of Swann's I plan on exploring.
All in all, How to Become a Mermaid is a wonderful guide for developing a relationship with not only the Mer-realm, but the element of water as well. Swann's experiences with the mer-realm opens new doors of possibilities for those seeking to establish their own connection. She has lovingly, though with due caution, provided a guide for readers to create their own relationship with mermaids and discover the elemental pathway of water. This book certainly will give you a new perspective on what it means to be a mermaid and how developing the traits of a mermaid can change the world.

Alanna Kali is an astrologer, numerologist, and pioneer spirit that loves to explore life through the lens of depth psychology. She has a passion for studying the humanities and social trends. Her academic work is centered upon reuniting body, mind, and spirit through eco-psychology. She loves reading, spending time in nature, and travel.
References