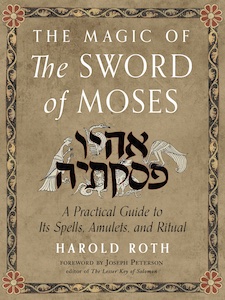 The Magic of The Sword of Moses: A Practical Guide to Its Spells, Amulets, and Ritual, by Harold Roth
Weiser Books, 1578637260, 192 pages, August 2022
The Sword of Moses, titled Ḥarba de-Moshe in Aramaic, is one of the earliest extant grimoires of Jewish magic. Originating in northern Israel during the third quarter of the first millennium (circa 700-1000 CE), this medieval pre-Kabbalistic book of spells was written by an anonymous author in both Hebrew and Jewish Babylonian Aramaic. The author compiled magical formulas from multiple texts and documented his own personal three-day purification ritual of fasting, prayer, and angelic adjurations to be performed in order to gain the spiritual authority to use the Sword. The resulting compendium of 136 spells emphasizes the power of the spoken word rather than exotic ingredients or expensive ritual tools.
While the book's epic title The Sword of Moses may conjure up mental images of an Excalibur-like enchanted weapon, the Sword is in fact a poetic metaphor for 1,800 divine names, invoked and wielded by the magician's tongue. The authenticity of these words of power is proclaimed by inserting them in mythic time. The manuscript claims that when Moses descended from Mount Sinai with the stone tablets of the Law inscribed by God, he also carried with him the Sword of sacred names, which had been gifted to him by the angels. It may seem audacious for magicians to presume they have the authority to command angels to do their bidding, but through performing the purification ritual, which identifies them with Moses, they follow in his stead and invoke the power of the divine names to bend the world to their will.
When Harold Roth, artist and author of The Witching Herbs (2017), first encountered The Sword of Moses in the occult section of a university library, he was frustrated by its inaccessibility. Moses Gaster, who first translated The Sword of Moses into English in 1896, had bowdlerized the text by censoring many of the spells and replacing the divine names with X's, rendering the grimoire useless for magical practice. This inspired Roth to do his own research and reconstruct the sorcerous manual for contemporary use.
In The Magic of the Sword of Moses: A Practical Guide to Its Spells, Amulets, and Ritual, Roth supplies a scholarly background of rich historical context combined with detailed instructions for the modern magician to incorporate the Sword into their practice, making this work accessible to both seasoned sorcerers and curious readers with little to no previous knowledge of Jewish magic. Just as the anonymous author who first compiled these spells made them his own through creative revision, Roth has adapted this ancient grimoire for modern use with his own practical and easy to follow instructions in plain English.
Roth also supplies his own thought-provoking insights regarding the mysterious manuscript. According to The Sword of Moses, humans were given the spiritual authority to command angels by God, but cannot command the Holy One himself. "However," Roth says, "one of the most profound conclusions I've come to from studying The Sword of Moses is how much the angels seem indeed to be God, in particular because of the recurrence of parts of the ineffable Tetragrammaton in their names."1
The divine names are spelled out in easy to pronounce syllables, such as "GiBehRehYoAhLa," which Roth identifies in a footnote as "clearly the name Gabriel."2 However, this is one of the few he explains and the rest run together in long strings of barbarous names of power, such as the following, which appears to be a flowing permutation of the four-letter ineffable name of God, transliterated as YHWH: "YoHehWaWaHeh AhHehHeh HehWaHeh HehHehYo…"3 In a spell for wisdom, one of the most curious names mentioned is Prince Abraxas, a Gnostic spirit addressed as a Jewish archangel, who is charged to reveal arcane knowledge to the magician, indicating some syncretism with Greek magic.
While the power of the spoken word is emphasized, the magician may also wield the Sword in written form by creating talismans, writing the divine names on fabric and crafting them into ritual garments, or even scrawling them on one's own skin like a tattoo "to protect the magic worker from the wrath of angels, who can easily be offended by humans."4
There are a variety of intriguing spells, ranging from those addressing mundane health concerns, such as one to cure migraines believed to be caused by a demonic spirit called a palga, to the more fantastical, such as walking on water and path-jumping, a type of supernatural travel involving riding a reed, rather like a witch straddling a broomstick. A few of the spells utilize the apotropaic hand gesture of crooking the little finger of one's left hand. For example, this gesture is used in a spell to protect yourself "during legal proceedings"5, and in "a binding spell to catch thieves," the magician is instructed to put their little finger in their ear while saying the divine names.6
There are even killing spells included, without any didactic warnings or threats of karmic repercussions. Roth says that "Jewish magic does not have any idea of karma, the Three-Fold Law, the slingshot effect, or other negative reactions for negative magic."7 The Sword gives you the freedom to think for yourself, and decide what action is appropriate and justified in your situation outside of the confines of any rigid moral code. Besides, one might hope that the angels would not bestow such power on someone who would use it irresponsibly.
In mythic time, Moses himself used a killing curse. Exodus 2:11-12 recounts how Moses murdered an Egyptian overseer who was beating an Israelite slave. The weapon he used to slay the Egyptian is not mentioned, but according to an alternate version of the tale in Pirkei de-Rabbi Eliezer (Chapters of Rabbi Eliezer), Moses cursed the overseer and slew him with "the sword of his mouth."8
Before the reader dares to try any of these spells, they must first obtain the spiritual authority to wield the Sword by performing a three-day purification rite, for which Roth gives detailed instructions.
"This book's aim is to make it as simple and easy as possible while maintaining its authenticity and power."9
The magician is advised to bathe in living water, wear only white, avoid contact with anything unclean (including insects, dead things, nocturnal emissions, semen, and menstrual blood), fast for three days, consuming only bread, salt, and water after sunset, and recite the Amidah (the Standing Prayer) thrice each day while facing the east. The prayers are interwoven with potent angelic adjurations addressing thirteen archangels. The purpose of the adjurations is to invoke the thirteen heavenly princes and bind them and all the angels under their authority to the magician, and in doing so, gain control of the Sword. If the magician is not in a state of ritual purity, he risks offending the angels and incurring their fiery wrath. As a verbal fail-safe, the angels are also ordered not to harm the magician.
I believe the threat of being burned alive is a metaphor for the transformative power of the angels. Their celestial fire brings symbolic death and transfiguration through spiritual alchemy, and they will sear away the impurities of the magician in order to make him worthy to speak the divine names. The fiery Sword of Moses bestows the power to change reality, but first the magician must initiate change from within.
This metaphorical sword of magic words captured my imagination, and I was so fascinated by the divine names that I decided on impulse to perform the purification ritual as soon as possible, following Roth's directions to the best of my ability. Roth suggests that a long weekend may work well for some practitioners, so I chose Saturday, Sunday, and Monday to perform the rite and began at sundown on Friday in keeping with the Jewish tradition that a day begins when the sun sets the day before. Not being Jewish myself, I didn't have to worry about violating any Sabbath restrictions. According to Roth, gentiles may say the prayers because Isaiah 56:7 declares that "My house shall be a house of prayer to all nations."10
Unfortunately, I don't live close to a body of living water, so I wasn't able to dunk myself in one, but I hoped that taking a shower would suffice. I avoided using scented toiletries, as these may offend the angels, who are sensitive to strong fragrances, regardless of how pleasing humans may think they are. I wore a white robe for three days and baked my own bread for breaking fast when the sun went down. Even though the bread was delicious, it quickly became boring. I was at least permitted to butter my toast, because according to Roth, "There is nothing that says we cannot."11 I recited the Amidah and the angelic adjurations thrice each day, while facing the east in my bedroom. Roth assures us that there is no need to cast a magic circle for protection or to contain raised energy because the angels are listening to the adjurations from up in heaven. Each recitation took 35 minutes, which was a test of endurance. The first day was especially challenging because I had a headache from caffeine withdrawals. If I had only had the foresight to give up coffee a few days before I began the ritual, I could have avoided that discomfort.
The time of day for saying the prayers and adjurations was not rigid, so I chose shortly after dawn for the first recitation, solar noon for the second, and a couple of hours before sunset for the third. As I chanted, I visualized a burning sword revolving in the air before me, ablaze with Hebrew letters that lit up the blade like orange lava, as if it had been forged in a smoldering volcano. Sometimes I got tongue-tied and stumbled over the strange syllables, but in the moments when the cantillations found a steady flowing cadence and rolled off my tongue with natural ease, it felt as though my lips were possessed and aflame with the holy names. I found that concentrating all of my energy on reciting what my conscious mind registered as gibberish banished extraneous thoughts and induced a light trance state which I think is key to facilitating contact with the Divine powers being addressed. Between the fasting and standing for extended periods of time chanting, I often felt exhausted afterwards and needed to lie down.
While I would love to report that some stellar transformation occurred, or that I had an incredible vision of being gifted with a supernatural sword, after I completed the ritual, I only felt a subtle difference, a numinous sense of peace and gratitude. I felt it to be very healing and it helped me to better recognize when irrational anxiety is knotting up inside of my chest. One line in particular from the Amidah really resonated with me:
"Heal me, Nurturing One, and let me feel healed. Save me, Holy One, and let me know I am safe. Healed in body, mind, spirit. Saved from the blight of my own fears. Heal me from perfectionism and lust for results. Save me from believing my own inner critics and soothe my grief."12
The Magic of the Sword of Moses will be a treasure to anyone who has an interest in Jewish magic and medieval grimoires. There is a wealth of information packed into this slim volume of less than 200 pages, presented with clarity and precision. The modern magician's magical practice will be enriched by sharpening the sword of their tongue with divine names of power, as long as they approach the angels with a sense of respect and awe, ever keeping in mind that they are spirits of fire.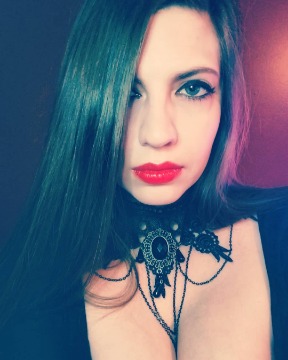 Rachel Christina McConnell is a witch, tarot reader, intuitive astrologer, and writing spider. She holds an MFA in Fiction from Columbia University in the City of New York. Her short stories have appeared in Dark Moon Lilith Press and Minerva Rising Press's The Keeping Room. Links to her publications are available here: https://rachelchristinamcconnell.wordpress.com
References