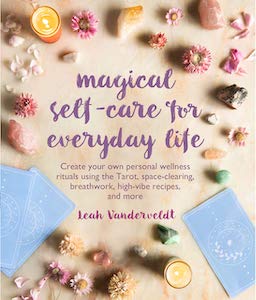 Magical Self-Care for Everyday Life: Creating your own personal wellness rituals using the Tarot, space-clearing, breath work, high-vibe recipes, and more, by Leah Vanderveldt
CICO Books, 1782498513, 144 pages, March 2020
Magical Self-Care for Everyday Life by Leah Vanderveldt is an amazingly comprehensive book that introduces readers to the myriad of ways that self-care can be practiced in our daily life. Leah has a wealth of experience in this topic as a wellness and nutrition expert. As the founder of The Nourish Exchange and Witchy Wellness, her bio notes that she writes with a "focus on intuitive living, creating healthy recipes, herbalism, and self-care with a mystical twist."1 This book stretched the bounds of "traditional" self-care recommendation by introducing magic through rituals and energy work.
I purposely chose to read this book during my favorite week of the year, the week between Christmas and the New Year, which for me is a time of quiet and introspection. I absolutely loved this book and savored every moment reading it. Vanderveldt expanded self-care to include mind, body, and spirit, while also reminding us that self-care means different things to all of us. As Vanderveldt explains, "magical living gives us an opportunity to claim our power, make the changes we seek, and create a life that lights us up."2 I was ready to embrace magical living as I stood on the threshold of a new year. I have been using this time as an opportunity to get clear on my intentions, and so far I've tried many of the meditations, rituals, and activities described in the book.
The book is divided into nine chapters: "embracing the Feminine"; "mirroring nature and the seasons"; "creating a magical home"; "lunar living"; "self-awareness with astrology; connect to your wisdom with Tarot"; "herbs and plant medicines for wellbeing"; "healing with energy flow and movement"; "manifesting and honoring your shadow." The book is very comprehensive, and each chapter offers details on the topic at hand such as gemstones, moon cycles and phases, magical plants and flower essences.
Each chapter also includes related healthy recipes. For example, the lunar living chapter has a recipe on full moon pasta, the mirroring nature chapter has recipes for a spring equinox bowl and a grilled veggie summer solstice bowl, and the Tarot chapter has a recipe for an Empress breakfast. I am planning on making the Winter Solstice Soup in a few days!
The book closes with helpful reminders such as "taking care of yourself first will help you show up fully for others" and "give yourself the gift of time and space"3 The Resource section offers a chapter-by-chapter list of practitioners and websites.
Intention, energy work, self-care are the main focus throughout. Vanderveldt encourages us with various rituals and recipes to shift the energy within us and the energy that surrounds us with practices such as healthy eating, astrology, moon work, shifting our thoughts, Tarot, cleansing rituals, attunement with the seasons, and working with plants and stones. The book is extremely sensual, a veritable feast for the senses and the spirit. The recipes and rituals indulge one or more of our senses at various times. The photography is amazing and brings the writing to life.
"Magical self-care is the practice of using rituals and tools that might be considered mystical, witchy, or esoteric to identify and address your needs. It requires being inquisitive, diving deep, and trusting yourself and your instincts. It is a process of self-care that combines the earthy and the spiritual for personal evolution and healing."4
What I like most about the magical self-care concept was that this is a practice, much like yoga, one that best works when it is ongoing to help us grow and become self-aware. I also loved that Vanderveldt recognizes that often our time commitments are sometimes stretched thin and has created it so most rituals or activities can be done in 30 minutes or less. She purposely chose exercises that were quick, adaptable, and affordable (some of which are relatively inexpensive or free). The recipes to nourish the body and spirit are not intended to be difficult to make.
I appreciated that Vanderveldt recognized that "sometimes self-care looks like not taking any action at all. Or like getting serious about my boundaries. Or just going out with my friends and celebrating life." 5 There's no right or wrong. There's not judgement. Self-care is about self-inquiry and self-awareness and trusting one's intuition, which Vanderveldt reminds us how it is "not always easy to hear it clearly, especially after decades of not being aware of it or ignoring it." 6
Vanderveldt encourages the reader to try what rituals or activities resonate with us without the pressure to do every ritual in the book. She does recommend, though, that we do the chosen ritual or activity consistently. I was particularly drawn to creating a magical home and lunar living; again, because these are what I focus on as the new year is birthed. I cleansed my home using the rituals in the book. I did a full moon check-in and release. I tried some Tarot spreads of which I was not familiar: three-care spreads on releasing, asking for guidance, and working with the new moon. Vanderveldt asks us to take a bird's eye view of things — to see the larger picture and the higher good — while also encouraging us to literally get into the weeds through working with plants such as dandelions!
I highly recommend Magical Self-Care for Everyday Life to anyone who wants to incorporate a spiritual self-care practice into their life. But don't just read the book — use the book, treat it as a companion and engage with it every day. Feel worthy to take time for yourself. As Vanderveldt reminds us, "manifestation is a simple energetic equation, but it can get tripped up when we don't feel deserving of what we want – we only get what we believe we deserve."7 Believe that you deserve joy and happiness. Believe that you deserve to make magical self-care a daily practice.

Anne Greco is a non-fiction writer who writes about her life experiences and travels with humor, keen observations, and the hope that her words will remind us that "we're all just walking each other home." Her book, Serendipity: Chance Pilgrimages, tells the story of Anne encountering her places of power. As she reconnects with herself at each site, Anne also develops a deeper understanding and appreciation of her connection to both the seen and unseen worlds. Learn more about her work here: http://annegrecowriter.com.
References