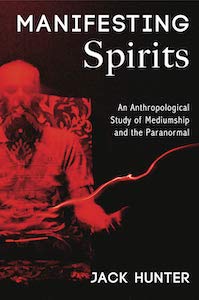 Manifesting Spirits: An Anthropological Study of Mediumship and the Paranormal, by Jack Hunter
AEON Books, 1912807882, 296 pages, January 2021

For anyone who's ever academically ventured into topics such as mediumship, life after death, spirits, and other psi phenomena you've most likely found the present literature rarely acknowledges the actual existence of these phenomena, for doing so would bring the entire paradigm into question. These inquiries are often quickly dismissed or explained in terms of cognitive, functional, or pathological theories.  However, Manifesting Spirits: An Anthropological Study of Mediumship and the Paranormal by Jack Hunter has gone where few have gone before.
Hunter has written an extremely well-defined and well-researched study of the paranormal from a perspective that invites an expansion of consciousness and method of scholarship. He frames these phenomena in a way that invites a new paradigm to emerge while maintaining full rigor in the quality of his resources. As he describes, he "does not seek to reduce the significance of spirit mediumship to purely functional, psychological, sociological, or cognitive explanations."1 In so many ways, this work is truly groundbreaking and an essential read for any serious paranormal practitioner, investigator, or enthusiast.
The approach in this research is a "non-reductive interpretive framework that emphasises complexity and multiple dimensions of process and meaning."2 I include this because, yes, Hunter's writing requires a certain level of familiarity with words such as "ontological" and "phenomenological" to fully grasp. I will give him immense credit in his thorough explanation of what he's doing, but for those who are less inclined to read scholarly material, this book might be quite intimidating.
It took me well over a month (I might even say closer to two) to make my way through this book. Much of the time, it felt like I was reading an academic paper, which was fascinating given the topic, but also not a light read. Many of the chapters seem to be informative literature reviews that were blended together to make a compelling book. As someone who values academic integrity, strong references, and a well-defined methodology, Manifesting Spirits was a true delight.
Hunter does a wonderful job of situating his work within the previous and current literature on the subject, aptly helping the reader to see the building blocks for his research and why he has chosen to write about it in the way he's done in this book. He acknowledges the pitfalls of academic research on these subjects and how his work differs in that it admits the possibility of paranormal phenomenon. He calls his perspective "ontologically flooded" in that it is "open to multiple possibilities and emphasising complexity over reductive simplicity."3 Essentially, rather than setting out to prove the validity of spirits and other psi phenomena, Hunter's position is openness to the possibility of genuine paranormal phenomena being a factor at play but is not automatically assuming it.
To achieve this aim, Hunter began exploring these topics at Bristol Spirit Lodge to better understand the spirit world through those who have regular contact with spirits. By taking their experiences seriously, he accumulated a plethora of ethnographic research.This ethnographic research included attending seances, developing his own mediumship abilities, and interviews with both mediums and spirits. In turn, switching the usual mode of boxing-in these ethnographic experiences to fit the analytic thinking to using the research done ethnographically to re-examine the dominant model for interpreting these events.
In Manifesting Spirits, there are quite a few fascinating topics Hunter explores, many of which I've never seen framed from his unique methodological perspective. The main topic of his research is physical mediumship. Physical mediumship involves manifestations such as raps, taps, de/materialized objects, and even ectoplasm. This differs from mental mediumship, which is a form of telepathy used to communicate with spirits, and trance mediumship, which is a form of mental mediumship where the spirit uses the mind of the medium to deliver messages. He notes how members of the lodge feel a reconnection between the physical and spiritual world through witnessing these paranormal experiences, which can be quite a spiritual experience.
The section I liked the most was "Naturalising the supernatural" where Hunter writes about how phenomena that are considered "supernatural" would not be considered so in other culture systems. Cultures outside the Western materialistic approach would see some of these phenomena as natural and a part of daily life. He draws on the writing of social scientist Durkheim, who pointed out supernatural only exists because a natural order exists, but as Hunter writes, "To a certain extent, then we can say that what is deemed possible is both limited and facilitated by cultural norms and expectations."4
Now that was something I could deeply relate to, both personally and professionally. Since I was innately aware of the spirit world from a very young age (I saw ghosts and was aware of the presence of spirit during adolescence, I also became a youthful paranormal explorer. By my teenage years, I had read countless ghost stories of my local area, presented about the haunted history of town, and catalogued undocumented accounts.
In college, I majored in psychology, but I was quickly frustrated with the exclusion of psychic phenomena. I knew by the time I graduated that the traditional route was not for me, and I began exploring other subsets of psychology such as Jungian (or Depth Psychology) and Transpersonal psychology, but even these were not fully inclusive of what I had very subjectively experience in communication with spirits, as well as in sessions with many mediums over the years. Alas, paranormal studies have sufficed, but I too longed to bridge the gap with academia.
It is for this reason Manifesting Spirits is so immensely valuable to the field. It takes paranormal studies and integrates them into an academic framework that is usable for future research. Reading this book, I just kept thinking how much I wished I had it for reference when attempting to put forth these ideas in my academic studies. I am grateful to have it now, as I truly think this is a foundational book in many fields, from psychology to anthropology, and even religious studies. I truly think I would have written a different thesis had this book existed at the time of my research because it would have empowered me to believe writing and researching on these topics was possible.
Manifesting Spirits is a truly ground-breaking work that I am sure will be referenced by many to come. It completely opens doors to the study of these new realms. Hunter's research methods are unique and exactly what is needed to go beyond the current limits of research spirits, mediumship, and paranormal experience. It is a must-have for any serious paranormal researcher's collection, as well as an enlightening read for those with an interest in mediumship. This review is certainly an understatement of the wealth of material presented by Hunter, from blending with spirits to an exploration of the seance. I highly recommend diving into yourself and being open to the emergent ideas and techniques that are bound to provide some revelation.

Alanna Kali is an astrologer, numerologist, and pioneer spirit that loves to explore life through the lens of depth psychology. She has a passion for studying the humanities and social trends. Her academic work is centered upon reuniting body, mind, and spirit through eco-psychology. She loves reading, spending time in nature, and travel.
References