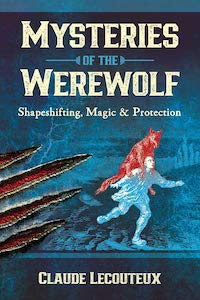 Mysteries of the Werewolf: Shapeshifting, Magic, and Protection, by Claude Lecouteux
Inner Traditions, 1644110784, 224 pages, August 2021
Ahhh-ohhhh, werewolves! Legends of werewolves are as popular as ever, but did you ever wonder about the origins of these stories? In Mysteries of the Werewolf: Shapeshifting Magic & Protection, Claude Lecouteux delves into folklore, legends, and historical accounts from all over the world, showcasing how the tale of the werewolf evolved through time.
Lecouteux's impressive background certainly influences the way he wrote this book. As a professor emeritus of medieval literature and civilization at the Sorbonne, it's evident that he is dedicated to the scholarship of his work. Mysteries of the Werewolf is incredibly well sourced, and many of the translations in the book were done by Lecouteux himself. He has applied the same thoroughness to detail in his previously published works The Book of Grimoires, Dictionary of Ancient Magic Words and Spells, and The Tradition of Household Spirits.
What is very unique about this book is the way Lecouteux creates a cohesive cultural understanding of the werewolf through comparing texts side by side. While some books on werewolves try to play up werewolves as a form of cryptid, Lecouteux uses historical records to piece together a whole picture of this possible mythological, possibly real being. He states:
"The texts I've collected for this anthology are intended to document the history of the werewolf through the ages and include some excursions far from the European domain when there was a good reason to do so."1
Hence, we have documentation from around the globe dating back to the 10th century of different aspects of lycanthropy. Topics include stories on becoming a werewolf, pacts with the devil and evil spells as cause, werewolves' clothing and accessories, healing and free werewolves, testimonials and more!
A sixteenth century French story Lecouteux called "How the Werewolf Lost an Eye":
"A young noblewoman of the land of Livonia was arguing with one of her servants about whether it was possible for a man to change into the shape of a wolf, and as she made it seem dubious, this servant, so that he could provide her more ample proof, asked her permission to turn himself into a wolf. She granted him such permission, and he retreated to a secret room in the house, which he left shortly afterward in the form of a wolf. After this a pack of dogs caught his scent and set off in pursuit of him, chasing him into a nearby wood where they ripped out one of his eyes. The next day when he regained his human shape he returned to the house missing an eye."2
This is just one example of the many, many tales in the book (I would estimate at least one hundred!). It was certainly enjoyable and entertaining reading the stories; some are heartbreaking, others vicious, while some are infused with a bit of comedy. Some feature witches and wizards, while others are just common people who are plagued with the curse of the werewolf.
It's a thrill to feel connected to people of centuries past through the common thread of werewolves. I couldn't help but wonder what it might have been like to tell some of these tales prior to electricity, when animals and humans were in much closer contact.
To see the range of the stories, from all over the world, I can't help but start to think about the commonality of this man turn beast archetype. And at some point, I did start wondering if there was any merit to these stories, given they have persisted for such a long span of time cross-culturally!
"Elsewhere, we see a warrior who changed into a bear lending his support to men battling an enemy. In Africa, people believe in jackal-men, hyena-men, and leopard-men; the Inuits believe in caribou-men, and the people of the Far East believe in tiger-men. Every land and every civilization has had its own distinctive view of lycanthropy."3
I wonder what it is about the human turn beast that leaves such a lasting impression on our psyche. Perhaps approaching the book with this question in mind will yield some answers, as I read it mostly for the enjoyment of the stories the first time. Though, I will note that Lecouteux's introduction is filled with background information and history of the werewolf, so this book is much more than just a fun-filled, entertaining read.
Any werewolf lover is sure to enjoy Mysteries of the Werewolf, but even those with a general interest in folklore would find it worth the read. These stories help weave a picture of how the tales of the werewolf have evolved over time, expanding the reader's knowledge of lycanthropy folklore. Lecouteux has done a phenomenal job gathering all the stories in one collection for readers to compare and contrast how tales of the werewolf, and perhaps one day, may even add their own!

Alanna Kali is an astrologer, numerologist, and pioneer spirit that loves to explore life through the lens of depth psychology. She has a passion for studying the humanities and social trends. Her academic work is centered upon reuniting body, mind, and spirit through eco-psychology. She loves reading, spending time in nature, and travel.
References