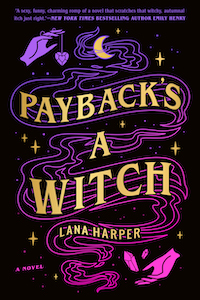 Payback's a Witch (The Witches of Thistle Grove), by Lana Harper
Berkley, 0593336062, 352 pages, October 2021
New year, same me reading witch lit 🙂 And my latest book, which I discovered when cleaning out my garage – a perk of the effort, is Payback's a Witch by Lana Harper. As someone who's read a lot of books, particularly in this genre, I can say with confidence Harper is one of the best writers I've ever come across. Payback's a Witch takes the quality of this genre to a whole 'nother level!
The premise of the story is that Emmaline Harlow (otherwise known as Emmy or Harlow) has come back to her hometown of Thistle Grove. As a scion of the one of the four magical founders of the town, obligation compels her to return to town in order to fulfill her role as arbitrator in the Gauntlet tournament, which is held every 50 years between the founder's families to determine who will safeguard the magical wreath and benefit from its power.
But Emmy isn't super pumped to be back home. Her first night back, she runs into her ex-beau, Gareth Blackmoore, who descends from the family of the most powerful witches in town. He's a textbook narcissist who never really seems to get what he deserves. The same night though, Emmy also has a reconnect with Talia Avramov, another scion of the founding family most practiced in the dark arts. After quite a few drinks Emmy feels a bit better about running into Gareth and definitely notices a few sensual feelings budding towards Talia.
At breakfast the next morning with her longtime BFF, Linden Thorn, the fourth founder family's descendent, Emmy is surprised to have Talia join them. Turns out, Emmy isn't the only one who received the short-end of the stick of Gareth's arrogance and schemes. He also two-timed Linden with Talia – or vice versa – point is, he was seeing them at the same time when both thought they were exclusive. Now, Liden and Talia want revenge, specifically at the Gauntlet tournament, and they are looking for Harlow to help out.
Harlow is well-aware of her duties to arbitrate without bias, and at first she's a bit reluctant. She fled the town wanting to forget Gareth, and suddenly the whole time home seemed to be becoming all about him. However, when Talia and Linden point out this goes beyond petty revenge; the balance between the families has become skewed by the Blackmoores repeatedly winning, gaining magical advantage, winning again, and so on in a repetitive cycle.
This has led to them building a giant castle structure of Camelot akin to a Ren Faire that has drawn all the tourists away from more local shops, such as the Thorn's farm and Aramov's emporium. If balance is not restored, the unequal distribution of power could see foreclosure in the future for the Aramovs and Thorns. Understanding the greater balance of power among the founding families at risk, Emmy decides she'll assist, and obviously, foresees some personal enjoyment in bringing down Gareth as well.
What takes Emmy by surprise is how happy she feels to be home. As her magic returns after her long departure from Thistle Grove, she starts to recall all the small joys of the town. Adding to her inner confusion is the romantic sparks between her and Talia. Talia can't imagine a life away from their hometown, while Emmy is very proud of the life she's built for herself.
As the Gauntlet plays out, in very twisted and unexpected ways, Emmy discovers there is more to her family's lineage than she previously realized. Ultimately, she must reckon with the consequences of leaving her family and close friends behind, forgoing her claim to magic, and newly discovered feelings towards Talia to decide what her next step will be.
Luckily, the story doesn't end here – there is a sequel coming in March! I am very pleased about this because I absolutely adored all the characters. I think there's so much room for the story to grow. Plus, Harper really knows her stuff when it comes to magic. There's plenty of diversity among the different types of magic practiced, and reading how they blend together or repel one another is an intriguing part of the story.
This was a fun read with surprising depth. There is the perfect amount of banter, tension, and love between the characters, with plenty of emotion balanced by humor and quirk. I loved reading it as a leisure book to relieve the stress of the day and tap into some magic.
The pace of the book is perfect with one chapter effortlessly flowing into the next, often on a cliff-hanger that compels you to keep reading. There's also a great blend of fantasy with modernity, which gives the story very relevant magical realism. I love when this happens because I enjoy believing somewhere in Illinois a town like this might just really exist.
My favorite character was Talia since she practices the dark arts, particularly necromancy. Throughout the book, she chats with ghosts and summons her ancestor for guidance. The magical families that lean more towards "life-magic", specifically the Thorns, are put off by the spookiness of the Avramov family, as Emmy is eager to see their magic, which is usually kept hidden.
Plus, Talia has a deeply caring and compassionate side, wanting to cook for and tend to the needs of those she loves. The relationship between Talia and Emmy is just beautiful to watch unfold. I absolutely love having some lesbian protagonists in a witch lit book! What's better than two witches falling madly in love? THE ULTIMATE ENDING of the Gauntlet challenge, which is all I will say for now! 🙂
All in all, Payback's a Witch is a 10/10 from me. Harper is one of the best writers I've read in a long time. The story has the perfect flow; the characters are very relatable; and the plot is enticing. I am very excited for the book in The Witches of Thistle Grove series!

Alanna Kali is an astrologer, numerologist, and pioneer spirit that loves to explore life through the lens of depth psychology. She has a passion for studying the humanities and social trends. Her academic work is centered upon reuniting body, mind, and spirit through eco-psychology. She loves reading, spending time in nature, and travel.