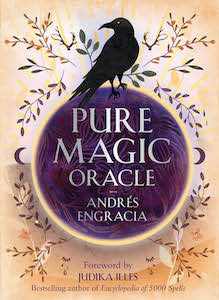 Pure Magic Oracle: Cards for Strength, Courage and Clarity, by Andres Engracia
Rockpool Publishing, 1925924661, 36 cards, 144 pages, May 2021
Pure Magic Oracle: Cards for Strength, Courage, and Clarity by Andres Engracia is a wonderful deck filled with spells and messages of empowerment. This deck is inspired by The Big Book of Practical Spells by Judika Illes, which is a great addition to one's collection for anyone interested in spellwork, along with her book Encyclopedia of 5000 Spells. The spiritual insight gained from Pure Magic Oracle has proven to be quite handy for me since I've started using the deck, and I've very much enjoyed the simple spells, some almost more like exercises, to enhance my spiritual connection.
I'll admit what first drew me to this deck was the aesthetics. Illustrator Olivia Burke has done a wonderful job of making the deck visually appealing with symbolism that awakens the reader's imagination and delights the eye with elegant drawings. The imagery is open for interpretation, though it stimulates the subconscious mind when gazing at the card. She has done a wonderful job of using color combinations to elicit feelings related to the cards. I especially love the back of the cards with ravens perched on a delicately designed circle with floral images with leaves around the borders, plus a half moon on both sides.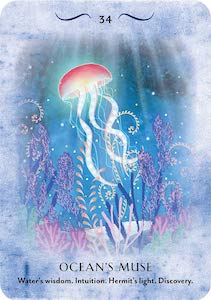 This 36-card deck has 9 cards for each element (earth, water, fire, air). There are color correspondences for every element. After using the deck for a bit, I've been able to instantly feel a connection to the element based on the color of the card I draw before even looking at the name of the card, message, or guidebook oracle message. I enjoy this because the color primes me to be open to the element and receive its message with attunement. Burke has done a wonderful job with color contrast to really make the images pop from the card's color background.
On each card, there is the number, an image, the name of the card, and then four keywords. The card names are quite interesting, ranging from Telekinesis (an air card) to Belladonna visions (a water card). I was quite amused reading the card names and intrigued by Engracia's unique choice of card names related to elemental energies. They add both depth and levity simultaneously, allowing for powerful messages to come through in a relaxed manner.
The guidebook starts with a foreword by Illes since her book was the inspiration for the deck, which is followed by an introduction by Engracia. There is a short and sweet poem to the elements provided to consecrate the deck and then two spreads for a reading provided: The powers that be spread and Elemental body spread. I did The powers that be spread, but I'll write more on that in a second.
For every card in the guidebook, there is the image of the card with the keywords below and then information about the image on the card, such as its historical background or importance in magic. It's almost like a little magical lesson! Then there is a Pure Wisdom section that provides an oracle message. Finally, there is a Pure Magic Spell provided.
However, I will note that it is not necessarily a spell every time. For instance, the Pure Magic Spell for the card Voudon Roots (24) reads:
"Study the arts of indigenous magic, stories, and folklore; learn the wisdom of native cultures and immerse yourself compassionately in the mind and heart of an elder."1
I love this wisdom and do feel doing this would enhance one's spiritual practice, but I also wouldn't think of this exercise as a spell.
For me personally, this didn't detract from the value of the deck, but it did make me a bit reliant on the guidebook at times and more focused on connecting with the cards intuitively through symbolic imagery. As I mentioned, I did The powers that be spread and when I turned to the guidebook, the message still felt a bit elusive. I was better informed about the general meaning of the cards, but the message still felt a bit ethereal.
Therefore, I found it best to be creative in my approach of working with these cards. The imagery coupled with the insight of the guidebook has called me to journal, draw, and write poetry about the readings. There's something about this deck that invites the reader to be an active participant in the divination, rather than a passive receiver of information.
This element of the deck is what makes it really stand out for me. I find myself called to read with it not so much when I want a direct answer, but more when I want spiritual prompting about how I can tune into my connection to nature, spirit, and the elements to facilitate healing and personal revelation.
All in all, Pure Magic Oracle is a one of a kind deck with very intuitive, symbolic imagery that invites the reader to creatively enhance their magical practice with spellwork and spiritual exercises. I recommend it to those looking for divinely inspiring deck that are open to musing a bit on the answers. By engaging with the cards through the spells and exercise, one can use this deck to enhance their awareness and channel their energy in constructive ways to spiritually develop their magical abilities. It is also a useful tool for connecting with the elemental energies on a daily basis to bring their healing wisdom into one's life.

Alanna Kali is an astrologer, numerologist, and pioneer spirit that loves to explore life through the lens of depth psychology. She has a passion for studying the humanities and social trends. Her academic work is centered upon reuniting body, mind, and spirit through eco-psychology. She loves reading, spending time in nature, and travel.
References