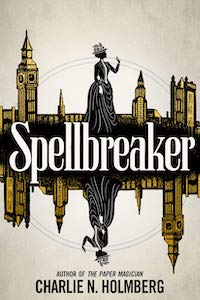 Spellbreaker (Spellbreaker, 1), by Charlie N. Holmberg
47North, 1542020093, 303 pages, November 2020
I will admit, I love 19th-century period pieces about magic. Therefore, it was no surprise I picked up Spellbreaker by Charlie N. Holmberg to read this weekend, as it is set in England in 1885. However, England is quite a different society with magic making the world run smoothly, but also contributing to societal class divide. Therefore, Elsie Camden doesn't feel bad about using her spellbreaking powers to knock the English nobility down a few notches to help out the common folk.
The world Holmberg writes about is filled with mystery, intrigue, and most of all spells to make the world go around. All magic users and spellbreakers must be licensed by governing bodies, and the spells are kept closely guarded, only passed down to those who prove they can be trusted with the power. The whole process of how magicians level up their magic and incorporate spells is absolutely fascinating! It involves these drops of magic which glisten and then are absorbed by the aspector's skin, permanently making the spell a piece of them. When an aspector dies, a magnum opus of their spells is left behind.
The interesting thing about these magnum opuses is that anyone can use the spells in them once by tearing the page out. Therefore, these books are often handed down to other aspectors or guarded by the magical governing bodies. Recently though, there's been a string of murders of master aspectors involving stolen magnum opuses. The tension is high as no one can figure out who is behind the ghastly crime of murdering magicians for their spells.
Elsie Camden finds herself smack dab in the middle of the action. Day to day, she works as an assistant to a stone mason, but she also does secret work as a rogue spellbreaker. After being orphaned as a child, Elsie was left to fend for herself in the world. As a fire burns down her workhouse, leaving her to wonder what's next for her, she is approached by a woman who realizes what she truly is: a spellbreaker.
From this point on, Elsie spell breaks for who she calls the Cowls, though she's truly never known exactly who these people truly are. She enjoys feeling needed by them and also views herself as a modern Robinhood, stealing from the rich to give to the poor. Since she's not registered as a spellbreaker, she's in both an advantageous and dangerous position for doing this discrete work.
On an assignment gone wrong, Elsie winds up getting caught by Bacchus Kelsey, a man dedicated to earning his aspector mastership. Bacchus is an aristocrat, but he's different from the others since he's from Barbados and not of usual English breed. Rather than turn Elsie in, Bacchus decides to capitalize on Elsie's spellbreaking abilities, as there's some things about the Duke of Kent's estate, where he's staying while in England, that he'd like to refurbished. It's easier for Bacchus to apply new spellwork once the the spells currently there are removed, thus begins Elsie's indentured work to pay off the asking price for his silence.
That's all I will give away for the plot summary, but this is only the beginning of a very neat story. I more want to focus on how this is one of the best magical stories I've read in a while. What I liked most about it was Holmberg's skill at world building. I felt very immersed in this version of 19th century England, which blended the historical cultural values of the time perfectly interwoven with this dimension of magic added into it.
From the different types of magic described to how the process of spellcasting worked, Holmberg really adds the details to make it extremely easy to get lost in without feeling too fanciful. I was surprised to see the book is actually classified as science-fiction rather than fantasy, but this being said, it's a wonderful mixture of both genres in my opinion. I would perhaps label it science-fantasy, though it's much more focused on magic than any science or technology.
I also found the character immensely relatable. Elsie is funny, honest, and has a good head on her shoulders. While she loves her readers, she avoids gossip and focuses on her work. She has a sense of identity, which I think is one of the most important things for me in a character. And the other main character, Bacchus, likewise has depth, intelligence, and general relatability. Though they come from different worlds, they are both outsiders in some sense who have their own views of how things are in the world. It's quite exciting to see what happens when a spellmaker and spellbreaker team up together!
And I just have to say how unique the concept of a spellbreaker was to me! In fact, I couldn't stop thinking about the application of spellbreaking in magical works and did a deep dive in reflecting about the role spellbreaking has in my own magical practice. In fact, it was quite a revelation to realize all the ways I identified with the main character Elsie. After just discussing how fictional works can inform one's magical practice, I experienced it first hand in reading this book. I now plan on labeling myself as a spellbreaker and seeing how this evolves my perception of the type of magical practitioner that I am.
I also found it refreshing to read a magical fiction book that still had a woman lead that wasn't focused on witchcraft. I liked Elsie's ability to break spells, and furthermore how she didn't rely on magic. In fact, she often broke spells that were cast upon her, preferring to have clarity without magical influence. She clearly understood how magic could be used for both benevolent and malevolent purposes, and she did her part to ensure it was used for the latter. She wasn't enamored with it, nor seeking fame and glory for herself. She used her abilities for a greater cause with intention, and otherwise primarily kept to herself and focused on her mundane tasks without complaint. I like her very much as a role model.
Overall, Spellbreaker was captivating. It ended on such a cliff-hanger that I just requested the next book in the duology, Spellmaker, from my library. Holmberg has done a wonderful job crafting a unique plot that captures the reader's attention and opens the imagination. Whether one is interested in a good read or to gain insight into how they might incorporate spell breaking into their own magical practice, I appreciate this different point of view. For now, I am eagerly waiting to see how the rest of the story unfolds!

Alanna Kali is an astrologer, numerologist, and pioneer spirit that loves to explore life through the lens of depth psychology. She has a passion for studying the humanities and social trends. Her academic work is centered upon reuniting body, mind, and spirit through eco-psychology. She loves reading, spending time in nature, and travel.