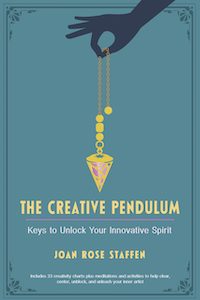 The Creative Pendulum: Keys to Unlock Your Innovative Spirit, by Joan Rose Staffen
Red Wheel Weiser, 9781578637515, 288 pages, June 2022
The Creative Pendulum: Keys to Unlock Your Innovative Spirit by Joan Rose Staffen got me out of a creative rut in the most fun way. It had been a while since I'd used my pendulum, but after a quick dust-off, I remembered how much insight I used to get from this method of divination. It seems I had forgotten the myriad of possibilities that came from tuning into my higher consciousness in order to figure out what was needed in my life.
Until reading this book though, I had never thought to practically weave together my creativity and work life by dowsing with my pendulum. But Staffen provided me with a marvelous gift of ingenuity in this book that inspired a renewed interest in the pendulum as a divination tool while also relighting my spiritual spark.
I will say right off the bat what I liked most about this book is Staffen's openness, humor, and willingness to think outside the box that pours through every page. This pendulum technique is so unique and quickly ignites new insights. And I feel this technique works because Staffen has pulled from her life experience to create a method that is practical, creative, and spiritual all in one.
Anecdote after anecdote showcases how Staffen deepned her creative practice and expanded her wisdom through trusting the process. For instance, how she once "spent a year asking God/Goddess for my right, perfect place, opportunity, and company"1 before launching her business venture. Reading her stories is not only amusing, but also reaffirms that we always have the opportunity to try new things, learn, and grow; this has helped her navigate through plenty of career changes and shifts in life circumstances. Through the ups and downs in life, Staffen reminds us that the Muse is always present – all we need to do is tune into the energy at hand.
But even though this book is wonderfully infused with Staffen's spirit, the focus remains centered on readers expanding their life, overcoming roadblocks, and connecting with their own creativity. Staffen has created Intuitive Creativity Charts that the reader can use their pendulum to gain a deeper understanding of what is being called for in their life right now. The technique she teaches in this book involves dowsing with the pendulum over the Intuitive Creativity Charts for guidance that goes beyond simply "yes/no" answers, the more simple and commonly used method of working with a pendulum.
For those of you who might not know how pendulums work through the process of dowsing, Staffen provides a great description:
"Dowsing has both scientific and mystical elements that help us tap into both our subconscious and super-conscious minds. Using the pendulum can help us to center emotionally and spiritually, and we can more easily open to a meditative state, where we become calm, relaxed, and receptive to the suggestions presented by the pendulum and charts."2
Chapter two, "Learn to Dowse with the Pendulum," provides all the information needed to get started, even if you're completely new to this method of divination. Staffen provides details such as where and when to use one's pendulum, how to center yourself for accurate results, and what to do if your dowsing isn't working. She also shares with readers step-by-step instructions for how to dowse, which is very easy to follow along with. As with anything, practice is important, so even if at first you're a bit skeptical or unsure, I recommend keep going!
Now, while the main premise of the book is teaching readers how to use the Intuitive Creativity Charts, it includes a heap of creative life-coaching. Staffen goes chapter by chapter explaining the significance of each chart, illuminating how it can be used for insight, as well as explaining all of the potential chart pendulum answers to clarify the messages that might come through. But these aren't static explanations, such as "If your pendulum lands on this then it means xyz.." Rather, it's almost like Staffen is coaching you through understanding the answers revealed.
Oftentimes there are exercises to do, like meditations and journal prompts, to ground the insight and find out what it means for you personally. And it's this delivery from Staffen, focused on process more than result, that makes the book so creatively stimulating. Dowsing with the Intuitive Creative Charts is not meant to be a one-size fits all approach! And I was amazed at all the guidance available using the charts. Staffen has done a great job of charting questions you might not even have ever thought to ask.
There's a chart for answering questions about one's creative process ("What literary/performing/visual art should I pursue?" and "What artistic needs do I have?"), timing ("When's the best time to take action?"), energy work ("How can I clear my chakras?" and "How can I overcome negative beliefs?"), business strategy ("How can I market my art?" and "What is the best income stream for me?"), plus so much more! I honestly have spent hours trying out different charts and am always so surprised by the accuracy of the pendulum responses.
And this guidance is tailored to recognize a multitude of paths, rather than a prescriptive "it has to be this way to work" model, that opens new doorways, especially when one starts to layer and sift through all the insight they're getting from the perspective of each chart.
Once you're comfortable with the technique, I've found it's useful to use charts in combination. For instance, I use my pendulum to dowse for questions related to my creative identity and how to improve my income stream. (I try not to ask too many questions at once, even though I want to!) Quickly, I saw how the answers were interrelated and urging me in a new direction.
One really neat thing about The Creative Pendulum is how Staffen shared two chapters on using the pendulum and Intuitive Creativity Charts to coach yourself and others. She offers tips for coaching oneself with a reading and includes two personal assessments worksheets that help you to clarify the issue you're working on and hone in solutions.
Then there's also an entire chapter on coaching others by discovering their talents and motivating them to take action. Staffen offers guidance about preparing for a session with clients, along with client assessment forms that can be used when working with them. I so deeply respect Staffen's choice to so transparently share her Intuitive Creativity Charts method with others and teach them how they can use it to coach others. 
And it gets better – Staffen saved some of the best material for last, such as the chapter "Paint on Your Hands: Art Prompts" that are "fun exercises…to help beginners spark their own brave, intuitive creative within."3 As a creative at heart that often needs a nudge to indulge, I loved the prompts to draw, create collages, play with finger paints, and more! It got me motivated to actually take out my art supplies and enjoy/explore myself.
In the final chapter, Staffen suggests starting a "creativity cluster" of "like-minded people who want to learn to dowse, journal, and play together!"4 Now I'm certainly wanting to do this, and I'm thinking about starting a Meet-Up group once I relocate next month.
Overall, The Creative Pendulum has been such a breath of fresh air! I highly recommend this book for those seeking to expand their horizons. When read with curiosity and an open-mind, the possibilities of what you might discover about yourself through the process of dowsing with Staffen's Intuitive Creativity Charts are endless.
From discovering your creative identity to figuring out what business steps you should take next, this book is useful on so many levels, which opens doors for readers to make their dreams a reality through the aid of their pendulum. It's certainly a book one can come back to time and time again, whenever you are feeling called to use the guidance of the charts for both yourself and teaching others.

Alanna Kali is an astrologer, numerologist, and pioneer spirit that loves to explore life through the lens of depth psychology. She has a passion for studying the humanities and social trends. Her academic work is centered upon reuniting body, mind, and spirit through eco-psychology. She loves reading, spending time in nature, and travel.
References