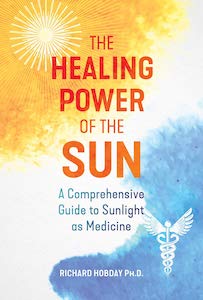 The Healing Power of the Sun: A Comprehensive Guide to Sunlight as Medicine, by Richard Hobday
Findhorn Press, 164411402X, 224 pages, December 2021
Who doesn't love the feeling of warm sunshine shining down on them? I know I certainly do! Whether it's during a warm summer afternoon or a chilly winter's day as I quickly make my way indoors, the sun never fails to bring a moment of happiness to my day. But until I read The Healing Power of the Sun: A Comprehensive Guide to Sunlight as Medicine by Richard Hobday, I had no idea the extent to which the sun affects our health and well-being. This illuminating book gave me a whole new perspective on sunlight and the many benefits spending time in its rays can have on my daily life.
In the introduction, Hobday immediately addressed the hyper-focus on the sun's negative effect on the body: skin cancer. He notes that modern medicine is obsessed with the damage sunlight can have on skin, while neglecting the many other ailments that sunlight prevents, including "breast cancer; colon cancer; prostate cancer; ovarian cancer; heart disease; multiple sclerosis; and osteoporosis."1 Instantly, I was intrigued by these bold claims–can sunlight really prevent these diseases? Luckily, Hobday provides ample scientific evidence to support his position.
There are a myriad of topics covered throughout the book, but all bolster the main thesis that sunlight is a natural form of medicine. Topics in the first chapter, "Your Body and Mind in the Sun" include the importance of vitamin D and how it can reduce cholesterol levels and blood pressure, melanin and different skin types, how sunlight can impact blood and promote growth. Hobday also talks about the psychological importance of the sun, such as regulation of hormonal and biochemical processes, as well as seasonal affective disorder.
With the foundation for the benefits of sunlight laid out clearly, Hobday then explores the how humanity has greatly decreased the amount of time spent in sunlight:
"We can now work, rest, play, shop and travel in an artificial environment, and have very little direct contact with the outside world. One consequence of all this is that, for many of us, sunlight plays only a small part in our daily lives. It can be quite instructive to sit down with a pen and a piece of paper and work out just how much time you spend indoors each week. Some estimates put the average figure at about 90 percent…"2
Personally, I despise sitting in doors all day and intentionally try to spend as much time outside as possible, but if I'm being honest, most friends and family don't spend nearly as much time outdoors as I do. I clearly see what Hobday was pointing out about our world dominated by artificial light that is drastically different from earlier time periods in civilization where "sun-gods and goddesses were often worshiped as deities of medicine."3
And it's for this reason that I appreciated Hobday's chapter "How to Sunbathe Safely". One thing he mentions is how the use of sunscreen actually makes people more prone to sunbathing at inappropriate times. By following the provided advice, I feel like I am now able to maximize my sunbathing without being over-reliant on sunscreen, allowing for more direct contact with the sunlight. I've been intentionally going outside for early-morning sunshine, which is one recommendation of Hobday, as well as doing short trips outside to enjoy the sun to avoid prolonged exposure. These methods have been great for developing a tan while avoiding sunburn, and it's been fantastic starting my morning connecting with the sun.
Admittedly, as an astrologer, I've always been focused on my spiritual connection to the sun, but after reading about the different methods of using sunlight as a form of medicine throughout time, I became convinced using sunlight should be more integrated in treatment. For instance, Hobday talks about Dr. Bodington's pioneer open-air treatment for tuberculosis, Dr. Finsen's sunlight treatment for smallpox and lupus vulgaris, and Dr. Bernhard's heliotherapy for war wounds. He also mentions Florence Nightingale promoting sunlight for healing too, along with other examples of doctors who have sunlight as a part of treatment.
What I found most interesting was how drug-resistant infections are becoming a severe problem for hospitals. Sunlight remedies, including things such as incorporating sunlight in treatment and even simply having well-lit rooms, can help to combat the increasing spread of infection. Hobday shares many experiments showing that sunlight and natural light reduce infection levels, promoting the idea that our indoor environments should try to recreate outdoor conditions, rather than appeal to the desire for comfort, luxury, or utility. The section on this topic really made me question how buildings, especially hospitals are designed, and even how my own home could be modified to let more sunlight in during the day.
All in all, The Healing Power of the Sun was a very interesting and eye-opening read. It inspired me to spend more time outdoors and explore how I can improve my health by spending time in sunlight. From opening my mind to what medicine can look like (and how it can be so simple and natural) to learning more about the best ways to sunbathe, this book covers a wide-range of information any reader would benefit from learning. My greatest takeaway is that there's no need to fear the sun; the medicinal properties greatly outweigh the potential harm. Plus, when you choose to safely spend time in sunlight, along with being mindful of what you're eating and your daily exercise routines, it's safe, even necessary for one's well-being, to bask in the golden rays. 

Alanna Kali is an astrologer, numerologist, and pioneer spirit that loves to explore life through the lens of depth psychology. She has a passion for studying the humanities and social trends. Her academic work is centered upon reuniting body, mind, and spirit through eco-psychology. She loves reading, spending time in nature, and travel.
References