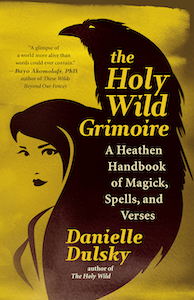 The Holy Wild Grimoire: A Heathen Handbook of Magick, Spells, and Verses, by Danielle Dulsky
New World Library, 1608688003, 208 pages, September 2022
Earthy, primal, rich, and real – this is how I feel sinking into The Holy Wild Grimoire: A Heathen Handbook of Magic, Spells, and Verses by Danielle Dulsky. In this book, Dulsky has uprooted the underpinnings of harmful ideologies, created through our stories and myths we unconsciously live by according to society's urging, to bring forth prompts and rituals that invite readers to move through a portal of death and rebirth to fully embrace their own sovereign sorcery within through magical word-craft and reconnect with the Holy Wild. For those ready to lurk in the deeper realm of mystery, potency, and power that come through embodying and rewriting the mythic aspect of the world we live within in order to expand their practice of the craft, this is the book for you!
Hopefully that didn't all sound too intimidating! All of Dulsky's brilliant methodology for engaging the reader's psyche through storytelling, journal prompts, and spellwork to create their own personal grimoire are actually very clearly laid out, making this book accessible to everyone. But be forewarned there's something about Dulsky's writing that inspires me to play with words and discover new voices within that have yet to be explored.
The book does read at times like a long-lost ancient tale, where the dialect is just a bit different than you're used to, as words become poetry vivid with imagery and perfectly strung together to invoke meaningful feeling. This definitely isn't a straight-forward "how-to" manual for those seeking insight on witchcraft; hardwork and dedication is required to truly reap the rewards of the material presented, leaving room for your own creativity to emerge and guide the way.
"The time to radically revision our place in the world is now. This is the moment in the human tale when hope meets sorrow, when innocences meets wisdom, a climactic union of polarities that is birthing – and will continue to birth – a new, more heathen reality."1
Moving through medicine the elements of earth, water, air, fire, and ether, The Holy Wild Grimoire guides readers in creating their own book of magic. Dulsky writes, "In the context of this handbook, a grimoire reflects the magick locked in our language, the spells that live and breathe in our words and symbols."2 Moving through each element, the reader begins to craft the most personal journal of their thoughts, feelings, visions, and intuitions, reshaping their reality, reclaiming pieces of their soul that have been lost, and gaining the courage to shed habits, patterns, and modes of being – skins – that no longer fit who the reader is growing into.
These might seem like lofty goals or mere promises, but I can assure you that by moving through The Holy Wild Grimoire with an open-mind and heartfelt intention, you will notice shifts in how you relate to your own narrative and how your narrative merges with the on-going story of the world, inviting synchronicities, realizations, and connections that previously you may have not had the discerning energetic eye to notice and in the process creating new potential realities.
Each element contains an introduction to its energy medicine, a word-spell, an artful invocation, a story lantern, follow-up questions to the story lantern for reflection, an opening spell and element spells, multiple reflection questions about your experience with the element, writing prompts to attune you to the element's presence in your life, and prompts to assist you with visioning through the energy of the element. All together this creates twelve journal entries. Then at the end of the chapter is a testament to the element, where the reader (or more like writer once you get going with this book!) goes back through their reflections, presences, and visions for the element to create the thirteenth entry, which become the verses for that element. It really is a beautiful, culminating process once you get to the verses, especially because so much has been put into the prompts to lead you to that point.
After reading this book, and making my way through the grimoire creation over the course of two months, I have a bit of advice. First, though anyone can jump right in, for the best results I highly recommend familiarizing yourself with Dulsky's other publications, most especially The Holy Wild, which lays out more of a foundation for creating one's Holy Wild grimoire. The Holy Wild has quite a bit of spellwork in it that some readers might find more practical and grounding. The Holy Wild Grimoire is definitely suited for those who enjoy reading and writing, and if you are someone who doesn't readily embrace the written word or symbolic imagery, you might feel more comfortable exploring The Holy Wild first to ground this book a bit.
Second, prior to reading this book, I'd also suggest brushing up on your knowledge of archetypes, depth psychology, and the power of myths to fully embrace the content of this book. You may want to familiarize yourself with the work of Carl Jung, Marie-Louise von Franz, and Clarissa Pinkola Estés, author of Women Who Run with the Wolves, another great book for exploring oneself through stories and myth.
Finally, my third recommendation is to move slowly! There is so much packed in each element that it can feel overwhelming at times. Remember that there is no rush; you are not being timed. This process of communion with the Holy Wild will happen in natural timing that is aligned and right for you. You can skip around to different sections, work through an element for months, and only need to do the prompts that call to you. As odd as it sounds, sometimes I'd have to remind myself this isn't a magical homework assignment, I'm not working towards an "A", and that it's intended to be fluid and connected rather than prescriptive and forced.
Sometimes, as I worked through a particularly dense emotion, memory, or experience, I'd put the book down for weeks at a time, not ready to move forward to the next exercise and needing room to breathe and reorient first, allowing what was unfolding to happen on its own without further conscious prompting or trying to rush forward without allowing the proper time needed to acknowledge what was going on and creating space for transformation.
This might not make sense prior to reading The Holy Wild Grimoire, but I have no doubts that if you delve into the work, you'll understand what I'm talking about. There's enough content in this book to last the reader years in regard to inner exploration, and the stories and prompts are something one can return to time and time again for one's responses will surely always be changing. The potency of this book comes through what you're willing to put in to looking within and exploring the uncharted depths of the Holy Wild.
Even if this seems a bit intimidating, there's ways to start slowly, such as reading the hand-crafted stories, called story lanterns, Dulsky has written for each element, which are intended to open a new lens for the reader to access answers within through the imagination. I've found that a fun way to connect with the stories is to have someone else read them to you, so you can receptively receive their messages, though active reading too has its own merit. Once again, there's a multitude of ways to play with this book, just like all mythological stories, and limitless wisdom that can be gained through experimentation.
All in all, The Holy Wild Grimoire is an all-in-one creative writing journey for readers to make their own grimoire, filled with personal revelations, visions, reflections, and mythology that is theirs alone. Doing the journal prompts is a deeply fulfilling and insightful process, akin to magical therapy, as the reader delves into the hidden parts of their psyche to discover a hidden richness: their own wild unknown. By connecting to these parts of oneself through the elemental energy, a whole new realm of possibilities emerges, cracking open from within the reader's spirit to begin composting what's no longer needed and feel comfortable sitting in the void before shapeshifting into the next vision.

Alanna Kali is an astrologer, numerologist, and pioneer spirit that loves to explore life through the lens of depth psychology. She has a passion for studying the humanities and social trends. Her academic work is centered upon reuniting body, mind, and spirit through eco-psychology. She loves reading, spending time in nature, and travel.
References